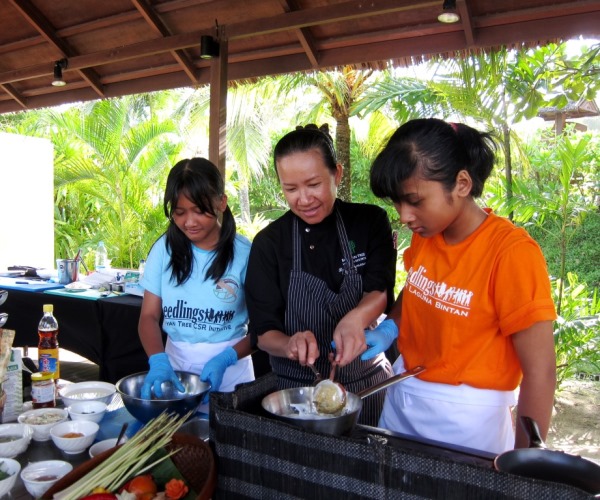 During my stay at Angsana, Bintan, I had the opportunity to participate in a cooking demonstration with Chef Renu Homsombat, Banyan Tree's Corporate Chef at Saffron. The dishes that I was learning were from the four course dégustation meal that I had at Saffron. I was very excited to uncover the secrets behind Chef Renu's delicious food.
Joining us at the cooking demo were some of the local youths from Banyan Tree's Seedlings programme. Started in 2007, Seedlings is an initiative that aims to support communities by building the capacities of the youths by equipping them with life skills. These special guests were selected as they had shown an interest in pursuing a culinary career.
While watching Chef Renu worked her magic, it was a delight observing her interaction with the local youths. Though it was her first time in Bintan, Chef Renu managed a few local phrases and joked with them. She told them the importance of cooking with a smile–if we cook with a sad face, the food would turn out terrible. She went on "forcing" those who helped in the demo to smile. Everyone just burst out laughing.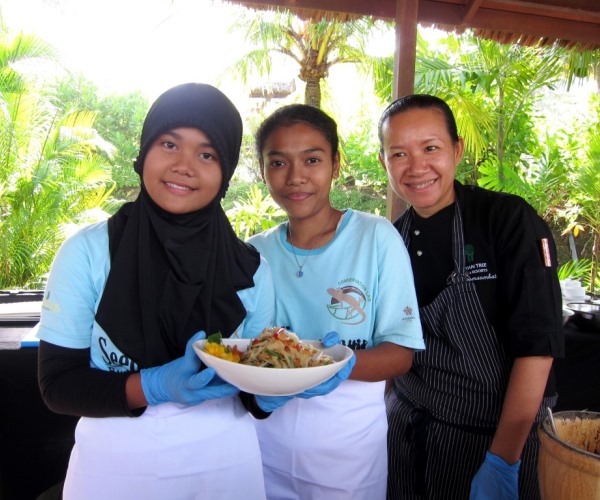 After the cooking demo, I had a quick chat with Chef Renu and asked her what makes her love cooking. She told me that she loves seeing people eating and enjoying her food. Cooking also allowed her to be creative and pushes herself to constantly re-invent dishes. When Chef Renu first started in Banyan Tree, she was in charge of the staff meal which at that time was not that great. She revamped the staff meal and it became so delicious that some of the dishes made it to Saffron's menu. Through my interaction with Chef Renu, I find her to be very clever and diligent yet humble. She is also very friendly and jovial. If I could, I would pack her in my suitcase and bring her back to Singapore.
Green papaya salad
(Adapted from Chef Renu
Homsombat)
During the demo, Chef Renu was very generous with her cooking tips. She taught me the purpose of each ingredient, the secret behind her green curry and so on. And she also allowed me to share her green papaya salad recipe with all of you. As you all know I am not a stickler to recipe, if you cannot find green papaya, you can substitute with green mango (as shown in the above picture).
Serves 4 as a side.
Ingredients
Salad
500g of shredded green papaya/ green mango (this is around 1 green papaya/ 2 green mangoes)*
200g cherry tomatoes, halved (around 26 cherry tomatoes)
100g roasted cashew/ peanuts, roughly chopped
Dressing
2 cloves of garlic, crashed and minced
4-8 chilli padi (bird's eye chilli), roughly chopped (this is an individual preference. Since I am a chilli wuss, I used 4 chilli padi and deseeded them)
2 tablespoons Thai dried shrimp, rinsed and drained*(if you cannot get hold of Thai dried shrimp, use 1 tablespoon of local dried shrimp (soak in warm water for 1 minute and drain))
2 tablespoons tamarind water**
4 teaspoons fish sauce
2 teaspoons palm sugar (if you cannot get hold of palm sugar (which by the way should be a yellow, fudgy soft paste), you can use granulated sugar)
Juice of 1 large lime
In a mortar, add in the chopped chillies, crushed garlic and 1 tablespoon of Thai dried shrimp (if you are using local dried shrimp, you can add in everything). Using the pestle, pound the ingredients until they form a rough paste.
Once a rough paste is formed, add in half of the cherry tomatoes and chopped cashew nuts/ peanuts and gently pound the ingredients with the pestle. The purpose is to get as much liquid out from the tomatoes as possible. Once the tomatoes are bashed, add in fish sauce, palm sugar, tamarind water and juice of half a lime. Taste and adjust the flavour accordingly. The dressing should be a balance of saltiness, spiciness, sweetness and sourness.
If your mortar is big enough, add in the shredded green papaya/ green mango and the remaining cherry tomatoes, and gently pound and mix all ingredients. The dressing should be enough to coat the shredded green papaya/ green mango and the salad should not be too sloppy. If you do not have a big mortar (like me), I just pour the dressing into the shredded green papaya/ green mango and cherry tomatoes and mix well. Alternatively, if your pestle is not heavy (mine is pretty light as it is made of wood) and you have a heavy bottomed bowl, add in the shredded green papaya/ green mango and the dressing, and gently pound and mix the salad in the bowl.
Toast the remaining Thai dried shrimp on a small pan until they crisp. Before serving, place the salad on a large platter and sprinkle the remaining cashew nuts/ peanuts and toasted dried shrimp, and finish off with a squeeze of the lime.
* Thai dried shrimp looks like miniature sakura shrimp–they are a lot smaller and more fragrance and sweet smelling than the local dried shrimp. I personally think it is worth a trip to Golden Mile Complex to seek out some of the ingredients. There is a big Thai supermarket on the second floor where you can get everything and even find new things that you might want to try (you can also find the vegetable peeler with the shredding head at the supermarket).
**To obtain tamarind water, you will need 2 tablespoons of tamarind pulp and 2 tablespoons of warm water. This should yield around 3 tablespoons of tamarind water. Before mixing the tamarind pulp in the water, rinse the pulp to remove any surface yeast. Once rinsed, mix the tamarind pulp in warm water and let soak for a few minutes. Once the pulp is softened, using a spoon, smash the pulp so that it dissolves in the water. Pass the mixture through a sift, and using the same spoon, squeeze out as much juice as possible. Don't be terribly worried if the tamarind water is rather thick, you can easily dilute it with water. Any leftover tamarind water can be kept in an airtight container and place in the fridge for 2 days.
Mandy was generously hosted by Angsana Bintan.
Many thanks to Chef Renu Homsombat and Banyan Tree for allowing us to share the recipe.

Mandy's journey into the culinary world began out of necessity–a means of survival whilst she was at university. She believes cooking should be simple and fun. Besides spending time in the kitchen whipping up hearty meals, Mandy also dreams of having a bottomless stomach that she can fill with all kinds of delicious things.