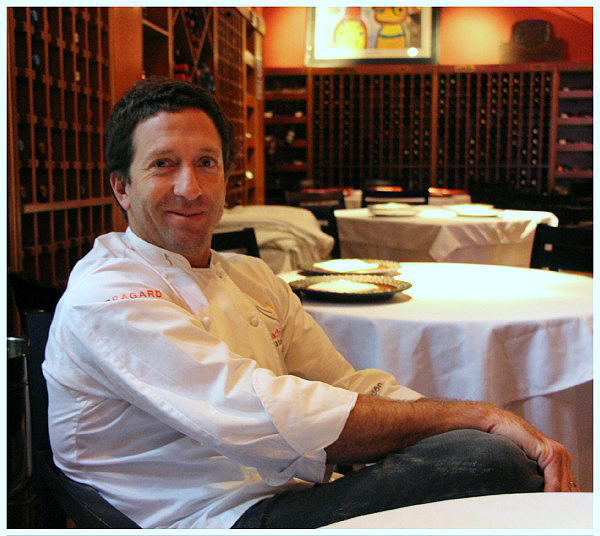 Diego Muñoz is a nomad, a surfer, and a master of his trade.  I say these three things with utmost respect.  A nomad because he has taken off solo and traveled the globe conquering kitchens and cuisines led by world-renowned chefs, in all corners of the world.  His passion for surf keeps him grounded, balanced, connected to nature, simplified, and enjoying the outdoors whenever he has a spare minute.
And about him being a master, well, his curriculum spans from Mugaritz, El Bulli, Relais & Chateaux restaurants in the luxury Silversea Cruise lines to The Royal Mail in Daylesford and Bilson's in Sydney.  At Bilson's, Diego's leadership in the kitchen achieved the restaurant's highest ranking score for the Sydney Morning Herald, restoring its glory.  In 2011, Bilson's Restaurant was nominated for Restaurant of the Year and Diego was also nominated for Chef of the Year.
Now, Muñoz is Executive Chef of Peru's most acclaimed restaurant, Astrid y Gaston.   His instruction in the kitchen and management of the restaurant helped placed Astrid y Gaston in the 14th place of San Pellegrino's 50 best restaurants.  These are big achievements – truly a master's achievements.
How and when did you decide to change your Engineering career into a culinary one?
It took me a while to realise I wanted to cook, that's for sure.  I was studying engineering and the days at university were becoming longer.  I felt I wasn't getting anywhere and began to see no future for myself.  Instead of letting the frustration take over, I sought out options that caught my attention.  Cooking sounded good, and my plan B back then, turned out to be the perfect plan.  In 1998, I cut chords with uni, left Peru, and moved to Canada to study to become a chef.
What was your summer at El Bulli like?
Intense. It was awesome. The time I spent at El Bulli really expanded my horizon, inside the kitchen and with the rest of the staff.  The people that I met I keep crossing paths with now.  For example, I'm working pretty close to Luis Garcia, the floor director of El Bulli, for the new Astrid y Gaston project at the heritage house Casa Moreyra.  The expansion of the restaurant means the staff numbers will double, and the restaurant will seat up to one hundred and forty people.  Also, one of El Bulli's sommeliers is coming to Astrid y Gaston, his name is Julio Barloenga.  I'm convinced he's going to be a wonderful resource to have in Peru.  His wine expertise is among the best in the business.  He's going to teach Lima a thing or two.
Was there ever a kitchen nightmare story?
Not at El Bulli, fortunately, but back in Paris in 1999.  I was carrying a few boxes packed with artichokes from the cold room into the kitchen, and I kicked the door open.  The sous chef was standing right outside and he fell, slipped, and spilt clarified butter all over the floor.  This was in the middle of lunch service!  I was so embarrassed I went back in the cold room for a few minutes.  Although I was shaken, he paid attention to me, and then let me transfer to his station, work side-by-side, and learn at a much faster pace.  A little clarified butter went a long way.
What food do you travel for?
I may not necessarily travel for this, but my current obsession is the burrata from Los Bachiche (Acurio's Italo-Peruvian restaurant).  I'm there a couple times a week eating silky, creamy burrata cheese.
Do you have an essential cookbook?
Oh that's an easy one.  Ferran Adria 1998-2002.  It changed my life.  I purchased it prior to the season I spent at El Bulli.  It's amazing.
What is your go to dish at home?
My grandmother's aji de gallina (traditional Peruvian shredded chicken stew with aji amarillo)
And a guilty pleasure?
Vegemite.  I get my hands on a jar less often now, but when I lived in Australia, I ate so much of it that my gums would get irritated and turn bright red. I have access to it now that I'm far from Australia, and it still makes my gums go bright red.  It's a great umami enhancer in recipes too!  Something I miss from living in Sydney, is being able to head out to Golden Century in Chinatown for a solid meal with chefs from all around town.  Fish live out of the tank and some dumplings at 3am.
What's an ideal day at home?
An outing with the family, spending Saturdays at the park
If you were to invite a famous person to your house for a meal (any meal) – who would it be, and what would you prepare for them?
I'd cook for my parents; there's never been a proper show for them!
Describe your style in a few words:
Undefined, 'no matter', whatever comes.  I say, ride the wave.
What is your favourite animal?
The pelican, I love watching it plane.  It's the animal kingdom's jumbo jet.
Favourite movie?
The Lion King.  It never disappoints.
Hobby?
Surf.  I love to catch waves, and I love to watch it as a sport.  To me, there's nothing like the ocean.
Finally, will we see a Restaurante Muñoz anytime soon?
No sir, not for now.  I'm elbow deep in both work and plans with Astrid y Gaston, and I'm loving every minute.
Astrid y Gaston
175 Calle Cantuarias, Miraflores
Lima 18, Peru
Tel : + 51 1 24 24 422
www.astridygaston.com

Janice is a girl from Lima, Peru who loves a good cebiche and a glass of dry Riesling. She travels the world (often for food or to check out new restaurants) and lives in Australia. Janice tries to learn about different countries through cuisine, and takes advantage of Sydney's multiculturalism by exploring gastronomy in all of its forms. Grower's markets, wine tastings, restaurant openings, cooking classes, shopping for specialty spices; she's keen to do it all.