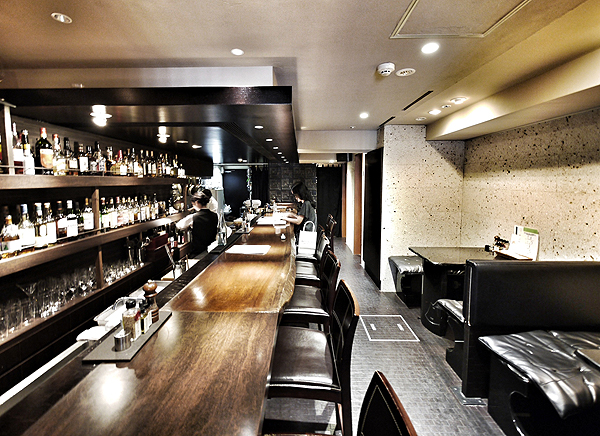 I've mentioned before that I'm a pretty obsessive pre-holiday researcher. In order to best decide where my wife S and I should eat at when planning an overseas trip, I'll spend weeks combing through books, magazines and websites. I'll also email friends whose palates I trust. Earlier this year, I had purchased a short dining guide to Tokyo called Transit Tokyo, written by Yoshikage Kajiwara. The book contains 70 recommendations for affordable places to dine in Japan's capitol — no expensive Michelin-starred restaurants in this guide, just simple places that serve awesome grub fit for every day dining. 
One of the recommendations that I had flagged in the book was a small bar in Ginza called Enji. The review really made me want to check it out: "Tucked amongst the chaos of Ginza sits a bar called Enji. There are magnificent pickles, smoked cheeses, local beer and sherry to encounter. But the real reason I recommend this place is the lunch menu. The tamago-gohan (raw egg on rice) is absolutely fabulous and best of all is the bacon and egg rice bowl. Carefully mix the smoked bacon with the egg yolk from the accompanying fried egg and savour it with a dash of Worcester sauce. You can buy bacon to go as well."
During our last trip to Tokyo, S and I had decided to check out Enji for lunch. When we got there, we were the first customers of the day. The space itself is long and narrow. The bar stretches the length of one side of the room, while a few booths hug the opposite wall. Two-thirds of the space behind the wooden bar is devoted to drinks while the rest hosts one of the smallest kitchens I have ever seen. We were very lucky that the super-nice Maika, who is fluent in English and who is normally stationed in Enji's sister-establishment in Akasaka, was at Enji that day. Maika was able to help us answer any questions we had about both the menu and the bar itself.
I, of course, had the bacon and egg rice bowl that Kajiwara had raved about. S opted for a hamburger steak made with Sendai beef. On the side, we both also ordered raw egg on rice bowls. To best enjoy the tamago-gohan, Maika explained, we were supposed to break the raw egg into the hot rice and mix it up. Then we were supposed to try the various condiments presented to us (pictured above). One at a time at first, and then in combination once we decided what we liked best. There was smoked soy sauce, smoked salt, smoked olive oil and smoked sesame seeds. Yup, all smoked. This is because the chef who owns Enji, as well as high-end counter-dining restaurant in Akasaka called Cunn and a cafe up in Karuizawa, specialises in and is famous for his smoked products. Even the awesome iced coffee I had with lunch was made with smoked coffee.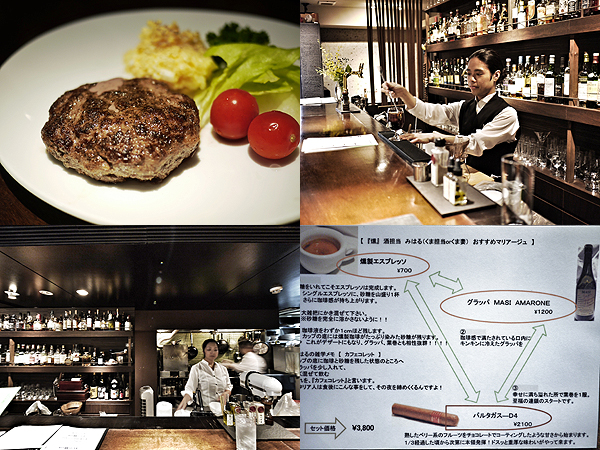 While the lunch menu, Maika told us, is made up of simple fare, in the evenings, Enji offers multi-course menus, in addition to great bar snacks and really great drinks. The bar also offers some really interesting combinations for customers to enjoy–S was especially enchanted with the suggested pairing of an espresso, a good cigar and a glass of Masi Amarone (Amarone being S' favourite kind of red wine).
After having enjoyed a really fabulous lunch at Enji, S and I are quite keen to return in the near future for dinner. We also really want to check out Cunn, which has very few seats and, I'm told, serves really exciting, market fresh Modern Japanese fusion menus paired with cocktails and wines. From what Maika described, it sounded similar in a way to Tippling Club in Singapore, which always delivers a memorable culinary experience.
Just a quick note… we were lucky that Maika was at Enji the day we were there. She's sometimes there at lunch, but always at Cunn at dinner. Which means that if you visit Enji for dinner, while the staff can kind of tell you what you are eating, don't expect anyone to be fluent in English or be able to have a conversation with you.
You can also purchase Enji's smoked products (all cold smoked in at the Karuizawa outlet) at any of the group's outlets. Some of these are actually carried by Dean & Deluca, so you know the quality is first-rate. We bought some amazing smoked cookies, designed to go with cigars, along with some smoked olives and smoked nuts for my brother and his wife.
Enji
Ground floor, JUNO Bld, 8-7-7 Ginza, Chuo-Ku, Tokyo, Japan
Subway: Ginza Station
Telephone 03 5537 5300
Open Mon. – Fri. (11:30 – 14:30 L.O.、18:00 – 27:00) / Sat. Holidays (11:30 – 14:30 L.O.、18:00 – 24:00) / closed Sundays
Average price: ¥5,000 – ¥5,999 for dinner; ¥999 for lunch

Aun and Su-Lyn flew to Japan on tickets partially sponsored by Japan Airlines. 
Aun has always loved food and travel, passions passed down to him from his parents. This foundation, plus a background in media, pushed him to start Chubby Hubby in 2005. He loves that this site allows him to write about the things he adores--food, style, travel, his wife and his three kids!