Ever since my wife S and I became parents, we've been on the lookout for destinations that would provide the things that we love best about overseas trips (great food, great wine, fun shopping, etc) but would also cater equally well to keeping our little baby boy amused, excited and satisfied. It's a tough order and we've already agreed that some of my own favourite places are a little too chaotic for the lil'one (or too tough for us to manage with him in tow). We also have to be prepared that if he likes a place a lot, we'll have to return pretty often. Fortunately, we've recently come back from one place that we think T will really love and can't wait to bring him to see and experience for himself. That place is Noosa, on the Australian Sunshine Coast.
A few months ago, when Tourism Australia invited my wife S and I to attend the Noosa International Food & Wine Festival, we were happy to agree, but asked that our schedule permit us enough time to venture beyond the festival so we could explore Noosa itself. And we're very glad we did. Noosa is a great place in which to unwind and to eat well.

Just to clarify, Noosa isn't actually a specific town but a small region at the northern end of the Sunshine Coast; the Sunshine Coast stretches from Noosa south (approximately 143 kilometres) to Brisbane. South of Brisbane lies the Gold Coast and north of Noosa is Fraser Coast. Noosa itself is made up of several small towns, including but certainly not limited to the very touristy Noosa Heads, Noosaville, and Tewantin. Nearby border towns of note include Coolum and Eumundi.
Noosa is geographically blessed. The weather is lovely. It has beaches, riverbanks and lakes. People that love water will love this place. Because many of Melbourne's and Sydney's well-heeled have purchased summer or retirement homes in the area, there's a somewhat sophisticated dining scene and a plethora of cool shops in which to browse. All in all, it's a wonderful place if you're looking for a somewhat classy but still really relaxing holiday.
There are so many things to do in Noosa. The following are just a few recommendations based on what we enjoyed most during our trip.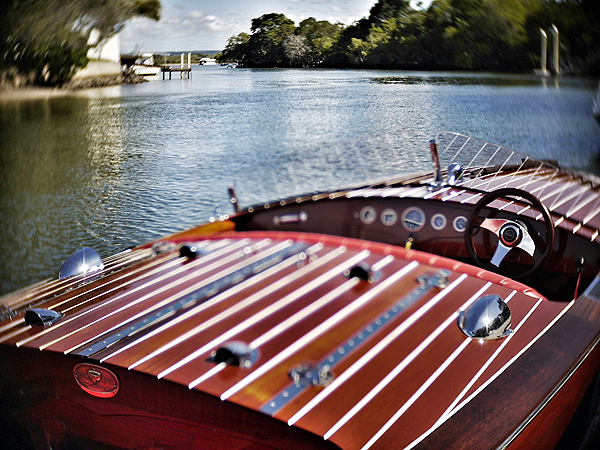 In an area with so many gorgeous waterways, the single best way to see the sites is by boat. But not just any boat will do… I very strongly recommend Michael and Sandy Guthrie's amazing Noosa Dreamboats service. There's just something utterly romantic and luxurious about cruising around in a classic wooden runabout. It makes you feel like Grace Kelly or Cary Grant a la To Catch a Thief (one of my all-time favourite films by the way) — a posh practictioner of doing nothing but enjoying the most exclusive delights the world has to offer.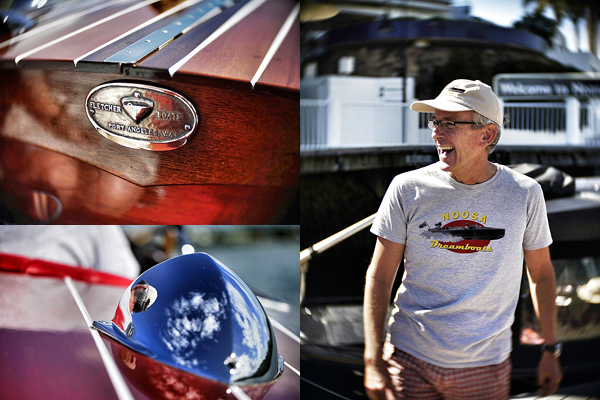 Michael very kindly took S and I, and a new friend, out for a quick 90 minute spin. He showed us some of the spots he's taken past customers for picnics, proposals, wedding photography shoots, as well as cool alcoves and secret beaches only accessible by boat. We zoomed up past Makepeace Island, one of Richard Branson's private island resorts. We also stopped off in one rather picturesque spot along the river to crack open a bottle of bubbly. It was a perfect outing. Michael is a charming and intelligent host and his boat is simply stunning. We've promised to return with T soon; we know he'd love cruising around waving at all the staring passers-by–which, given how gorgeous the boat is, they always did.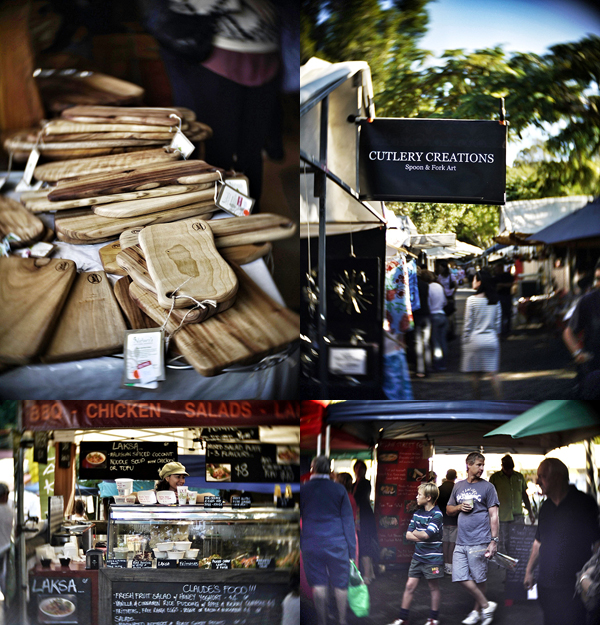 The Eumundi Markets was started in 1979 and has grown to become Australia's largest arts and crafts market, with over 600 stalls and a visitorship of approximately 1.6 million people a year. I've got a thing for`flea markets, crafts fairs and farmers markets. And since Eumundi is only 30 minutes by car from Noosa, there was no way I was going to be in the area and not check out this enormous, iconic market.
To be honest, like with any large market, there's both fantastic stuff and loads of junk. If you have the time, half the fun of visiting these kinds of places is separating the wheat from the chaff. S tends to get a little bored and impatient with such experiences, but I have no problem spending hours browsing from stall to stall hoping to discover something really cool–that I just have to have or need to taste–at the very next booth.
Of course, since our time was limited, we kind of did a 90 minute sprint around the market, trying to quickly suss out some great souvenirs, while also stuffing our faces with some of the really delicious food being prepared and sold all over the markets. We went nuts buying beaut)ful hand-carved cutting boards at Nature's Cutting Boards; oohed and aaahed at the really amazing wooden bowls and art pieces created by woodturner Peter Farkas; picked up some very smartly designed flipflops for S at Aussie Soles; purchased some really lovely handmade soaps by Noel and Claire Waterman; and picked up the coolest laser cut, stainless steel wind mobile for T from Zephyrs Wind Mobiles. We also had some awesome grub–especially an egg, ham and cheese crepe–but the coolest food we saw that day has got to be the Potato Slinky. Unfortunately, the lines were too long so we didn't get to try it, but it looked awesome (don't ask me to explain, just check out their site).
This is a great big fun market in which you can find anything and everything. Well worth checking out. The market is open twice weekly, on Wednesdays from 8am to 130pm and Saturdays from 7am to 2pm.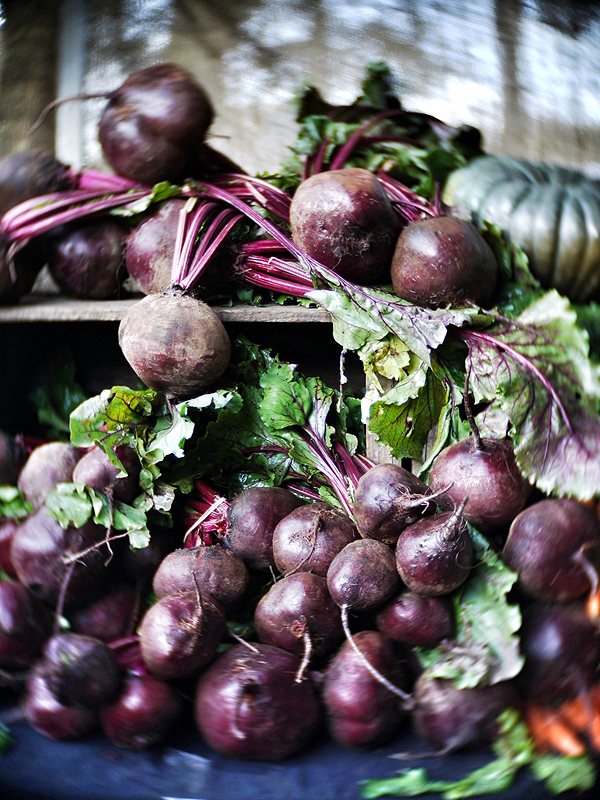 By contrast, the Noosa Farmers Market is much more of a neighborhood market, centred specifically around food and produce–the kind of place that locals go to in order to stock up on gorgeous fruits and vegetables, the best local meats and seafoods, freshly baked breads and other pastries, and a whole host of handmade gourmet products. For S, this was the market she preferred. We had a wonderful time visiting this market. I ate one of the best pies I have ever had in my life (I'll be testing and posting the recipe in a few weeks); purchased a massive amount of Noosa spanner crabmeat to bring home; and discovered the coolest all natural gourmet fairy floss business, simply called Spun (we took home several tubs of the coconut floss, which is so damned delicious). The Noosa Farmers Market is open every Sunday between 7am and 12pm.
Lastly, we really do have to give a shout out to the Outrigger Little Hastings Street Resort, where we stayed during our trip. Fabulously located just at the top end of the main shopping and eating drag in Noosa Heads, we really enjoyed everything about this very comfortable hotel. Especially the staff, who were always enthusiastic and eager to please. Perched above the beach area, the views were really lovely. It's a place we'd definitely consider staying in on future trips.
Aun and Su-Lyn visited Noosa as guests of Tourism Australia and Tourism Queensland.
Aun has always loved food and travel, passions passed down to him from his parents. This foundation, plus a background in media, pushed him to start Chubby Hubby in 2005. He loves that this site allows him to write about the things he adores--food, style, travel, his wife and his three kids!