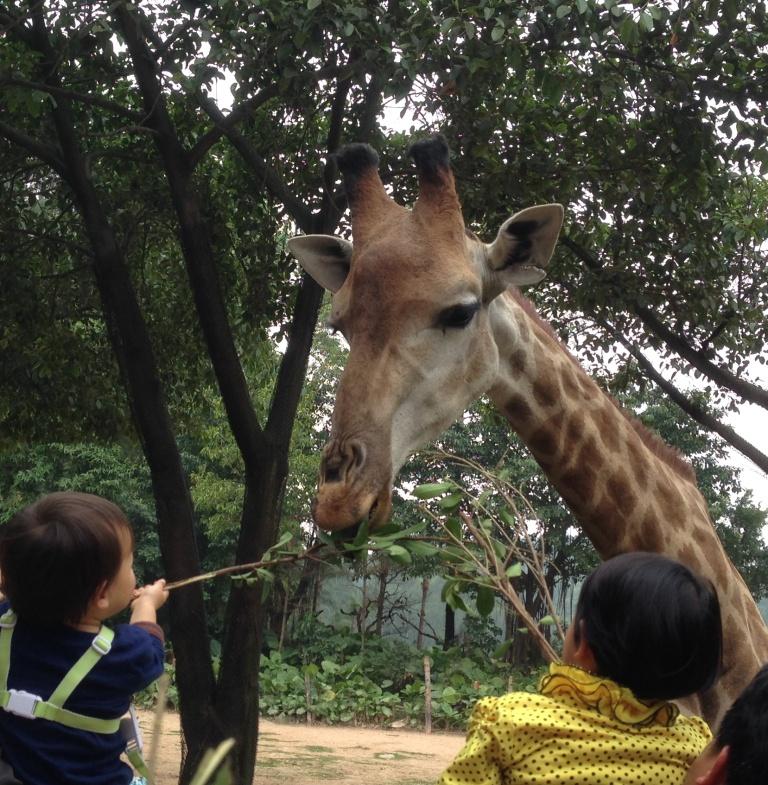 I've heard from various trusted sources about the fabulousness of the Chimelong Safari Park, just on the outskirts of Guangzhou city – though admittedly I was still skeptical about how fabulous it could be, especially compared to my beloved Singapore Zoo and Night Safari.
One weekend a couple of weeks ago, we decided to go find out for ourselves, so J and I toted baby J and drove from the Shenzhen border, a quick 45 mins via the new highway (highways spring up left right center in the blink of an eye in China, it seems), to the Chimelong Hotel, which is adjacent to the Safari Park.
We got checked in smoothly and immediately headed for the shuttle bus that would take us to the zoo.
And, what a zoo.
We were there for about 6-7 hours in total, and it was truly a complete delight. It was a Saturday afternoon and even though the place was clearly busy, it always felt spacious and we didn't feel in the least overcrowded. Each species of animal featured was just – teeming and manifold. Our favourites were the pink flamingos, giraffes (where you pay RMB15 to get a branch to feed the darlings with – see main picture), pandas (with the cutest baby pandas in an incubation room to gaze at) and of course, the white tigers. We heard a commentary during a feeding session that informed us that about half the white tigers (over 200!) in the world are in this very zoo. And indeed, you can even choose to stay in a white tiger facing room in the hotel, and you can certainly have breakfast with them in an open area (separated by glass) staring at you and vice versa.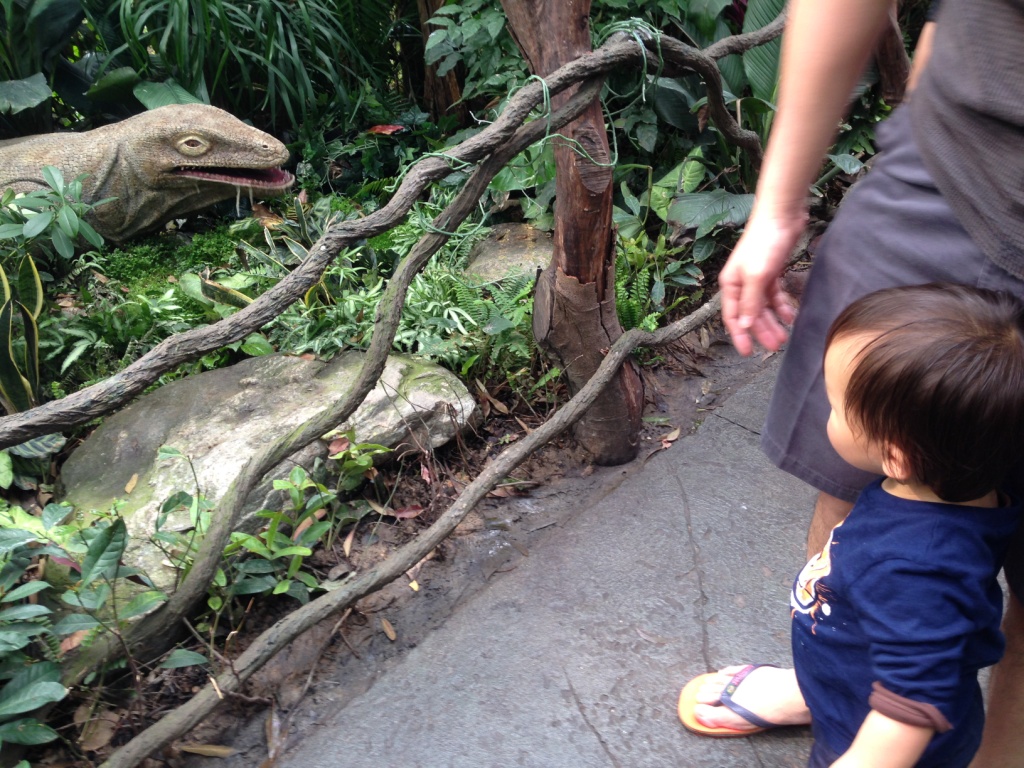 Interestingly, my favourite, surprising even myself, was the dinosaur enclosure – the dinosaurs were life sized and seriously lifelike, and made sounds that made baby J clutch to us tightly. And the Dilphosaurus even spat "venom" that hit the guests and made us squeal out loud.
What I found really great as well were the numerous food stations laid out all throughout the zoo – each food station had ample seating, was situated next to various animal enclosures, and best of all, offered a differing menu from station to station, from Taiwan beef noodles to chicken wings, sausages, soups, pizzas and various Chinese dishes. The food was really pretty decent too – nothing out of this world but hey, it's a tourist attraction.
The Chimelong hotel premises were immense and the room was thoughtfully laid out, with a large comfy bed, a baby cot, and amenities for the kiddos like miniature bathrobes and bedroom slippers, a nice big tub and a welcome pair of tiger cuddlies for the kiddo.
It was a great day and night, we didn't nearly cover the entire zoo, and a return trip is in order for sure.
(a final note – the breakfast selection at the hotel was Huge. Get there early to beat the crowds to enjoy your meal in peace)

Charmaine considers gluttony the most beautiful sin, and enjoys exemplifying it as she goes about her daily activities. Luckily for her, she currently lives in Hong Kong, the purported greatest city in Asia for everything to do with food (it's a close fight with Singapore, where she was born and bred). These days she can be found (over)eating, thinking of what and where to eat next, and attempting various recipes in her kitchen.