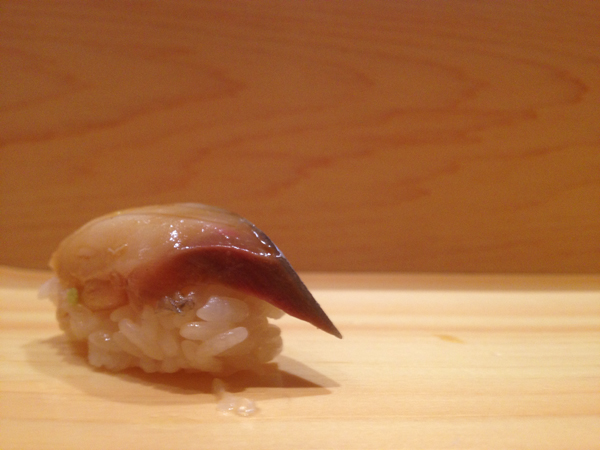 Naomichi Yasuda is the best sushi chef in the universe, and if you disagree with me, I feel sorry for you and your sad, bleak, existence. He is, quite simply put, the master, the sensei, the honey badger of sushi. Sushi Yasuda, the restaurant he co-founded in Manhattan and which he ran until 2010, is my favourite restaurant, period. To paraphrase one Anthony M. Bourdain, if a person doesn't like Sushi Yasuda, we can't be friends. When I moved back to Singapore in 2011, there was a nigiri-shaped hole in my heart; but now that Yasuda-san has opened his own restaurant in Tokyo, which I visited on my latest holiday, my life is once again complete.

Sushi Yasuda in NYC is the reason I got into sushi. Heck, it's probably the reason I got into serious eating. A meal at the counter is an education; the menu, a catalogue of an Alexandrian library of seafood, raw and seared, fresh and cured. Eating sushi of such a staggering range and quality during my time in New York taught me so much about how to appreciate a chef's philosophy and passion for his work, and got me interested in food writing. Although I never was served by the man himself in New York – the first time I went, I was hosted by chef Sekiguchi Tatsuya; since then, I have not had a single reason to change this arrangement* –  I'm unbelievably happy that I'm now able to come full circle and write about Sushi Bar Yasuda – Yasuda-san's humble, hardcore joint in the undisputed capital of sushi.
Make no mistake, setting up a new sushi restaurant in Tokyo is a fearsome task, even for a man who is synonymous with excellent Edo-mae in America. Yasuda-san did not receive – nor did he aim for – a single Michelin star in New York, and yet here he is, a seasoned, sinewy mammoth of a man running a spartan 500 square foot 12-seater with his wife in the basement of a building overlooking the Aoyama cemetery, in a city engorged on living legends like Jiro Ono, Takashi Saito, and Keiji Nakazawa. In Sushi Bar Yasuda's first year, there have been times when literally no one showed up for lunch or dinner. The place has three reviews on Tabelog. Three!
But Yasuda-san doesn't give a shit. All he wants to do is prepare good sushi the way he's always wanted to prepare it – without any frills, but with a wallop of cavalier chutzpah. At Sushi Bar Yasuda, you get what he calls "traditional New York sushi," which means anything goes as long as it tastes great and is perched atop the best rice. There are no appetisers, no cooked dishes, and no desserts – just sushi. "There is some miso soup," Yasuda-san tells me at the end of the meal. "If you like."
There is no menu save for a choice between the 3,600, 4,200 or 5,800 yen sushi 'assortments' – at less than a third of the prices at the more famous sushi places, this is an insane bargain. But the real fun is when you tell Yasuda-san to hit you until you beg him to stop. My brother and I had upwards of 20 pieces – let's just say I had more pieces than the number of years I've been alive – each one a tear-inducing, hyper-Proustian roller-coaster of memories and sensations. I have seriously never had a better restaurant meal in my life.
Let's talk about the rice, which many sushi chefs will tell you is the single most important ingredient. Yasuda-san gets his grains from the fields near his hometown in Chiba prefecture (he won't divulge any more detail than that). It might be the intimacy and familiarity he has with homegrown produce; it might be the ineffable amount of skill he has in its preparation; it might even be my tongue's own biased muscle memory, thinking back to that first time at the counter in Midtown Manhattan – but the rice is truly subliminal. It tastes like a vinegared cloud, vaporising ever so slowly and tangibly in the mouth until it transmutes into a feeling of overwhelming balance. Washing it down with some cold sake, made from the exact same grains, is probably the closest thing to perfection I will experience. I remember eating the first piece, an overcast sliver of hirame, and thinking, "I am not worthy of this rice." I still don't think I've completely deciphered it.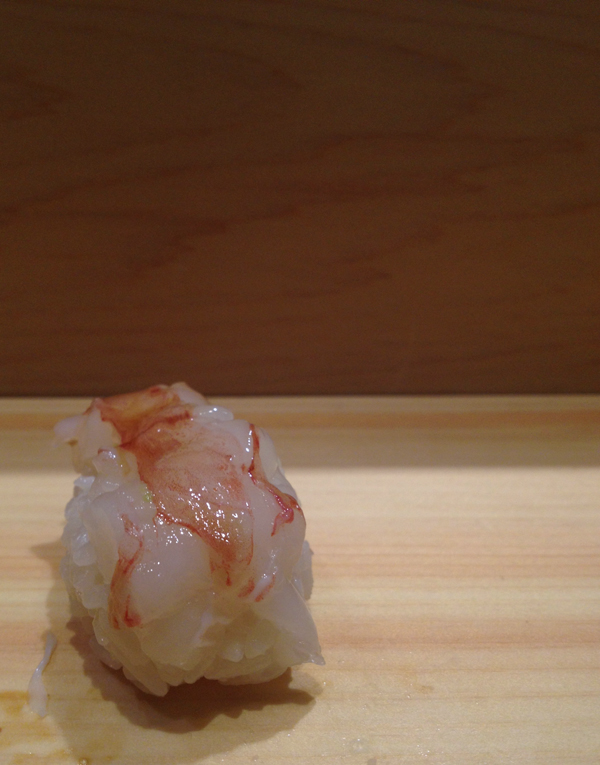 And then, of course, there is the fish. I had way too many pieces to individually recount here, but if there was one theme coursing through my dinner at Sushi Bar Yasuda, it was diversity. Yasuda-san goes well beyond the run-of-the-mill smorgasbord here. There is the sheer range I've come to expect from sushi restaurants, white-fish-red-fish-silver-fish-shellfish – but there is also a madman's myriad, an encyclopaedia of varietals that belies an obsessive mind.
Based on my fuzzy memory, we had four kinds of clam (cherrystone, geoduck, ark clam, and surf clam), three kinds of uni (from California, Hokkaido, and Russia) and two kinds of toro (from Ireland and, I think, Spain); sweet amaebi shrimp prepared raw and lightly grilled; and my favourite thing in the whole wide world, an entire squid anatomy – body, fin, and tentacles – as a sushi trilogy. Tell Yasuda-san what you like – flounder, tuna, eel, cephalopod – and he will show you at least three ways of enjoying it.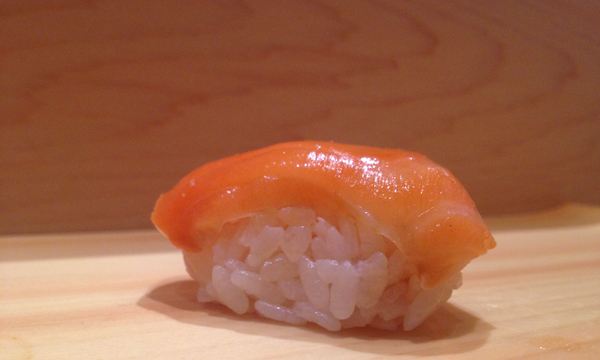 Horror of horrors, salmon was on the menu that night. But somehow, it didn't feel wrong – the rice was the best quality; the salmon, not your garden variety kind, but trout and arctic char. I experienced experiments in texture, in flavour, in color, and in provenance. it was almost like a trip to a famous museum, where you can't hope to fully understand all of the works of art you see, and instead focus on the ones that truly stand out.
The presence of salmon probably accounts somewhat for the distinct lack of love from both the Michelin guide and serious sushiphiles in Tokyo. But again, Yasuda-san doesn't give a shit. "Back in New York, my customers call me the sushi mensch!" The iconoclasm just drips from his voice; then again, you can tell that he's put a lifetime's worth of thought and effort into his sushi, and that he thinks good fish is good fish is good fish, tradition be damned. He introduces several pieces by saying, "I don't think other chefs are doing this properly. Let me show you my interpretation." Toro "isn't a specific part of the fish; it's a concept" – thus, he considers the tender meat near the head worthy of the name. Flash freezing is totally kosher – "it brings out the flavour!"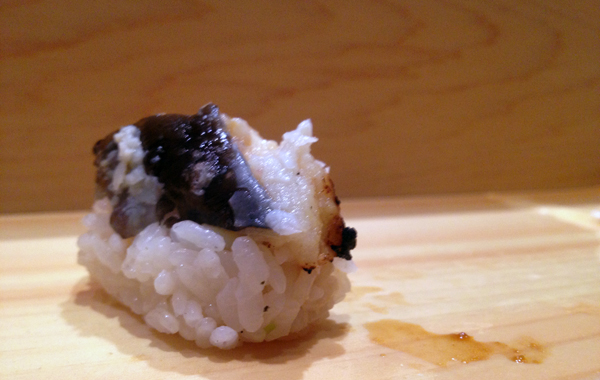 More than anything, there is an approachable feel to Sushi Bar Yasuda, a sense that you aren't so much in a restaurant as you are in an academy of higher learning, with one of the coolest professors around. In spite of his obvious intensity, Yasuda-san takes the time to explain what he's doing, what he thinks good sushi should be, and even throws in a Bourdain anecdote or two for good measure ("Tony's a good friend…"). This collegial camaraderie is virtually impossible to find in even the friendliest of sushi restaurants in any city. It was this unpretentious, unassuming atmosphere that made me, a total noob, feel at ease during my virgin haute sushi experience all those years ago; now, it's made me realise that I still have a lot to learn.
I know it's hard to ask someone to forego a meal at Sushi Kanesaka, Sushi Saito, or the like in favor of a tiny restaurant with an English-speaking chef who lived in Astoria, Queens, but if you want to truly experience sushi, please give Sushi Bar Yasuda a try. Yasuda-san is the most affable, most dedicated sushi chef I know, and I owe him – and his restaurants – everything.
*A very special shout-out to Tatsu-san, who is now joint master sushi chef at Sushi Yasuda in New York, and who, during my innumerable meals at the restaurant over the past 6 years, gave me the best kind of education – one that can be eaten. どもありがとうございます!
Sushi Bar Yasuda
4-2-6 Minami-Aoyama, B1
Minato-ku, Tokyo
Tuesday – Saturday: 6pm – 1030pm
Closed Sunday and Monday
Tel: +81 03 6447 0232
www.sushibaryasuda.com
Many apologies for the terrible quality of the images, I forgot to bring a decent camera to dinner.
Brandon Chew's first memory is of him eating chicken rice at the dining table of his parents' old flat. His second memory is of him politely asking for, and receiving, a second helping of fries at KFC, which taught him two things: manners gets you places, and fries are the most awesome food known to man. Brandon has just returned to Singapore from New York and is happily exploring the food scene here.