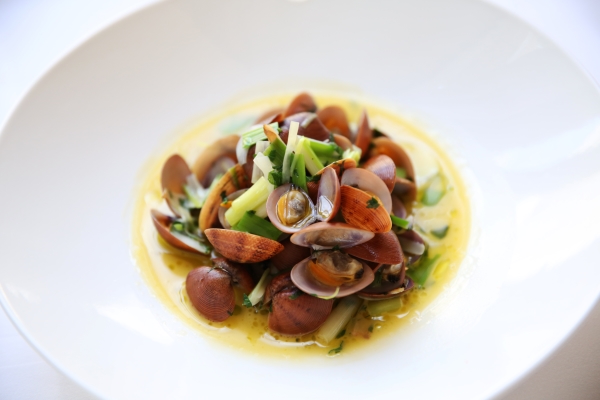 Last month, I left my hubby (bless him!) with the kids at home in Singapore, and indulged in a little personal R&R at the fabulous Mulia Resort in Nusa Dua, Bali. On top of my list of to-dos were lazing by the pool (très importante!), reading a Larsson novel and getting a Balinese massage at the spa. But being the greedy person that I am, the one single thing I was really looking forward to was pigging out at the various restaurants in the resort. The Cafe, famous for it's daily international buffets, Edogin for Japanese food, and Soleil, their posh Pan-Asian/ Mediterranean restaurant, have swiftly carved out a name for themselves at the top of the island's exciting food scene since the resort opened in December 2012. With waiting lists to boot, these are arguably the best places to eat at, in Bali currently.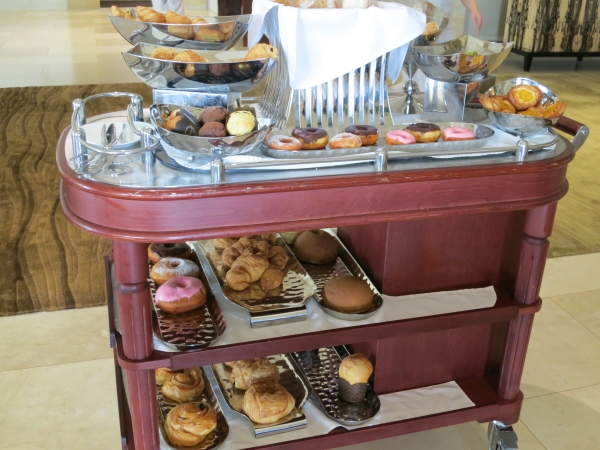 I got in very late on my first night. I was hungry and weary (the food on the plane was dismal), so I decided to kick back and luxuriate in some room service. The menu was one of the most extensive I have ever seen. It had everything from Indonesian favourites such as chicken sate, mee goreng and nasi campur, to Western classics like burgers, sandwiches and wraps, and there was even some interesting Japanese fare. I couldn't resist the grilled beef slices rolled with enoki and asparagus, served with a shredded daikon and carrot relish. And just because I haven't had one in a long time, I also ordered a cobb salad, complete with avocado, grilled prawns and chicken, blue cheese, egg and bacon. The beef and vegetable rolls were yummy (tender meat and al dente vegetables), and went perfectly with the lightly-pickled, crunchy, tangy relish. The cobb salad was fresh and well-balanced with the right amount crunch from the cos lettuce and bacon, and creaminess from the avocado and blue cheese. The ridiculous load of toppings made it an extravagant and substantial salad.
Now, for the restaurants. As much as I love food, and often enjoy them in large portions, I wouldn't describe myself as much of a buffet enthusiast. Back in Singapore, I've just about seen my fair share, and have unfortunately encountered some nasty ones. After a while, they started to weigh on me. But I was pleasantly surprised by the interesting lunch spread at The Cafe. For me, one of the stars of the show was the gado-gado, an Indonesian salad of boiled vegetables, typically dressed with spicy peanut sauce. Here, the chef crushes whole cashews (an interesting twist) in a large, bespoke pestle and mortar upon order, and patiently mixes in some spice paste and tamarind water to create a rich and thick sauce to coat all the boiled vegetables, tofu, egg and tempeh with. Even though gado-gado is usually considered simple street food, and I have tasted many versions of it before, I particularly adored this one. Made fresh, it really couldn't be beat.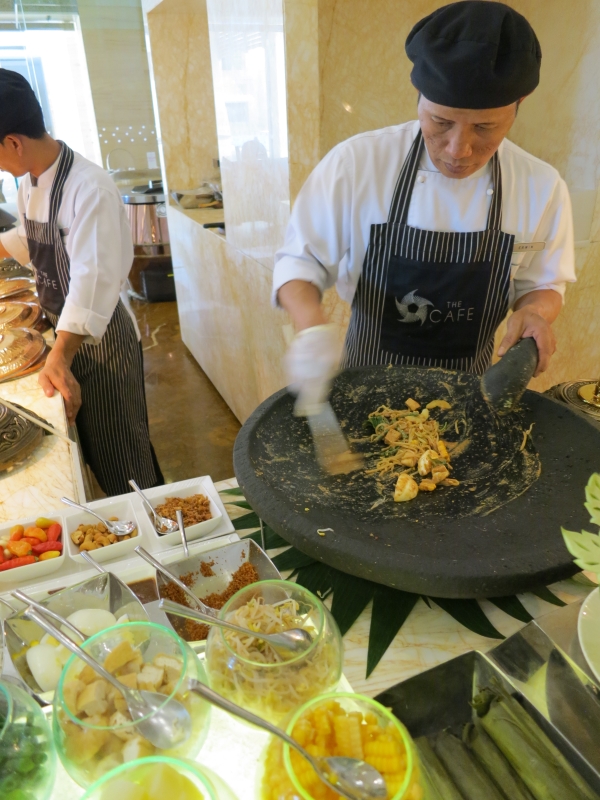 Another station I enjoyed was the made-to-order tom yum soup. I selected my favourite seafood (fresh tiger prawns, squid, an assortment of fish and scallops), and handed the bowl to the chef. Once the ingredients were cooked, the hot tom yum broth was ladled over. And delicious broth it was. Fiery, sour and just sweet enough.
Gado-gado and tom yum soup aside, I was thrilled to discover the spot where they grilled bulgogi a-la-minute. The slices of marinated beef short-rib I ordered were bbq-ed to lightly-charred perfection. The balance of sweet and salty in the marinade was spot on. The marbled meat wrapped in crisp salad leaves made for an extremely tasty snack.
Dinner on my second night was at Soleil, a romantic and stylish beach-front restaurant. The view was amazing, and the food was just as good. My seven-course meal consisted of an amuse-bouche of deep-fried zucchini flowers stuffed with mozzarella, Hawaiian "poke" style yellow fin tuna tartare, a light chowder of manila clams, chard, leeks, potato and truffle oil (pictured at top of post), seared swordfish "toro" with foie gras and caramelised onion, fontina cheese ravioli with butter and veal jus (pictured below), risotto with peas and pancetta, black angus beef tenderloin with cauliflower and bagda càuda, and lemon thyme mascarpone panna cotta. The meal was rounded off very nicely with a shot of their very potent home-made "orange-cello". Everything tasted sublime and was beautifully presented. However, the swordfish "toro" paired with foie gras was swoon-worthy. The flakiness of the juicy fish against the butter-like foie gras was a match made in heaven. Fatty, unctuous, and melting on the tongue, this is deservedly one of the most popular signature dishes in Soleil. The other highlights for me were the super fresh, plump and sweet manila clams and the bagna càuda (an Italian sauce typically made with anchovies, garlic, olive oil and butter) that coated the tenderloin. I have declared this my favourite sauce of the moment – of the month. I could have it everyday. With pasta, poured over some steamed veg or simply have a cauldron of it for dunking chunky toast and crudités in. I must add that Soleil is famous for their luxurious Sunday lunch buffet. With a jaw-dropping array of fine food and free-flow wine, in an elegant setting, plus a splendid view of the ocean, it is definitely not-to-be-missed.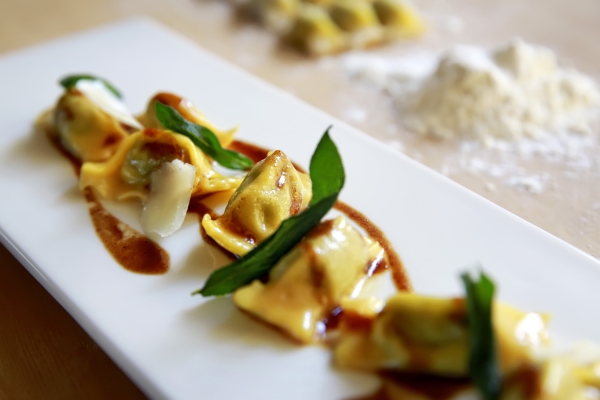 On my last night there, I headed to Edogin's weekly Saturday teppanyaki buffet. It was a red meat and seafood lover's dream. The spread included lamb chops, numerous cuts of beef, razor clams, mussels, cod fillets, scallops, prawns, squid, and a colourful assortment of vegetables, all ready for the hot plate (pictured below). I was indeed spoilt for choice. Besides the main event, there were lots of other delicious Japanese dishes like crisp tempura, okonomoyaki, sushi, sashimi and cold noodles. I left enough space for dessert, which was ice-cream teppanyaki, Cold Stone style. The unique thing was that the home-made ice-cream flavours were mostly Japanese favourites such matcha, yuzu, sesame, adzuki, chestnut and ginger. My kids would go absolutely crazy for this. Choose from 20 toppings to create your ultimate ice-cream fantasy.
So there you have it. The gastronomical lowdown of the most delicious bites during my stay. Having such wonderful restaurants within the resort, guarantees that you max out on pool/beach time, and a fantastic meal is merely a shower and stroll away. My only regret was not being able to stay and enjoy Sunday brunch at Soleil. But I have bookmarked that as a priority for my next trip to Bali, and you should too.
The Mulia, Mulia Resort & Villas- Nusa Dua, Bali
Jl. Raya Nusa Dua Selatan, Kawasan Sawangan, Nusa Dua 80363, Bali, Indonesia
The Mulia- Tel: (62-361)3027777
Mulia Resort- Tel: (62-361) 3017777
Mulia Villas- Tel: (62-361) 8467777
www.themulia.com
Email: reservation@themulia.com
Dawn was an invited guest at Mulia Resort.
Dawn, a lanky food-crazed lady, started out writing for lifestyle magazines, and later spent several years in banking. When not eating, she's cooking, reading about, hankering after, and writing about food. On her first date with her boyfriend (now husband), they dined at four restaurants across Singapore. He's gained 25lbs since, and their culinary escapades continue after welcoming two rotund angels. Dawn's committed to feeding them with the best, and creating lasting food memories and traditions for her family.