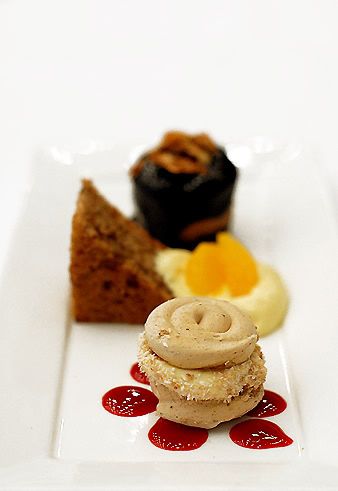 I have to admit that I bought Emily Luchetti's A Passion for Desserts primarily because I had to have her recipe for the enticing chocolate chip ice cream cake that's featured on the book cover. While there are days when one may be inspired to take on Pierre Herme's Plaisir Sucre, the demands of a busy household most often nip those sorts of fantasies in the bud. What I love about Emily Luchetti's desserts is that she manages to somehow keep them wholesome, yet sophisticated (her pear-caramel swirl ice cream is another fabulous example). There is great finesse in her seemingly casual, home-style sweet creations.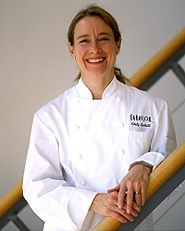 For her cooking class at the Four Seasons Hotel Bangkok's World Gourmet Festival, the pastry chef at Farallon restaurant in San Francisco shared her recipes for walnut cake with Moscato d'Asti sabayon, milk chocolate towers and coffee meringues with coconut ice cream. Versions of the first two recipes can be found in A Passion for Desserts. The last one is from her latest book, A Passion for Ice Cream. While all three desserts were delicious (the walnut cake was pleasingly light), the coffee meringues with coconut ice cream were my favourite. The flavours were intense, yet the dessert tasted incredibly light. I loved the nutty sweetness that the toasted shredded coconut gave to the finished product. The fact that the meringue requires some of the egg whites I never know what to do with after I make a batch of ice cream also makes this dessert a winner. Emily has kindly given us permission to reproduce her recipe below.
Because I am rather obsessed with making ice cream, when we sat down for a chat with Emily, our conversation naturally veered towards the subject of frozen desserts.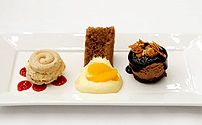 S: What are your three top tips for making great ice cream?
EL: Tip number one: when you're making your custard base, do it over medium-low heat. Stir it with a wooden spoon or rubber spatula and pay attention as you do this. If it curdles, just strain it.
Tip number two: I like to infuse my milk and cream when I heat them up. For example, by adding slices of fresh ginger to the milk and cream the ginger flavour in the ice cream takes on greater depth while retaining its freshness. Sometimes I add toasted chopped nuts. Let the ingredients steep in the liquid for about 10 minutes.
Tip number three: Be aware that your ice cream base will taste different when it's hot and when it's cold. The flavours are more acute when it's cold.
S: Philadelphia or French? Which style of ice cream to you prefer?
EL: I usually prefer French-style ice creams. But there are exceptions to the rule. When I make ice wine ice cream, I just use cream, milk, sugar and ice wine. Adding eggs would dilute the flavour of the liquor, losing its purity of taste.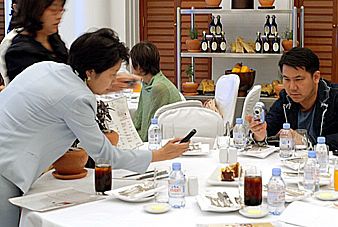 S: Do you have any advice for home chefs who are nervous about making their own desserts?
EL: Retain your commonsense. If you don't have the 9 inch square cake pan your recipe calls for, replace it with a 9 inch round pan rather than a 7 inch square pan! [The smaller pan would result in a taller cake and would require a different length of time in the oven.] Follow the recipe the first time you attempt a dessert before tweaking it. And if your cake turns out less than perfect, scoop it into bowls, top it with whipped cream and call it pudding. Go with tried and tested recipes first. Get ready early, and don't get intimidated by the recipe. Look to it for guidance.
S: Who do you think is doing hot stuff in the world of pastry?
EL: Sue McCown, Dana Bickford and Pichet Ong.
Coffee meringues with coconut ice cream
(From A Passion for Ice Cream by Emily Luchetti)
Serves 8
Coffee meringues
2 large egg whites
6 tablespoons granulated sugar
1/3 cup confectioners' sugar
1 teaspoon instant espresso or coffee granules
Coconut ice cream
¾ cup coconut nut cream, such as Coco Lopez (can be substituted with equal amount of unsweetened coconut milk)
1 1/3 cups unsweetened coconut milk
2 cups heavy (whipping) cream
2 tablespoons granulated sugar
1/8 teaspoon kosher salt
¼ cup unsweetened shredded coconut, toasted (see below)
To make the meringues: Preheat the oven to 200 degrees Fahrenheit. On 2 pieces of parchment paper, trace thirty-two 2-inch circles, 1 inch apart. Place the parchment paper, marked side down, on baking sheets. (Placing them pencil side down will prevent marks on the meringues. You will be able to see the outline of the circles when they are inverted.)
With an electric mixer, whisk the egg whites on medium speed until frothy. Add 1 tablespoon of the granulated sugar, increase to medium-high speed with a stand mixer (high speed with a hand-held mixer), and whip until soft speaks form. Add 3 tablespoons of the granulated sugar and continue to whip until stiff, satiny peaks form. Sift together the remaining 2 tablespoons granulated sugar, the confectioners' sugar, and instant espresso or coffee. Fold the dry ingredients into the egg whites
Place a ¼-inch plain pastry tip in a pastry bag and fill the pastry bag with the meringue. Starting from the inside of each circle, pipe the meringue in a solid spiral, filling the circle. Pipe the remaining circles in the same manner. (If you don't want to use a pastry bag, you can carefully spread the meringue into circles with a small offset spatula or the back of a spoon. Use a scant tablespoon for each.)
Bake the meringues until dry, about 5 hours, though you can leave them in the oven overnight. To test if they are done, remove the pan from the oven and let sit on the counter for 30 seconds. Try to remove a meringue from the baking sheet. If it peels off the parchment paper easily, the meringues are done. Let cool for 15 minutes and then put in an airtight container until you are ready to assemble the sandwiches.
To make the ice cream: Whisk the coconut cream (if using) in a medium bowl until smooth. Whisk in the coconut milk, cream, sugar, and salt. Refrigerate for at least 2 hours or up to overnight. Put the shredded and toasted coconut in a bowl and put the bowl in the freezer. Churn the ice cream base in an ice cream machine according to the manufacturer's instructions. Fold the ice cream into the toasted coconut. Freeze until scoopable, about 4 hours, depending on your freezer.
To assemble the sandwiches: Turn half of the meringues bottom side up. Place a scoop of ice cream on top. Place a second meringue, bottom side against the ice cream, on top and gently press together to adhere the sandwiches together. (Meringues formed with a spoon or offset spatula are more delicate than piped meringues.) Freeze for at least 1 hour before eating. Serve 2 sandwiches per person. If desired, serve with cocoa sauce.
In advance: The meringues can be made up to 3 days in advance as long as the weather is not too humid. I often store meringues in a turned-off oven. Otherwise, they should be stored in an airtight container. The ice cream can be made 2 days in advance. The sandwiches can be assembled 2 days in advance. Store well wrapped in plastic wrap.
Toasting coconut: Place the shredded coconut in a single layer on a parchment paper-lined baking sheet. Bake in a preheated 350 degrees Fahrenheit oven for 5 minutes, then stir the coconut and continue to bake for another 2 to 3 minutes, or until evenly golden brown. Watch the coconut carefully as it burns quickly, especially around the edges.
Technorati tags: emily luchetti, world gourmet festival, ice cream, four seasons bangkok
Aun has always loved food and travel, passions passed down to him from his parents. This foundation, plus a background in media, pushed him to start Chubby Hubby in 2005. He loves that this site allows him to write about the things he adores--food, style, travel, his wife and his three kids!