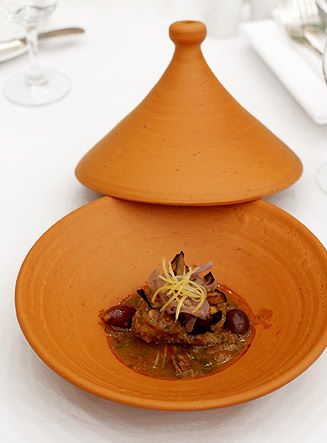 lamb tagine with olives, eggplant and lemon confit
One of the chefs attending this year's Four Seasons Hotel Bangkok's World Gourmet Festival whose food I was most excited to try was Fatema Hal. Ms Hal is considered by many to be one of the most important proponents of Moroccan cuisine on our planet. Over the past 21 years, at her restaurant in Paris, La Mansouria, she's been introducing countless foodies to the joys of this once over-looked but now trendy cuisine. More importantly, Ms Hal has, during the same period, dedicated much energy and research to recording the most authentic and often rare recipes from her homeland. She's both advocate and historian, ambassador and anthropologist.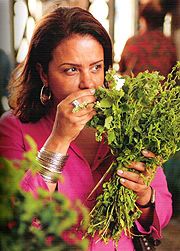 During the World Gourmet Festival, diners who attended Fatema's two 5-course dinners raved about her exotic and delicious food. S and I were lucky enough to catch one of her equally popular cooking classes, during which she showed us how to make spicy shrimp briwatte; a lamb tagine with olives, eggplant and lemon confit; and gazelle horns with sesame seeds. It was interesting to hear from Fatema that while tagines are served in their traditional bowls, hardly anyone uses these tall, attractive tools for cooking anymore. Almost everyone, she told us, cooks tagines in dutch ovens or cocottes.
I've decided to post Ms Hal's briwatte recipe. A briwatte is something similar to a fried spring roll. It's traditionally shaped like a long cigar, but for our class, Ms Hal shaped them in triangles, like samosas. They're easy to make and Ms Hal's filling was actually quite tasty. The combination of herbs and spices was very nice and pleasantly evocative. I could easily imagine snacking on these on a lazy afternoon in Marrakech.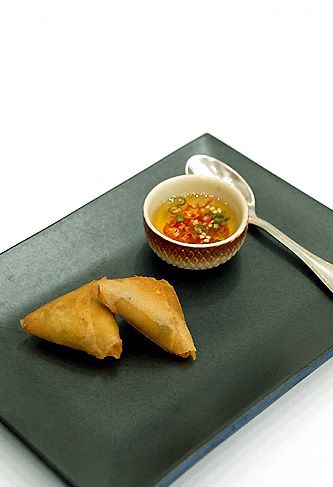 Briwatte aux Crevettes Pimentées (Spicy Shrimp Briwatte)
Makes approximately 24
2 tablespoons oil
3 cloves garlic, peeled and crushed
250 grams shrimps, peeled
1 coriander root washed and chopped
½ teaspoon salt
½ teaspoon cumin
freshly squeezed lemon juice to taste
1 tomato, peeled and finely diced
1 green chilli (optional)
12 sheets briks (this can be substituted with spring roll skins)
1 egg yolk, lightly whisked
Heat the oil over high heat. Add the garlic, coriander, salt, cumin and lemon juice. Lower the heat and stir the mixture with a wooden spoon for approximately 3 minutes.
Add the diced tomato and cook for another 7 minutes before adding the peeled shrimps and green chilli. Cook for another 3 to 4 minutes before removing the pan from the heat. Let the mixture cool.
Halve the brik sheets (or spring roll skins). According to Ms Hal, a spoonful of filling should be placed in the middle of a half sheet. Roll the sheet to form a cigar, folding the two ends in at the same time. (I'm guessing that it should look like a spring roll.) Seal the parcel with some egg yolk. Repeat with the remaining sheets.
Deep-fry the briwatte in oil for 5 minutes or until they are light golden brown.
Technorati tags: fatema hal, world gourmet festival, four seasons bangkok
Aun has always loved food and travel, passions passed down to him from his parents. This foundation, plus a background in media, pushed him to start Chubby Hubby in 2005. He loves that this site allows him to write about the things he adores--food, style, travel, his wife and his three kids!