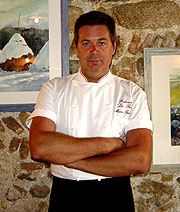 Marco Talamini is the chef de cuisine at La Torre di Spilimbergo in northeastern Italy and is considered by some to be one of Italy's best chefs. Earlier today, as part of the Four Seasons Hotel Bangkok's World Gourmet Festival, S and I had the pleasure of attending a cooking class and lunch featuring this innovative and talented chef. Presenting to a packed room at the Four Seasons, Talamini walked us through 3 of his dishes.
His first course was a seabass tartar on warm zucchini cream with tomato caviar. The dish was both simple to make and quite nice. It was delicate as well as refreshing. The dish also exemplified Talamini's philosophy to cooking. He advocates using only the freshest possible ingredients and then exercising restraint with how much flavoring you add to your dish. You don't want to mask the natural tastes of your fresh produce, he told us.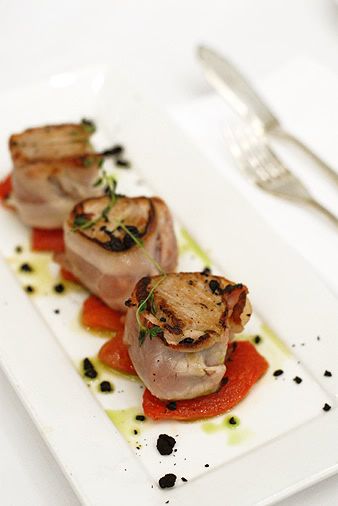 His second course was described as small tuna bites wrapped in bacon, served with a confit of cherry tomatoes and black olives. The dish was good. The bacon added necessary fat to the tuna; it also added a nice savoriness to it. The best part of the dish though was the confit of chery tomatoes. To make these, Talamini slices, deseeds and presses tomatoes. He then marinates them with salt, sugar, lemon juice, thyme and olive oil. He pops these in the oven for 3-4 hours at 60 degrees Celsius. Then he transfers them to another pan, wiping them dry and pops them back in the oven until they are nice and dry.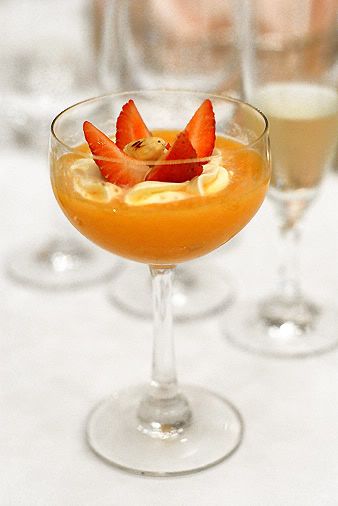 For dessert, Talamini demonstrated how to make a melon frappe with an asino cheese foam which is topped with a strawberry. This is another easy dish to make. All you need is a siphon in order to make the espuma properly.
My favourite dish of the trio was by far the seabass tartar. I've posted the recipe below so that all of you can try making it for yourselves.
Seabass Tartar on Warm Zucchini Cream with Tomato Caviar
Serves 10
4 liters fish stock
2kg zucchini, chopped (chef uses baby zucchini with flowers attached)
1 cup olive oil
700g fillet of seabass
200g tomatoes (preferably cherry)
Emulsion for tartar
50g extra virgin olive oil
50g lemon juice
50g natural soy sauce
20g salt and pepper
Zucchini Cream
Bring the fish stock to a boil and add the chopped zucchini. Once the zucchini are tender (but not mushy), take them out of the liquid. Place them in a container and blend them (use a handblender) with a cup of olive oil until the mixture is foamy. Keep warm.
Seabass Tartar
Cut the fillets into fine cubes. Keep in the fridge.
Emulsion for Tartar
Whisk together the lemon juice, soy sauce, olive oil and a bit of salt and pepper (to taste). Mix this into the seabass cubes.
Tomato Caviar
Quarter the tomatoes and deseed them. Slice them into tiny cubes (fine brunoise) and add a bit of salt, to taste.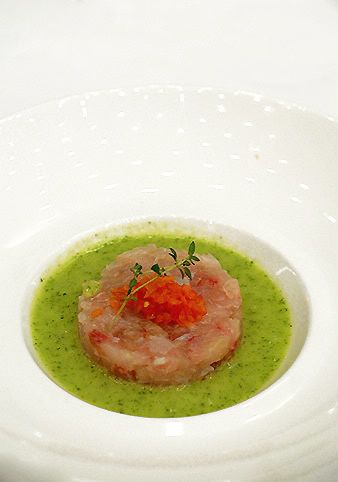 To Assemble
Arrange a small portion of the tartar in a round metal ring placed on a plate. Top with a small spoonful of tomato caviar. Remove the ring. Pour the warm zucchini foam around the tartar. If you want to, you can garnish with some thyme or spring onion.
Technorati tags: Marco Talamini, world gourmet festival, four seasons bangkok
Aun has always loved food and travel, passions passed down to him from his parents. This foundation, plus a background in media, pushed him to start Chubby Hubby in 2005. He loves that this site allows him to write about the things he adores--food, style, travel, his wife and his three kids!