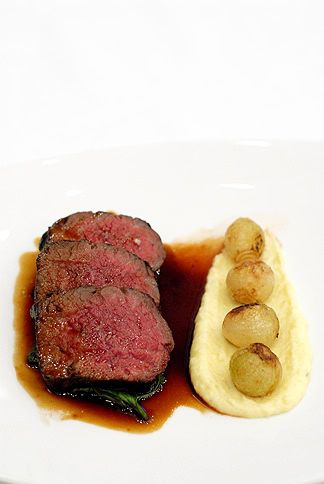 butter-poached kobe tenderloin with sauteed spinach, horseradish mash and pearl onions
Easily one of the biggest attractions at this year's Four Seasons Hotel Bangkok's World Gourmet Festival is Michael Mina. Named Bon Appetit Chef of the Year as well as Restaurateur of the Year by the International Food and Beverage Forum in 2005, Mina has become one of America's most celebrated chefs. Today, he oversees 6 restaurants, 3 in Las Vegas, 1 in San Francisco, 1 in San Jose, and the last in Dana Point. Plans to open a seventh restaurant this year, in Las Vegas, are already underway.
When this year's WGF schedule was announced, it was no surprise that Mina's 5-course dinners were the first to sell out. S and I were therefore unable to score seats for these. We were able to sit in on one of Mina's cooking classes, during which he demonstrated three rather simple yet delicious dishes. And yesterday, we had the fortune of chatting with the Egyptian-born celebrity chef.
Below is part of that interview.
CH: You once described your cuisine as "complex simplicity". What does that actually mean?
MM: Actually, complex simplicity really only accurately describes the food in one of my restaurants, the one in San Francisco. The concept there was to serve multiple preparations based around the same product.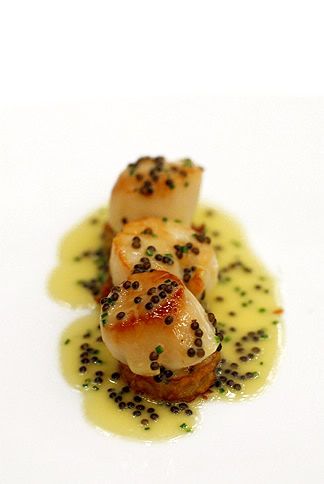 seared scallops on potato cakes with a caviar-lemon butter sauce
MM: Take diver scallops for example. When you order this dish (at Michael Mina), you get 6 small portions of scallop, each treated differently. One would be served seared and over a potato cake; this would be plated with a caviar sauce. I'd then make a scallop ceviche paired with a lemon vinaigrette and some more caviar. A third would be served with a yellow corn and truffle pudding. And so on and so on. Each of these preparations taken alone is actually pretty simple. But served together, the dish becomes uniquely complex.
CH: What other ways or terms would you use to describe your cooking?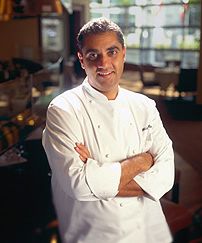 MM: My food is highly conceptual. It definitely fits within the category of "Modern American" cuisine. Which is a way of saying that I'm making very product-driven food that draws on and plays with regional American classics. I like injecting a sense of fun into my food. Take my lobster pot pie for example. It uses a great regional product as well as classic preparations from around the country.
MM: I'd also say that my food is known for having bold flavours. I really like flavourful food. So do most Americans, which is why I think Asian food is so popular in the United States. So much of the food from Asia has strong flavours. But they also have an amazing sense of balance. A sour or spicy food will be served along with something sweet or cool. I love that! And it's something I try to achieve in my cooking.
CH: How do you come up with a new dish or recipe?
MM: I'm a very ingredient-driven chef. I start with the product. I'm also really fortunate because today in America there's a great wealth of amazing organic and farmed products. I might find something from a specific farmer, like wild boar for example. And that will inspire me to come up with a dish for one of my restaurants. Because each of my restaurants has a slightly distinct concept, I can create dishes for specific ones.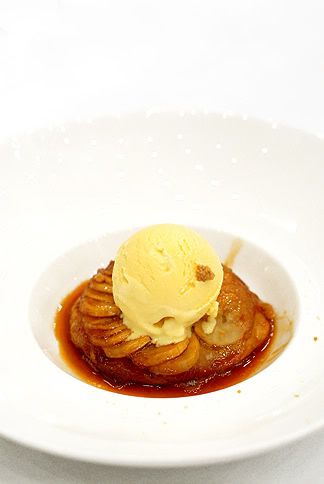 banana tarte tatin with ice cream
CH: What's driving this wave of farming? Is it the chefs that are demanding better produce to work with or were the farmers leading the push?
MM: I think it's been a combination of both better awareness and demand from chefs and customers. As people have become more health-conscious, they've become increasingly concerned where their food comes from.
MM: I went to Tokyo for the first time recently. It was great seeing how obsessive, in a good way, Japanese are about their produce. I live in Northern California, and while we're not at that level yet, we're also becoming obsessive about our food. It's actually a result of having so many vineyards in the area. Growing the very best grapes is important to winemakers and that philosophy has filtered to others. Also, many vineyards have fantastic gardens of their own where they produce great vegetables.
CH: So what products are exciting you the most?
MM: I'm really into micro-vegetables right now. I love how producers have been able to itensify flavours. They have great visual appeal too. It's funny because so many people think that American food is boring, that it's just meat and potatoes. But now in the States, I can get 11 different varieties of potatoes.
Technorati tags: michael mina, world gourmet festival, four seasons bangkok
Aun has always loved food and travel, passions passed down to him from his parents. This foundation, plus a background in media, pushed him to start Chubby Hubby in 2005. He loves that this site allows him to write about the things he adores--food, style, travel, his wife and his three kids!