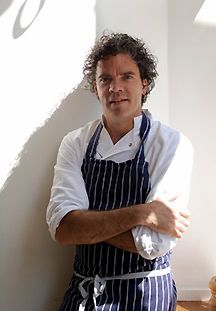 Peter Gordon isn't afraid to call his food fusion. He's also one of my own personal food heroes. I first heard of Gordon in the mid-nineties. A couple years later, I got a chance to eat at the Sugar Club in London. And I was hooked. More recently, I've dined at Providores, Gordon's current restaurant in London, and at Public, a cool space in New York that Gordon was a consultant for. Gordon's food is, as he admits and for lack of a better word, fusion. He takes ingredients from around the world (especially Southeast Asia and more recently the Middle East) and combines them innovatively and elegantly. And while some traditionalists occasionally balk at Gordon's combinations, I have always found them exciting.
I should admit also that one of Gordon's dishes has special meaning to S and me. Because I had raved about his food to her when we first started dating, the first thing that S ever cooked for me some 6 years ago was Gordon's signature steak with pesto on it. It's a dish we both love and have served countless time to friends (along with his scallops with creme fraiche and sweet chilli sauce). When S and I got married, our wedding dinner was composed of dishes that were significant to us. Gordon's beef-pesto was the main course.
For his dinner at the Four Seasons Hotel Bangkok's World Gourmet Festival, Gordon prepared a fun 5-course menu that incorporated many Thai ingredients. The menu was as follows: golden aubergines and den miso aubergines wth coconut labne, pea shoots, crispy buckwheat, edamame and pomegranate avocado oil dressing; scallop sashimi with watermelon, yuzu, coriander, "nam phrik num" dressing and pickled watermelon rind; crab crusted cod and two crispy sesame frog legs on wing beans, with coconut tapioca and smoked tamarind broth; slow roasted New Zealand venison fillet on sweet potato mash, wok-fried Thai greens with sake roasted cherry tomatoes; and mango and jackfruit compote, wild strawberry sorbet, hazlenut praline, and vanilla cream with poppy wafer, rambutan and longan. Everything was good. S especially liked the watermelon and scallop dish while my favourite parts were the frog legs (super-tender and very tasty) and the combination of the sweet potato mash and the savory venison. Attending this dinner was a real treat.
An even bigger treat was being able to sit down and chat with Gordon for quite an extended period of time on Monday morning. Below is part of the interview that S and I conducted with Gordon.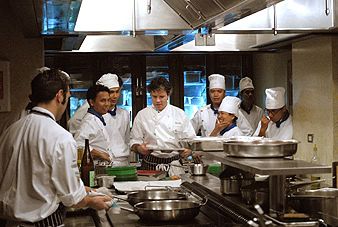 CH: Your food, especially in your Sugar Club years, draws heavily on Southeast Asian ingredients. How did you learn about the foods of this region?
PG: I went backpacking around Southeast Asia some 20 years ago. I stayed here for a year, staying in each place as long as I could — basically until my visa ran out. It was a fantastic experience because previously, my (culinary) training was quite classical European. I hated the fact that we never learnt how to make anything Asian. So on that trip, I tried to experience and learn as much as I could. I would trade knowledge. Like in Bali, where in exchange for teaching someone how to make hamburgers, I'd get to learn how to soak a pig's head in blood to prepare a really traditional dish.
CH: How has your food evolved over the past 15-20 years?
PG: I still use a lot of Southeast Asian ingredients, but I also use a lot more Mediterranean and Middle Eastern flavours now. My favourite city in the world is Istanbul. I consult with two fabulous restaurants there (Changa and Muzedechanga). Originally, the owners wanted me to replicate my Sugar Club menus. I wanted to bring in a lot more local, i.e. Turkish, ingredients into the food. But they really wanted me to make what they had eaten in my restaurant in London. That was in 1999. Over the years, though, I've been able to convince them to allow me to bring in more of a local influence, making the cuisine there much more Turkish.
CH: How do you create a dish when you are using so many ingredients from different parts of the world?
PG: Actually, I try as much as possible to ignore cultural boundaries and backgrounds. When I find an ingredient I haven't tasted before, I treat it not as a Thai or Turkish or Vietnamese ingredient but as just a product that I might use in my food. After tasting it, I try and ask simple questions, like "What can I do with this?", "How can I cook or treat it?", "What will it go well with?". This way, I'm free to create new combinations and create dishes that are driven by taste and flavor. At the end of the day, I create dishes that I like to eat.
I also encourage my junior chefs to do the same thing. In my restaurants, at least 50% of the dishes are actually proposed by these young chefs. They're refined, tweaked and filtered by me of course, but I'm happy that the ideas come from my team. I'll also throw out challenges sometime, to try and inspire new dishes. For example, I might tell some of my chefs, "Think about duck, Japan and India." The resulting dishes might all be quite different from each other, even different from what I would do. But this is how we constantly evolve.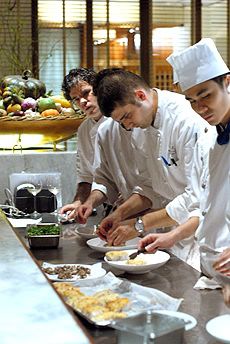 CH: You've made television appearances on both Nigel Slater's and Jamie Oliver's shows. Has this made you a bit of a celebrity in the UK?
PG: Well, it's bit funny. Because I've been on TV, people who come eat at Providores are often surprised to actually see me at work. I mean, they'll come in, order their brekkie and then notice that I'm the one poaching their eggs. They're stunned that I'm there. Where else would I be? But I can understand their surprise. So many "celebrity chefs" rarely actually cook these days.
CH: Has the celebrity chef phenomenon affected the aspirations of today's young chefs?
PG: Very much so. I work with and meet a lot of young chefs. I run a competition through which a talented young chef in New Zealand gets to spend 5 weeks cooking in a top British restaurant and vice-versa. And when I'm back in New Zealand, I like to meet as many young chefs as possible. When I was training, we looked up to the classic masters. Today, 60% of young chefs want to be Jamie Oliver. And the other 40% want to be Gordon Ramsay.
Having chefs become celebrities is a good and bad thing. It's great because it's helping to attract a lot more people to our industry. It's bad because so many don't realize either how amazingly talented Jamie is or how hard Ramsay worked to get where he is today. A lot of young kids think they can short-cut their way to the top. They think they can move from bottom of the ladder to executive chef in 3 years.
CH: I read recently that you've invested in a vineyard (Waitaki Braids). Can you tell me more about this?
PG: Two friends and I have bought into this great vineyard in North Otago. It's funny because when I first started out (professionally), I had wanted to be a winemaker. We have a terrific winemaker working with us. Michelle (Richardson) is probably the best winemaker in New Zealand. And she's a fun person, which some winemakers tend not to be. I love that she's also deeply passionate about her wines as well. In fact, I often feel that Michelle talks about wine the same way that I talk about food and cheese. Which means that talking to her sometimes is a bit like talking to myself. But the wines are fantastic. Michelle, as I said, is brilliant. We've just released our first vintage, a Pinot Noir and Jancis Robinson loves it.
Peter Gordon owns and runs The Providores and Tapa Room in London and Dine by Peter Gordon in Auckland, New Zealand.
Technorati tags: peter gordon, world gourmet festival, four seasons bangkok
Aun has always loved food and travel, passions passed down to him from his parents. This foundation, plus a background in media, pushed him to start Chubby Hubby in 2005. He loves that this site allows him to write about the things he adores--food, style, travel, his wife and his three kids!