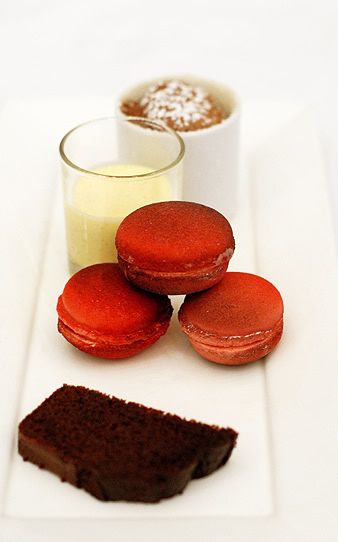 One of my wife's favourite people in Singapore is Chef Vincent Bourdin. Vincent is Valrhona chocolate's regional pastry chef. Which means that he knows more about chocolate and desserts than most people and definitely much more than I could ever hope to. Vincent's background in pastry is pretty impressive. He's worked at La Tante Claire with Pierre Kaufmann in London and with Pierre Herme when he was still at Fauchon in Paris. In Asia, Vincent zips around the region, advocating the use of only the best quality chocolate when making desserts as well as demonstrating some pretty impressive pastry skills.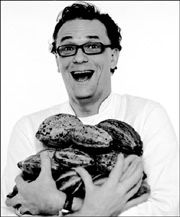 Here at the Four Seasons Hotel Bangkok's World Gourmet Festival, Vincent has been serving a pretty impressive and sumptuous afternoon tea in the hotel's Lobby Lounge. He also wowed the very dressed-up audience of this year's gala dinner (which featured at 8 course meal prepared by 8 different celebrated chefs) with a petits fours platter unlike any I'd ever seen before. It featured a bar of chocolate on which were delicately balanced 4 skewers. Each skewer was topped with a different, small but beautiful dessert. Once you eat these, you then take your bar of chocolate, box it up (the box was provided/plated on the side) and take it home with you. The idea was to give you something to remember the evening by. Another highlight of Vincent's participation here at the Festival was a cooking class during which he demonstrated three very interesting desserts. Of these, the one that excited me the most was his preparation for raspberry and white chocolate macarons. While other fellow bloggers have been able to pull off some pretty impressive macarons, I've always been slightly afraid to make them. But after watching Vincent prepare his and explain the process quite clearly, I'm now very encouraged to try. It was much easier than I ever imagined. I've posted the recipe below so you can also give it a shot.
Raspberry and White Chocolate Macarons
Makes 50-60 macarons
Raspberry Ganache
100 grams whipping cream (35 percent fat)
200 grams white chocolate (preferably Valrhona), chopped
90 grams raspberry pulp
Macarons
150 grams finely ground almonds (almond flour)
150 grams icing sugar
200 grams egg whites
165 grams caster sugar
50 grams water
Prepare the ganache ahead of time. Bring the cream to a boil and pour it over the white chocolate in several stages as you whisk the mixture to emulsify it. Start with your whisk placed in the middle of the bowl and quickly incorporate the cream into the chocolate. Once the ganache reaches room temperature, add the raspberry pulp.
Refrigerate for several hours or overnight so that the ganache can be piped easily.
To prepare the macarons, combine the ground almonds and icing sugar then sift the mixture. Add 50 grams egg white and stir to form a paste. Set aside.
Lightly whisk the remaining 150 grams egg white with 15 grams caster sugar in a KitchenAid.
Combine the remaining 150 grams of caster sugar with the water in a saucepan and cook the mixture until it reaches 110 degrees Celsius (if you prefer your macarons to have pronounced domes, heat to 115-118 degrees Celsius). At this point, you may add any food colouring and flavouring you may wish to incorporate into the macaron batter. Remove the mixture from heat once it reaches the desired temperature and pour it onto the egg whites as they are being whisked.
Continue whisking until the meringue is cool to the touch (it should look shiny; Chef Bourdin believes that using this technique yields a better, more consistent finished product). Gently fold some meringue (about 1/3) into the almond-sugar paste before folding in the rest of the meringue.
Pipe the batter onto a silicon mat (hold the piping bag at a right-angle perpendicular to the mat when you do this; you're also more likely to get perfectly round macarons if you pipe them onto a silicon mat rather than baking paper) and leave them to rest for 45 minutes so that they develop skins (they should not stick to your finger when you press on them; this may take longer in a humid climate).
Bake at 140 degrees Celsius for 12 minutes and cool.
To assemble, sandwich some raspberry ganache between two macarons. The finished macarons can be stored, chilled for several days. (Chef says that they taste best the day after they're made.)
Technorati tags: vincent bourdin, chocolate, macaron, world gourmet festival, four seasons bangkok
Aun has always loved food and travel, passions passed down to him from his parents. This foundation, plus a background in media, pushed him to start Chubby Hubby in 2005. He loves that this site allows him to write about the things he adores--food, style, travel, his wife and his three kids!