Of all the great chefs that flew into Bangkok for the Four Seasons Hotel Bangkok's World Gourmet Festival and cooked their hearts out over the past week, the one that impressed me the most was Chef William Ledeuil. This always affable, enthusiastic and humble chef runs one of Paris' hottest restaurants, Ze Kitchen Galerie. The International Herald Tribune has called Ledeuil's establishment a "delight". The New York Times has said, "the cooking shows unbridled creativity and a sense of fun." Ledeuil first made his name at Les Bouquinistes, a Guy Savoy bistro. There, he prepared fresh, modern French food. Today, at Ze Kitchen Galerie, he cooks what he calls simply "contemporary cuisine". Not contemporary French mind you. Just contemporary. Others might also call his food, for lack of a better term, fusion.
Ledeuil, who has a wealth of classical training, is in love with Asian produce, especially the herbs and spices of Southeast Asia. His cuisine draws upon these inspirational ingredients to produce a range of fantastically exciting dishes. At the World Gourmet Festival, I had the pleasure of attending Chef Ledeuil's cooking class, one of his 5-course dinners and also of having an encore of what I consider the best dish of the week during the WGF's gala dinner, a seabass ravioli with capsicum lemongrass condiment and shellfish broth (pictured at the top of this post). When this dish was presented at the 8-course gala, it caused quite a sensation. You could smell the lemongrass in the air as the waiters and waitresses carried the plates into the room. A super-light but amazingly flavourful foam covered the ravioli, which was steamed to perfection. The fish inside was deliciously tender and the capsicum lemongrass sauce under it added the perfect hint of complexity.
Chef Ledeuil's five course dinner menu was as follows: layer of daikon and shrimp flavoured with Thai basil and tarama lemongrass; beet root and confit of ginger gaspacho with cucumbers filled with crabmeat, avocado puree and salmon roe; the seabass ravioli; grilled lobster and Bouchot mussels with lemongrass and crustacean jus; and mango cappuccino with coconut ice cream and banana papaya emulsion. During Ledeuil's cooking class, I was thrilled to watch him make the seabass ravioli that I had fallen in love with just a few days earlier. Unfortunately, because Chef Ledeuil had originally planned to make the dish with different sauces, the recipe he handed out was different from what he showed us. If you want to check out Chef's Ledeuil's recipes for yourself, he released a cookbook called Les Couleurs du Gout (The Colours of Taste) two years ago. Chef very generously passed me a copy. It's stunning and I urge you to buy a copy. The only problem (for me at least) is that the book is in French which means I'll be spending many a night brushing up on my very, very rusty Francais.
In addition to wowing me with his cooking, Chef Ledeuil also wowed me with something I had read about but had never gotten to actually see up close, a Thermomix. Ever since I had heard about these amazing machines that single-handedly weigh, chop, blend, knead, whip, and cook (yes cook!), I've wanted to check one out and see it in action. Chef Ledeuil swears by them. He told me he can't imagine cooking without one. I was thrilled when he invited me into the kitchen to watch as he prepared some of his sauces with the one he carried all the way to Bangkok from Paris.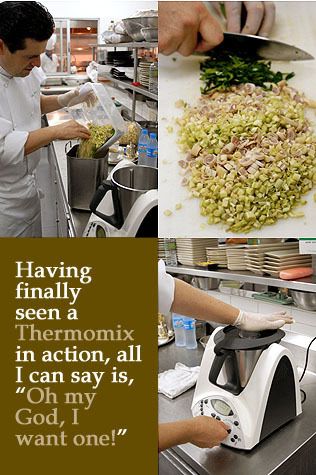 The Thermomix is very cool. It allows you to precisely measure ingredients and blend them at 11 different speeds (1-10 plus a turbo setting). Most amazingly, you can heat your ingredients at 7 different temperature settings, ranging from 37 degrees Celsius on up to 100 degrees Celsius. The consistency of the sauces that Chef Ledeuil made were brilliantly smooth and nicely heated through. Having finally seen a Thermomix in action, all I can say is, "Oh my God, I want one!" Of course, I'd like to cook like Chef Ledeuil as well.
ZE KITCHEN GALERIE
4, rue des Grands Augustins
Paris 6
Tel: 01 44 32 00 32
Technorati tags: william ledeuil, world gourmet festival, thermomix, four seasons bangkok
Aun has always loved food and travel, passions passed down to him from his parents. This foundation, plus a background in media, pushed him to start Chubby Hubby in 2005. He loves that this site allows him to write about the things he adores--food, style, travel, his wife and his three kids!