It's been a fantastic trip to Bangkok so far. Monday morning, my sexy spouse S and I woke up in a gorgeous room at the Four Seasons Hotel, had a great breakfast at Biscotti and then spent the rest of the morning chilling out with one of my food heroes, Chef Peter Gordon. After that and still a little high from meeting Gordon for the first time, S and I attended a phenomenal cooking class and lunch featuring Sydney-based chef Yoshii Ryuichi. That evening, we attended another cooking class and dinner, this time featuring Michael Mina. But we'll get to Michael in a future post. Right now, I want to talk about Yoshii.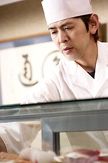 Yoshii's restaurant, simply called Yoshii, is considered by many to be the very best Japanese restaurant in Sydney (and perhaps Australia). The Nagasaki-native serves up what he calls contemporary Japanese cuisine. It's not just sushi, sashimi and tempura. It's inventive, innovative and exciting dishes that combine ingredients from Australia, Europe and Asia in new and bold ways.
For his class at this year's World Gourmet Festival, Yoshii prepared 3 dishes. The first was a Scallop Carpaccio with Chives and Pasely oil.
It was a clean and simple dish. And one that looked pretty easy to make. It was composed of half slices of quickly seared raw scallops and thin slices of pickled turnip. Over this, Yoshii drizzled an "umeboshi dressing". This was then topped with caviar and some mixed herbs — specifically baby shiso, baby chard and chervil.
Our dessert was another simple dish. It was also a really surprising one. I would never have thought to combine oranges and red bean. But it worked.
The best dish of the lunch by far and away was Yoshii's yuzu miso lamb chops (pictured at the top of this post). These were amazing! S and I are planning on making these for as many friends as we can. The yuzumiso paste had a deliciously sweet, savory and fresh flavor. The lamb was juicy and tender and the accompanying braised daikon was the perfect foil for the meat. This dish really floored both of us. And it made us really, really want to book a table at Yoshii the next time we make it to Sydney. I've posted the recipe below so you can all try it for yourselves.
Yuzu miso lamb chops
Serves 10
30 lamb chops (3 chops per serving; may be substituted with pork chops or duck breasts)
salt and pepper to taste
240 grams yuzumiso
5 grams breadcrumbs (panko); chef Yoshii uses brioche in his restaurant
10 grams almond flakes
100 milliliters shiitake soy sauce
10 rectangles of daikon braised in bonito stock
selection of seasonal vegetables
Daikon braised in bonito stock
10 rectangles of peeled daikon (roughly 10 by 5 centimeters)
1 liter bonito stock
8 grams salt
20 milliliters light soy sauce
16 milliliters mirin
Yuzumiso
250 grams white miso
40 grams sugar
50 milliliters mirin
3 egg yolks
100 grams Japanese mayonnaise
40 grams yuzu peel, chopped (can be substituted with orange and/or lemon peel)
5 grams yuzu pepper (yuzu kocho; can be substituted with a little finely chopped green chilies)
Shiitake soy sauce
100 milliliters Japanese soy sauce
25 milliliters mirin
10 grams wholegrain mustard
5 dried shitake mushrooms, soaked in water until soft then sliced
100 milliliters beef or lamb stock
Prepare the daikon braised in bonito stock and seasonal vegetables ahead of time. You will need small bite-sized pieces of seasonal vegetables of your choice. Chef Yoshii suggests using asparagus tips, okra (lady's fingers), peeled baby carrots, mushrooms, snow peas, shimeiji mushrooms, broccolini and edible flowers. The vegetables should be sliced into cross-sections (as in the case of okra) or trimmed (like asparagus tips and broccolini).
Bring a pot of salted water to the boil. Blanch the seasonal vegetables (not the edible flowers if you're using them) in the boiling water for 1 to 3 minutes. Drain and refresh in ice water. Add the daikon rectangles into the boiling water at the same time as the other vegetables but do not remove them when the seasonal vegetables are done. Continue to boil the daikon for another 10 minutes or until they are tender.
Meanwhile, combine the bonito stock, salt, soy sauce and mirin in a saucepan and bring the mixture to a boil. Add the tender daikon rectangles. Remove the pan from the heat and set it aside to cool.
To prepare the yuzumiso, mix the white miso (substitute with red miso if you're using duck instead of lamb), egg yolks, sugar and mirin in a saucepan. Stir the mixture over low heat until it comes to a boil. Heat for 10 minutes (be careful, it burns easily, so stir continuously) and remove from the heat. Allow the mixture to cool before adding the mayonnaise, yuzu peel and yuzu pepper. Stir well and set aside.
Heat some olive oil in a frying pan. Season both sides of the lamb chops with salt and pepper. Sear each side of the lamb chops for about 1 minute or until they are golden brown. Remove the lamb chops from the pan and place them in an ovenproof tray.
Preheat the oven to 200 degrees Celsius. Prepare the shiitake soy sauce in the frying pan you seared the lamb chops in. Combine all the sauce ingredients in the frying pan and bring to a boil. Turn the heat down and simmer until it reduces. Stop at the point when it tastes appealing to you.
Smear one side of each lamb chop with yuzumiso (use around 8 grams per lamb chop) and sprinkle with breadcrumbs. Insert a few almond flakes into each portion of yuzumiso-breadcrumb topping. Slide the tray of lamb chops into the oven and cook for around 5 (medium) to 6 (medium well) minutes.
To serve, place 3 lamb chops on each plate. Next, place one daikon rectangle on each plate and top with seasonal vegetables. Drizzle the shiitake soy sauce around the lamb chops and serve immediately.
Technorati tags: yoshii, world gourmet festival, four seasons bangkok
Aun has always loved food and travel, passions passed down to him from his parents. This foundation, plus a background in media, pushed him to start Chubby Hubby in 2005. He loves that this site allows him to write about the things he adores--food, style, travel, his wife and his three kids!