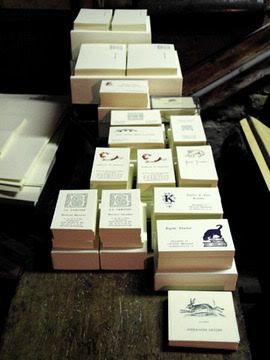 I had a bit of free time today, so a friend—also in town for the Biennale—and I went to visit Gianno Basso. Basso is a bit of a mad genius. He's a printer and stationer and in my opinion makes some of the most beautiful name cards and stationary in the world. He's also unique in that he handprints his creations on an old Gutenberg press, using paint that he also mixes by hand. He takes no orders by phone or fax. He does not use a computer either. Which means the only way to place an order with him is in person. He also demands payment in cash. Despite all these conditions, his client list is vast, and includes many celebrities like Susan Sontag, Hugh Grant, and Gael Greene.
After our visit with Basso, we were hungry and stopped off in a pretty ostaria just a few steps from his shop. It was quite the find! The Ostaria Boccadoro, we discovered, may be only a month old but the food is excellent.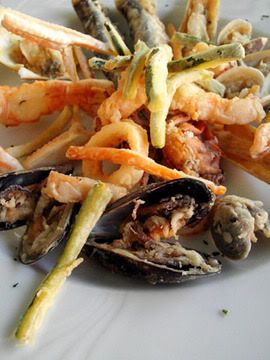 We started with an amuse-bouche of sardines in saor. We then shared plates of gnocchi with crabmeat and tagliatelle with baby scallops and zucchini flowers. This was then followed by the best plate of frito misto (fried seafood and vegetables) that I have ever eaten in my life. It was an amazing selection of seafood, including sardines, scallops, clams, mussels, bamboo clams, scampi, squid and the most delicious, juicy soft shell crabs. Boccadoro is a great find and a place I'm keen to return to over this and future trips.
Gianno Basso
5306 Calle del Fumo, Cannaregio
Ostaria Boccadoro
5405/a Campo Wildman, Cannaregio
tel: 041 5211021
Aun has always loved food and travel, passions passed down to him from his parents. This foundation, plus a background in media, pushed him to start Chubby Hubby in 2005. He loves that this site allows him to write about the things he adores--food, style, travel, his wife and his three kids!