It's been a while since I've been to Tokyo/Japan, so I was super thrilled and honoured when my friend E invited me to his wedding to the gorgeous H, held last weekend. It took place in the beautiful gardens of Happo-en, and I happily jumped on a plane last weekend to spend a couple of days in the land of sushi, uni, and more uni.
My most recent food memory of Tokyo from my last visit there, a work trip back in 2010, was, sacrilegiously enough, the rather succulent donut from Dean & DeLuca. To be fair, Dean & DeLuca, an American gourmet foods chain, is really popular in Japan and actually has some really delicious pastries and the aforementioned donut. There was some actual Japanese food to be had of course on such work trips but as it often happens, most meals passed by in a blur during work discussions, and I don't even recall very much of anything.
Thus.
This time, I was determined to make up for it. Upon arrival, I had a quick shower and met up with some of the group to head to lunch at Kyubey (or Kyubei). Kyubey is a bit of an institution in Tokyo, with its several levels of bar counter seating and very competent (and congenial) chefs under the lead of Yosuke Imada, who always makes sure he comes by to say hello to his guests.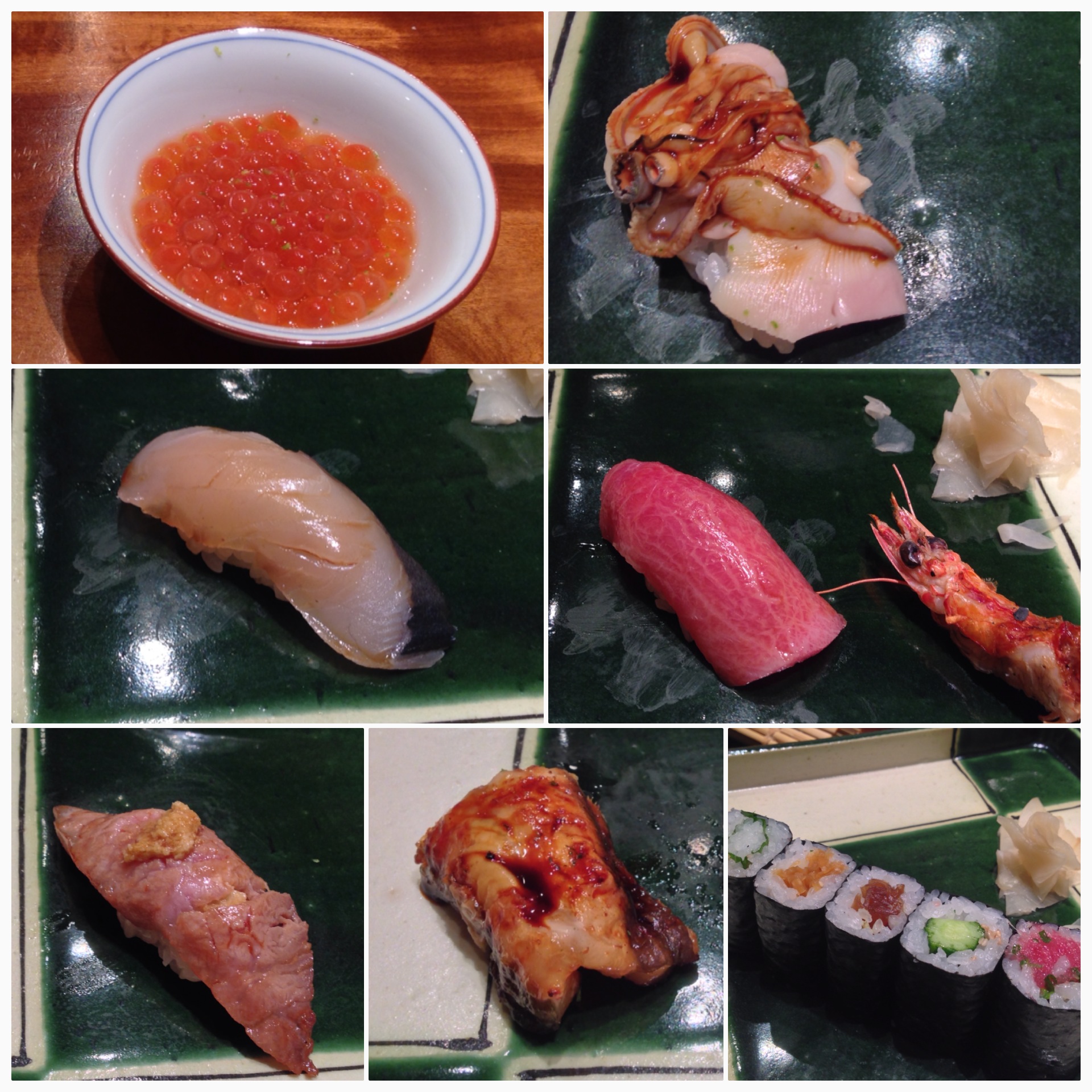 We had a large variety of fish and seafood – our chef was really good about explaining what each item was, and my dining companions were kind enough to supplement the rest of the information – I would be completely lost otherwise, so you'll have to pardon me if I get some of them wrong. We had (pictured above – more or less in the order of arrival): ikura (salmon roe) in a mini bowl, chutoro (tuna belly), tai (seabream), akami (tuna), ika (squid), amaebi (shrimp), uni (urchin), saba (mackerel), odori-ebi (dancing shrimp), hokkigai (surf clam), otoro (fattiest part of tuna), katsuo (skipjack tuna), hamaguri (clam), kohada (gizzard shad), grilled maguro (tuna) cheek, and anago (eel).  And to finish off, assorted maki rolls, including (yay!) uni and the dessert-esque tamago (egg).
The highlight of the meal was the odori-ebi, shrimp which arrived very much alive in front of us and were promptly expertly de-shelled and put unto sushi. The head and tail were then grilled to a crisp and served separately afterwards. The very intense grilled cheek of maguro was the other highlight, E was extremely emphatic about it being the reason he comes to Kyubey as often as possible.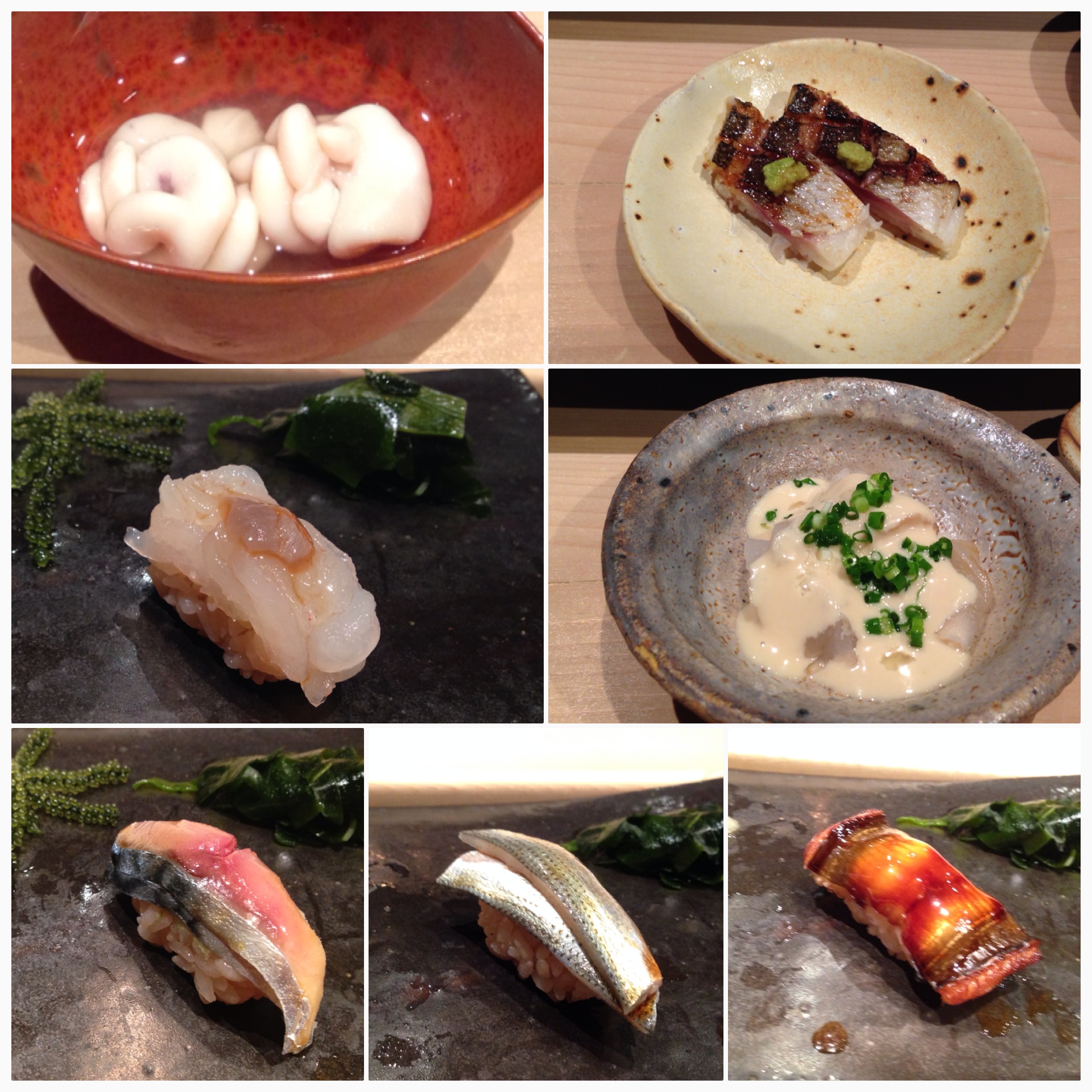 That night, was Sushi Sho Saito. This was my favourite meal of the trip. I know so little about these sushi places, so thankfully, my dear friend Y, who visits Japan so often she is practically resident there, recommended Sushi Sho Saito. The tiny 8-9 seater place is helmed by a disciple of the famed chef from Sushi Sho and Chef Iwasawa-san (main picture) was just utterly affable and personable, and tried his best to tell me what each fish item was. But as I don't speak Japanese and he speaks very little English, we defaulted to rather generic fish terms, so I'll have to let the pictures (above – not all items are included) speak for themselves. I started with shirako (codfish sperm sac), which made me close my eyes for some minutes with pleasure, and then the rest of the approximately 20-course sushi parade started. As the meal moved along, Chef asked how much more I would like to eat, and as I understand from the sweet Japanese girl next to me who chatted to me for a bit, you can just keep going and going. Towards the end of the meal, Chef reveals that he spent a year in China learning Han (as he calls it), and we were able to have a quick conversation in Mandarin – not that I would have known the names of the fish if he'd told them to me in Mandarin!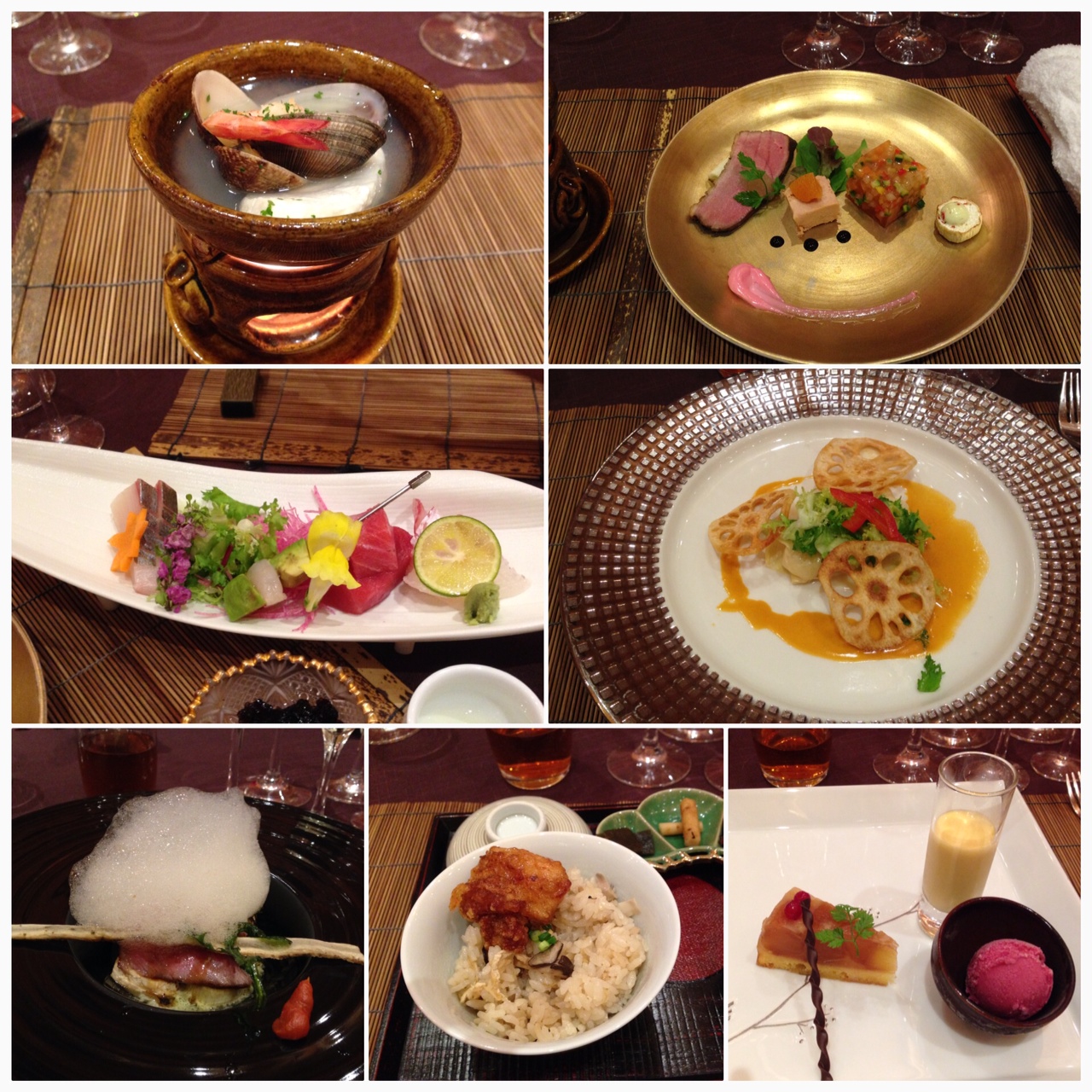 Next, the wedding banquet. The 7-course wedding meal (plus a refreshing yuzu sorbet-smoothie and the special fried chicken surprise) at Happo-en was also special and beautiful (pictured above). My newfound friend the night before from Sho Saito said that Japanese weddings tend to lean towards French cuisine, but E told us that he and H specifically requested for a more fusion type of meal – Japanese-led, but infused with touches of French/European.
Two other meals I must mention – Maisen – widely known as the best tonkatsu in Tokyo, lived up to the raves. I went to the original shop at Aoyama and had the kurobuta pork cutlet, it was just perfect. The crisp shredded cabbage was also perfect with the thick sweet sauce drizzled over, I gobbled up two helpings and wanted more but stopped myself to save tummy space. And of course I brought a bottle of the sauce home – nothing I can attempt to recreate at home will come close but I have to at least be inspired to try.
My last lunch before I boarded the plane was at Sushi Kanesaka (of Shinji Kanesaka in Singapore). That meal, however, was just a tad disappointing. Kanesaka receives great international/English-language press, both from the blogger as well as journalist community, so I had high hopes. To be completely honest, there was nothing Wrong with it. It was lots of really fresh fish (but freshness should be taken for granted at a place like this, no?), and there was a lot of food. It was clearly popular, both with the Japanese as well as visitors from everywhere around the world. My key takeaway from the approximately 20-course meal was that the chefs were perhaps slightly jaded when it came to overseas visitors. I felt that they approached us in a rather… perfunctory fashion. Still, I do need to give special mention to the first two courses, uni and amaebi in a "sushi" and then the packed hairy crab in a cracked shell (pictured above) – I really enjoyed these.  It was also the priciest meal on this trip, with an inexplicable amount added on top of the stated amount – though I understand restaurants in Japan typically state and charge the flat amount upfront which already includes any taxes.
And now, looking forward to more omakase please. My dearest friend S is coming to Hong Kong in a few weeks and we already have way advanced reservations at Sushi Tsuraku – I hope it lives up to my Tokyo memories.
Kyubey (main)
8-7-6 Ginza, Chuo-ku
Tel: +81 3 3571 6523
Sushi Sho Saito
2F 4-2-2 Akasaka Minato-ku
Tel: +81 3 3505 6380
Sushi Kanesaka
B/F 8-10-3 Ginza, Chuo-ku
Tel: +81 3 5568 4411

Charmaine considers gluttony the most beautiful sin, and enjoys exemplifying it as she goes about her daily activities. Luckily for her, she currently lives in Hong Kong, the purported greatest city in Asia for everything to do with food (it's a close fight with Singapore, where she was born and bred). These days she can be found (over)eating, thinking of what and where to eat next, and attempting various recipes in her kitchen.