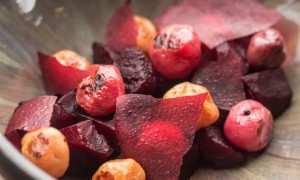 (Credits: Ed Stocker)
More backpacker tales: my South American adventures led me across the Peruvian border to Bolivia, where C and I sought out Gustu, tucked in the high altiplano of La Paz. We arrived in La Paz, giddy with altitude sickness, running on a tight schedule to explore La Paz; We made it to Gustu on a quiet weekday afternoon, a building with simple gray aesthetics, tucked in the residential district of Calacoto.
Started by Claus Meyer of Noma fame, Gustu offers the best of Bolivian produce, with ingredients sourced from independent producers around the various departments in the country. We ordered the five course meal with drink pairings – and boy were we in for a surprise — the drinks were refreshing, aromatic and complex, contrary to our notions of Bolivian wines and beers. Quinoa beer, anyone?
As for the other dishes, native ingredients take centre stage in the entrees and main courses. The usual suspects such as quinoa, corn, and, potatoes appeared — C's entree, was a salad of tender beetroots with papalisa, small potatoes with psychedelic  — pink dots, with delicate sheets of hibiscus to lend fragrance (see image). With such attention to detail, I cannot find it in me to complain of anything. To say the least, it tasted as delightful as it was a feast for the eyes. Meanwhile, I had a quinoa salad with native herbs straight from Gustu's garden. Of the dishes, the rabbit confit was a standout, with choclo, Andean white corn, and lime zest atop. Choclo is often sold as roadside snacks, replete with Andean cheese. And thus armed with that bit of knowledge, I appreciated the ingenuity of using a commonplace ingredient to different effect in this particular dish.
Gustu, having opened recently in April, is also a company with a social aim. It is all about starting up a Bolivian food movement, and providing education for young Bolivians. Most elements of the restaurant have been kept authentic, and Bolivian where ever possible (with exception of a few chefs in the restaurant). In between meals, the staff took time to introduce the dishes — and gave us a tour of the gardens and kitchens. We were equally giddy with delight upon seeing their research lab, where ideas for dishes were being written on walls, and got to see the action happening in the kitchen.
While C left to catch her bus to back across the Peruvian border, I ended my meal with a coffee. I made the mistake of ordering an Americano — I had forgotten, that dishes were rooted in the Bolivian culture, and that Americanos are not served, but of course. To which, my drip coffee, beans sourced from the Yungas region, came alongside chocolate treats, made from cacao from the Bolivian Amazon. All in all, a respite from the crazy La Paz traffic C and I had experienced thus far, and a great experience and glimpse into the best of Bolivia.
Gustu
Calle 10, No. 300
Calacoto,
La Paz, Bolivia
Tel: +591 (2) 2117491
www.restaurantgustu.com

Michelle loves her food - street food, exotic foods, you name it. Aside from cooking and experimenting with new ingredients, she is also interested in how food and the habits of having meals are closely intertwined with culture, tradition, memory, and identity. Otherwise, while she's not doing any of the above, she would be making art and hitting the books.