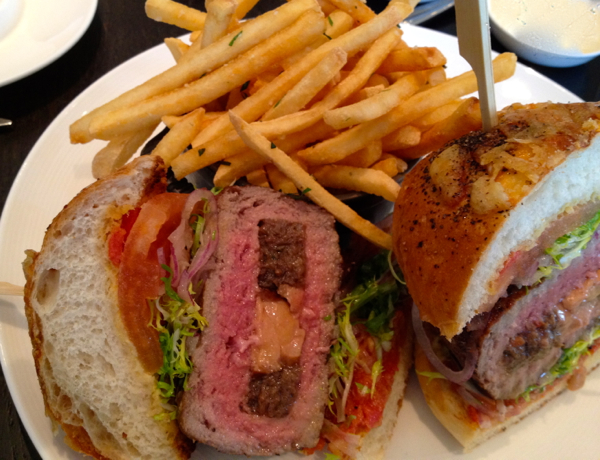 I've had the wonderful privilege of being the editor of Chubby Hubby since its relaunch. Being the editor of this fantastic space has allowed me the happy thrill of previewing everyone's articles and getting to know some fabulous folks, including Aun and S. Additionally, I have also been meaning to get off my procrastinating ass to write something of my own, and finally did after a recent trip to Beijing.
It's been way too long since I'd been in Beijing, probably at least five years or so. So when hubby J went on one of his work trips there recently, I flew up from Hong Kong to join him for the weekend. It was also the first time we've travelled together out of the country since baby J was born a few months ago so that made it extra nice and a great excuse to eat gluttonously.
My intent was straightforward – to cram as many delicious meals as possible into the weekend, and I'm pleased to report that I succeeded quite well. The next time you have just a day or two in Beijing, with eating as your main agenda, I'd suggest checking out the following.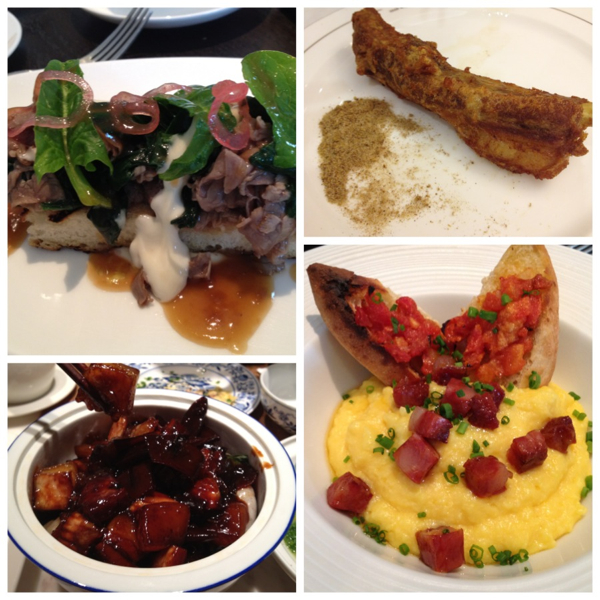 Madam Zhu's Kitchen
Had dinner with an ex co-worker who now lives in Beijing and she brought me to this restaurant, saying that it's one of the handful of restaurants she enjoys taking overseas visitors for their tastily turned out classic dishes with a twist and the pleasing, retro-modern space. The restaurant was furnished with primarily dark wood and cream colours, accented with the occasional plaid coloured couch, and featured large whimsical portraits of Madam Zhu (of Yuxiang Renjia Sichuan cuisine) and her friends playing with food and drink.
We ordered and enjoyed the steamed chicken doused in mounds of freshly cut scallions and the pork and tofu stewed in hongshaorou style (pictured), as well as the smoked fish – my friend says these are all signature items at Madam Zhu's.
Lei Garden Beijing
Since moving to Hong Kong, I've enjoyed many (and often brought visiting friends to) a dim sum lunch at Lei Garden – consistently high quality, polished dim sum, with interesting interpretations of Cantonese dishes, plus their double-boiled, rich yet somehow refreshingly comforting on the palate soups. With restaurants in Singapore, Hong Kong and Macau, as well as various cities in China including two in Beijing (I went to the one in Chao Yang district), it's an always reliable lunch or dinner venue when you are looking for superb Cantonese food.
Maison Boulud
J and I had brunch at this Beijing outpost of Daniel Boulud, housed in an elegant historic building that was the former American Embassy as well as the Beijing residence of the Dalai Lama in the 1950s, and just round the corner from the Southeast of Tiananmen Square.
As with other DB restaurants, the space was beautifully turned out and nicely sunlit, with white polished marble flooring and banquettes in tasteful shades of brown. Service was attentive and the signature burger (main image on top) – succulent sirloin with short ribs and foie gras on a fluffy bun and served with fries – was especially yummy. I'd had this same burger at DB Bistro Moderne in Singapore and remember it being quite average (being a huge fan of burgers, I often have to stop myself from automatically ordering the burger once I see it on a menu), so I was particularly delighted.
We also shared the scrambled eggs with chorizo (pictured); and the roasted pork with fennel on toast (also pictured); dessert was warm chocolate fondant with milk sorbet and the tarte au citron.
Hai Di Lou Hot Pot
Hai Di Lou is a Sichuan hot pot chain with 70+ outlets in 16 cities in China, and in order to differentiate themselves from the literally hundreds and hundreds of other hotpot places, their key value proposition is the provision of a super fun experience with great service. From the moment a customer steps into one of their shops, takes a ticket and waits for his table (they have a no reservations policy), he should be having fun. The wait can be as much as 90 minutes or possibly more during peak hours, but during that time, entertainment is provided in the form of various games, an iPad for surfing the web with, complimentary drinks and nibbles.
When we were there (our wait was around an hour), the friendly servers conducted a "fold the stars" game, where you get together in a group of as few or as many as you like, and fold miniature stars from strips of sparkly paper, and the first group to complete a jar gets a bottle of wine. I even noticed other patrons getting a foot massage. To the surprise of even super-impatient me, our hour long wait on a Saturday went by quite quickly.
Once you're shown to your table, orders are taken by the server or you self-service with an iPad. The menu is laid out with accompanying pictures, and the variety is extensive. Meats (and innards), dumplings, seafood, types of noodles, including the hand-pulled noodles which are "pulled" right at your table, all arrived quickly. What we found particularly thoughtful was that half portions of each item can be selected, which means you can order a wider variety when there are just two of you. The cute girl who was our server also thoughtfully offered me a hair tie (to make sure my hair doesn't get in the way!) and a little cloth for J to clean his (eye)glasses with (in case they get fogged up with the steaming soup from the pot!).
She also informed me in her upbeat cheery fashion that Hai Di Lao has just opened their first outlet outside of China – in Singapore (Clarke Quay), no less!
Xiao Wang Fu Roast Duck
I have to say, this was my favourite meal of all on this trip, probably because I've been dreaming of having roast duck in Beijing for such a long time. My original intent was to go to Da Dong Roast Duck, as I have fond memories of several delicious meals there in the past, but J insisted that the really authentic duck is to be had at Xiao Wang Fu (three branches in Beijing) and assured me that the duck there is definitely Better, having been there several times during his recent trips.
We ordered the tofu with crab roe, giant pork ribs (pictured) dipped in spiced flavoured salt, noodles with braised pork, and the star of the meal, roast duck. And (luckily for J) the duck was indeed so good – succulent, tender, plump, with lightly crispy skin and a nicely balanced amount of fat (ie not overly fatty). The not too thin pancake wrappers arrived warm and held the meat, sweet sauce, cucumbers and scallions together well, and I greedily overstuffed each wrapper too. I could have had an entire duck on my own, and was glad I only had J to share it with.
J and I inhaled and throughly enjoyed everything, and in particular, I moaned over the fact that this would be our sole roast duck meal on this trip as we were leaving Beijing the next day.
On a related side note, we lugged back a Quan Ju De (another well known roast duck destination) vacuum-packed duck, which comes in a set complete with dipping sauce and pancake wrappers. Back home, we chucked the duck in the oven, steamed the pancake and added freshly sliced cucumbers. And you know what, it was surprisingly rather good and quite comparable to some of the Beijing roast duck in popular restaurants in Hong Kong.
Madam Zhu's Kitchen
B, Bldg. D, Vantone Center
6A Chaoyangmenwai Dajie
Chaoyang District
Beijing 100020, China
Tel: +86 10 5907 1625
Beijing (World Trade Center) Lei Garden Restaurant
C2-C3, Tower C Central International Trade Center
No. 6 Jian Guo Men Wai St
Chao Yang District
Beijing, China
Tel: +86 10 8567 0138
www.leigarden.hk
Maison Boulud
Ch'ienmen 23
Qian Men Dong da Jie
Beijing 100006, China
Tel: +86 10 6559 9200
www.maisonboulud.com
Hai Di Lao Hot Pot
Yanjingli W St, Chaoyang, Beijing
+86 10 6506 0403
www.haidilao.com
Xiao Wang Fu Roast Duck Restaurant
Ritan Park North Gate
Chaoyang District
Beijing 100020, China
Tel: +86 10 8561 5985
www.xiaowanghome.com

Charmaine considers gluttony the most beautiful sin, and enjoys exemplifying it as she goes about her daily activities. Luckily for her, she currently lives in Hong Kong, the purported greatest city in Asia for everything to do with food (it's a close fight with Singapore, where she was born and bred). These days she can be found (over)eating, thinking of what and where to eat next, and attempting various recipes in her kitchen.