I've never eaten at Da Fiore, acclaimed by many as Venice's best restaurant. That said, to me, the best restaurant in Venice has got to be Corte Sconta, a gorgeous cult eatery hidden away—appropriate given that the name translates as "hidden corner"—on a tiny lane in the Arsenale sestiere. I only discovered Corte Sconta late last year, and boy was I upset. Upset that I hadn't discovered it earlier. Upset that over the last decade of visiting this enchanted city, I've had to endure an enormous number of crappy restaurants (which are the majority here).
Finding Corte Sconta was a revelation. Akin to listening to Sgt Pepper's Lonely Hearts Club Band for the very first time; reading The Princess Bride for the first time; a first ever viewing of Before The Rain; finally seeing Desmoiselles D'Avignon in person; trying on a Giorgio Armani tuxedo for the first time or, for the ladies, slipping on that first pair of Manolo Blahniks; the first-ever taste of top quality toro sushi or sashimi; or that first sip of a Quintarelli Amarone. In other words, it's one of those life-changing first experiences that makes you realize you just may have been missing out on some pretty amazing things for most of your life.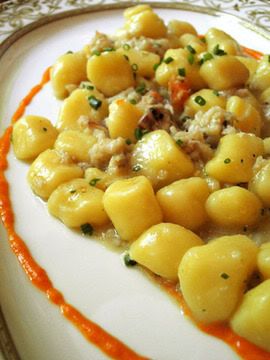 Yesterday, I brought some colleagues there for lunch. Despite its hard-to-find location, Corte Sconta is always busy. In fact, when I called up for a table, I was told that they were booked full every night for the next 2 weeks. Fortunately, the owners squeezed us in for a late 130pm booking. We started our meal with several shared appetizers. Plates of anchovies, wild salmon, and spider crab pate were followed by a large bowl of steamed clams. A mixed seafood plate was put down on the table next. There was crayfish, scampi, baby octopus, sardines, squid, and scallops. This was in turn followed by a large plate of spider crabmeat, deshelled and tossed with olive oil and lemon. Pasta was next. There were 4 choices available. I had some gnocchi with crayfish (pictured above), which was stunning. For dessert, we shared some tiramisu and a caramel basket filled with lemon sorbet (pictured below). We also split a bottle of the house Prosecco.
In addition to the amazing food, I adore Corte Sconta's courtyard (top picture), one of the prettiest I have ever seen in any restaurant. It's the perfect setting for a Spring-Summer lunch and fortunately for us, the weather held up beautifully.
Corte Sconta
Castello, 3886 Calle del Pestrin
Tel: 041 522 7024
Aun has always loved food and travel, passions passed down to him from his parents. This foundation, plus a background in media, pushed him to start Chubby Hubby in 2005. He loves that this site allows him to write about the things he adores--food, style, travel, his wife and his three kids!