Before I had even experienced modern wagashiya (Japanese confectionary shop), Higashiya for myself, I was already enamoured of the discreet yet clearly orchestrated style of the brand; by the time I had my first Higashiya encounter, I was well and truly hooked. I think the first time I read about Higashiya was in Wallpaper*. I remember being quite mesmerised. When we were creating a shortlist of places to visit on our 2007 Tokyo trip, I confess that I spent way too much time just gazing at the images of the gorgeous handmade tableware collections and tea accessories (some rustic-elegant in an exceptional, artisanal manner; others simply exquisitely refined) retailed at the boutiques.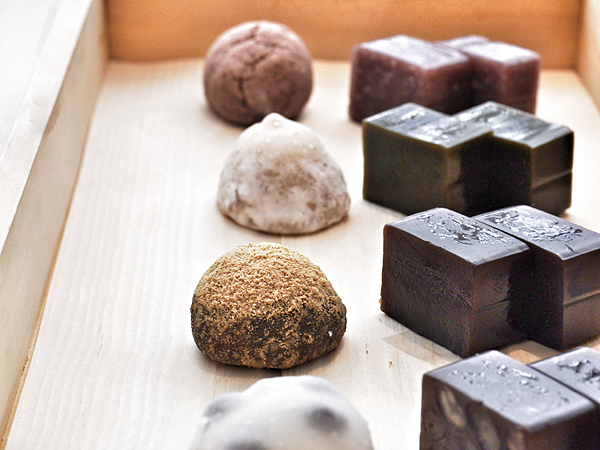 Naturally, when given the opportunity to interview my favourite personalities in Tokyo, I asked for the chance to speak with design guru, Shinichiro Ogata, the creative director and founder of design company Simplicity, and the visionary behind Higashiya, as well as Baishinka, two restaurants (Higashi-yama Tokyo and Yakumo Saryo) and lifestyle brand, SSS (Simplicity Super Studio). Ogata is one of those rare individuals whose aesthetic lens is able to imbue every minute detail of life with beauty. While he first began his career as an interior designer (a craft he continues to practice), today he sees himself as a "lifestyle designer". Step into any Higashiya and you'll see why. No two are identical, yet every one is borne of a singular vision. And everything—from the beautifully unembellished, hand-formed, signature hitokuchi-gashi (bite-sized confectionery) and the wooden boxes they are packaged in; to the bronze individual tea warmers and even the stunning restrooms—bear his touch. According to Ogata, his mission is "to stimulate the evolution of traditional Japanese things so that they continue to be relevant to contemporary life". And to do this, he says, food and eating play important roles because they express the very heart of Japanese culture.
It's hard to imagine that Ogata's Higashiya is already a decade old. It feels utterly contemporary, yet timeless at the same time. When he launched his first Higashiya in Nakameguro (which has since closed as the location is no longer available for rent), Ogata confesses that it was challenging to change the centuries old Japanese traditions of wagashi making. In order to innovate and create a new oeuvre, he felt that he also needed to create a new environment. And when he did, he left no detail to chance.
To me, the appeal of Higashiya lies in the fact that Ogata has captured the essence of wagashi and pared it down to its purest form. It's as if he has taken away the distracting colour and patterns on a sheet of paper so that you're able to just focus on the beauty of the finely made material itself. Then, he invites you to appreciate its simple yet miraculous transformation when it is carefully folded. You see this in his interiors. They are so painstakingly curated but tempered with such remarkable restraint, that the effect feels perfectly effortless—a true way of life. The same can be said of the products he has created in collaboration with craftsmen across Japan. They are simultaneously raw and refined. They make their presences felt without drawing attention to themselves. It's as if they have been created to only come into being when you adopt them to your way of living because Ogata's intention has always been to offer something that needs no explanation, but that customers will select for themselves because what he has created cleaves naturally to their daily lives. So, you'll find beauty in silhouettes, textures and tonalities, rather than colours. They are qualities that are infinitely adaptable. You'll also find beauty in the functionality of design. After all, Ogata's designs always start with what he wants to use and what can be used practically in the context of a Higashiya establishment. "If it cannot be used in this shop," he points out, "it cannot be used in a home and it is of no use to anyone." This is a commitment that I truly admire.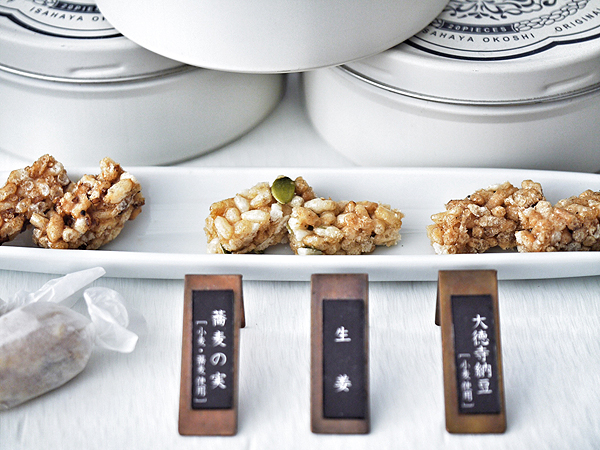 The selection of wagashi at Higashiya is, by Ogata's own description, "everyday sweets". There are so many delicious items, and there's always something new to discover each time I visit. But I have a couple of favourites. According to Ogata, they are all inspired by regional Japanese specialties, but re-presented to appeal to contemporary palates.  His hitokuchi-gashi are organically shaped; a far cry from elaborate traditional creations. Because they are filled with such unexpected ingredients and don't travel well, every time I go to the Higashiya in Ginza, I have to have the natsume-butter, a dried date stuffed with walnut and rich, fermented butter. The koi-murasaki is another delicious pairing of purple sweet potato paste with a cashew centre. And the kohji, pumpkin with cream cheese, is also an addictive option. These, I like to savour along with the ritual of tea service. CH loves the natto-flavoured puffed rice candy and the wafer-thin black sesame candy, which make great gifts. Because I know we return to Tokyo regularly, I am quite restrained about what I choose to enjoy each time I visit. But if I were limited to one stop at Higashiya Ginza, I'd definitely make the time for afternoon tea (they also serve ascetic lunch sets that appeal far more to me than to CH) and then get tempted by the retail section. When we visit the Issey Miyake and Pleats Please Issey Miyake boutiques in Minami Aoyama, I religiously make a stop at Higashiya man for a freshly steamed sweet manju. I am also dying to visit Baishinka (for "special occasion wagashi"), Higashi-yama Tokyo (Ogata's vision of a new style of Japanese dining) and Yakumo Saryo (for "modern kaiseki" in a private dining club) when we're next in Tokyo!
In the brief time we spent together, one statement that Ogata-san made has really stayed with me. He said that he aspires to make wagashi that will move customers. To that end, I believe he has achieved great success.
P.S. If you're in Singapore, do note that Atomi has recently started to carry a selection of SSS (Simplicity Super Studio) accessories.
Higashiya Ginza
POLA Ginza Bldg. 2F 1-7-7 Ginza, Chuo-ku, Tokyo
Higashiya man
3-17-14 Minamiaoyama, Minato-ku, Tokyo
Higashi-yama Tokyo
1-21-25 Higashiyama, Meguro-ku, Tokyo
Yakumo Saryo / Baishinka
3-4-7 Yakumo, Meguro-ku, Tokyo
Su-Lyn is Aun's better half and for many years, the secret Editor behind this blog known to readers simply as S. Su-Lyn is an obsessive cook and critical eater whose two favourite pastimes are spending time with her three kids and spending time in the kitchen. She looks forward to combining the two in the years to come.