I often take the best things in my life for granted, such as my wonderful hubby J who manages to squeeze time out from his non-stop work schedule to take me to my favourite country for a quick break. This time, we decided on Portland and the Oregon coast, road-tripping all the way. We flew into San Francisco airport, did a quick overnighter and then drove out bright and early the next day up towards Portland, stopping by Ashland, spent a few days in Portland, and back down by the spectacular Oregon coast.
The spring weather was gorgeous, the air was fresh (especially living in quite-polluted Hong Kong) and brisk, the coast was breathtaking in its raw beauty and fabulous rock formations. Best of all, since we left baby J in Hong Kong with his doting grandmother – my mum (to be able to do that is something else I'm really grateful for and often take too much for granted), we got to sleep long hours, eat non-stop and just enjoy being together on our own the entire time.
As with most holidays, there was too much to do and not nearly enough time to do it – here are some highlights of our trip, I hope you'll find it useful when you're planning your next holiday in the area or are lucky enough to have work take you to the vicinity.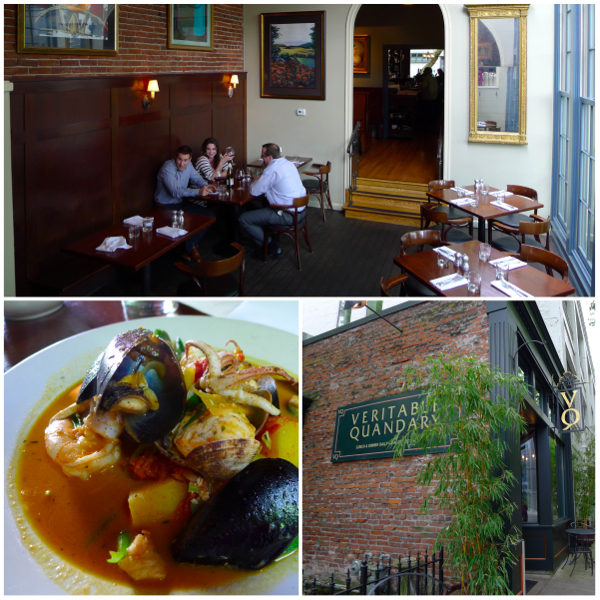 Veritable Quandary
Charmingly and irresistibly named, the food and its surroundings are just as lovely. This charming little outfit has been around since 1971, and is located in downtown Portland and warmly dressed with dark wood and brick walls, plus large floor-to-ceiling windows that let the sunlight in to gorgeously illuminate the space. Veritable Quandary (pictured above) offers up a small but varied menu that changes regularly, rotating popular mainstays and what's freshest during the season and at the markets.
A must-try is the popular seafood stew which was akin to a perfectly done bouillabaisse with a very nicely placed touch of curry, and arrived chock full of fresh mussels, fish, prawns, clams and squid. Our waitress was especially sweet and friendly, and even offered to send us the menu for the soup.
1220 SW 1st Ave
Portland OR 97204
Tel: +1 503-227-7342
www.veritablequandary.com
Ice-cream: Ruby Jewel and Salt & Straw
An on-going gripe of mine is the lack of locally owned and made, interestingly-flavoured ice-cream places in Hong Kong, so I tend to gobble up such ice-cream whenever I get a chance.
Ruby Jewel is best known for their homemade ice-cream sandwiches – choose the pre-packed ones in their best selling flavours, or custom-make your own from a variety of cookies and ice cream flavours. I had the caramel with salted dark chocolate several times. This flavour was super-caramelly and super-laced with gorgeous chunks of chocolate. The salt balanced out the overall flavour, and made it none too sweet and just addictive.
The other ice-cream place which is a local favourite is Salt & Straw. The one on NW 23rd Avenue is also a bakery, and has a nice seating area where we sat and enjoyed our (multiple) scoops.
Ruby Jewel
428 S.W. 12th Avenue
Portland, OR 97205
Tel: +1 971 271-8895
www.rubyjewel.net
Salt & Straw
838 NW 23rd Ave
Portland, OR 97210
Tel: +1 971-271-8168
www.saltandstraw.com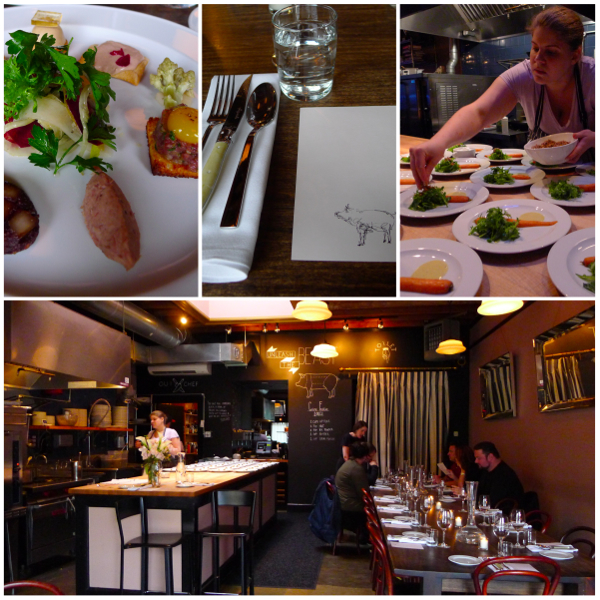 Beast
Beast is helmed by chef owner Naomi Pomeroy of Top Chef fame, who has also been nominated in several James Beard awards. The simply furnished restaurant near the Alberta Street shopping belt is built around an open kitchen and seats just around twenty (pictured above).
It was great to see chef and her team at work as they prepared your delicious dinner right in front of you, and they patiently and smilingly put up with my snapping pictures all around them throughout the evening. The menu, if it's not already obvious given the blatant name of the restaurant, is meat-centric, which delighted both me and J tremendously.
The restaurant offers a six-course prix-fixe dinner five nights a week, and a four course prix-fixe brunch each Sunday. The menu changes weekly, but with some of the most popular items present always.
Their Sunday brunch is supposed to be one of the best ones in Portland, and I was very sorry that we arrived into Portland just in time to miss it. Instead, we had dinner that night.  The charcuterie plate was particularly interestingly varied. Its mini morsels featured a good mixture of textures and tastes, and I was most taken by the foie gras bon-bon, which I popped into my mouth with its peanut shortbread and sauternes gelee – gorgeous burst of flavours.
Reservations are a must, as much in advance as possible.
5425 NE 30th Avenue
Portland, Oregon 97211
+1 503-841-6968
www.beastpdx.com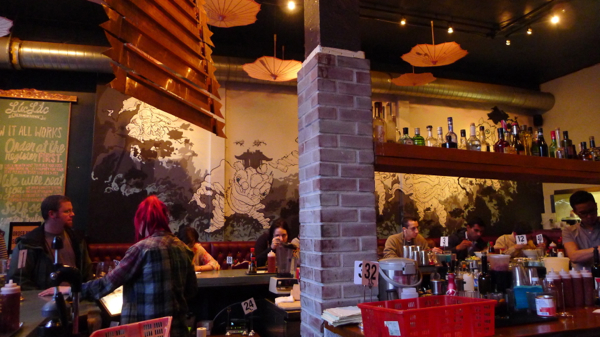 Luc Lac Vietnamese Kitchen
I was slightly worried that we wouldn't have time on this trip to stop by my favourite Vietnamese place in San Francisco (Golden Star Vietnamese) for a giant bowl of pho, so just in case, we made sure we did a Vietnamese stop while in Portland. Luc Lac (pictured above) is a trendy Vietnamese restaurant-bar. The food is pretty much typical to what you'd expect of a Vietnamese joint, the full bar and clubby music with low lighting was less typical. Naturally, we overordered (we had beef pho, chicken and shrimp charbroiled skewers, pork bun thit and rice-paper shrimp spring rolls) but still managed to finish almost everything as it was all delicious.
835 SW 2nd Ave
Portland, OR 97204
Tel: +1 503 222 0047
www.luclackitchen.com
Anthropologie
Anthropologie has stores all over the US, and each time I walk into one of their stores, it always feels like entering someone's lovingly put together, vintage-inspired, almost shabby-chic home. I adore how clothing and accessories are beautifully integrated with household items like crockery, candles and tea towels throughout the store. Large, comfy chairs and sofas invite you to linger and have a chat or browse the lovingly curated selection of books. My souvenir this time (from the Portland store on NW Couch St) was a bakery cookbook – Vintage Cakes by Julie Richardson – can't wait to try out the beautiful recipes!
1115 NW Couch St
#600
Portland, OR 97209
Tel: +1 503 274-0293
www.anthropologie.com
Powell's Books
What's there not to say about Powell's…. Let's just say that each time I visited, it made me feel like I've never had the privilege of being in a real bookstore prior to it, and Powell's is reason enough alone to go to Portland. There are five locations in Portland, and unfortunately we only went to the flagship one as it was closest to our hotel. The store is an amazing collection of literally every book you can possibly find or want. The section on food and food narratives took my breath away, and J had to drag me away from the store each of the nights we were in Portland (they close at 11pm so we tended to drop by after dinner).
The other wonderful thing about Powell's is that alongside with brand new books, they also offer pre-owned and overrun titles – which means that you're very likely to find an older, rare or out-of-print copy of the book you're looking for. I also went a little crazy in the kids section selecting cute little picture and texture books for baby J – the range, the variety!
Of course, we ended up with waaay too many books – yay!
1005 W Burnside
Portland, OR 97209
Tel: +1 503-228-4651
www.powells.com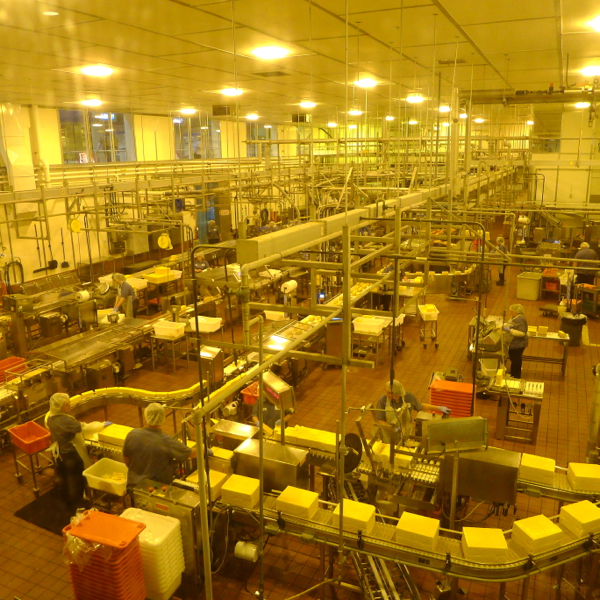 Tillamook Cheese Factory
Tillamook is a familiar name at grocery stores in Singapore and Hong Kong, and I've occasionally used their cheddar for making pasta and casseroles, and have also much enjoyed their Old-Fashioned Vanilla ice cream. Plus, being a fan of all things cheese, I was thrilled to be able to make a stop at this beloved institution practically every eatery we checked out in Oregon proudly proclaimed on their menu that their cheese was Tillamook.
The tour is self-guided, with audio and visual stops. Everyone got extra thrills from viewing the actual production line (pictured above) and seeing the people at work packaging and cutting the giant blocks of cheese. The other highlight is the tasting section where you get to taste various cheeses, including squeaky cheese – cheese curds. I didn't know that haloumi, a cheese that seems to be increasingly featured in eateries these days, was squeaky cheese until my friend K enlightened me with this factoid.
After a quick bite at the Tillamook cafeteria (I had the grilled cheese sandwich, needless to say) and scoops of Tillamook ice-cream, we procured some of the squeaky cheese and beef jerky for the road and also got baby J a little Baby Loaf onesie. Tillamook is about an hour and a half away by car from Portland, and we stopped by en-route back to San Francisco airport.
4175 Highway 101 North
Tillamook, OR 97141
www.tillamook.com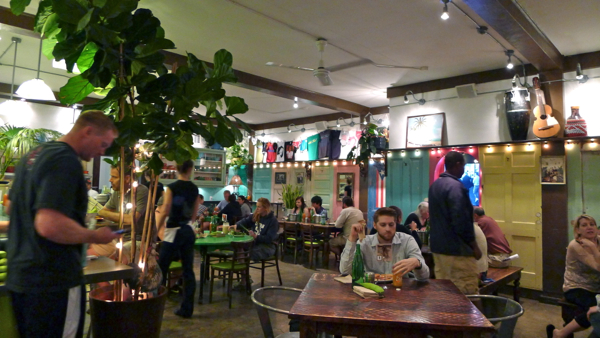 Sol Food Restaurant
I've been curious about Puerto Rican food ever since reading about Jimmy'z Kitchen in Jeannice's article, so when we stopped by the city of San Rafael on our journey back and I'd heard that there was a great one around the corner, we promptly trooped to dinner there.
The restaurant was a cheery, colourful and bright space with tall trees, bananas scattered on tables and the bustle of happy people enjoying their food. Complete with live salsa music wafting in from the band outside. The mofongo (mashed plaintain) was yummilicious, and fried plaintain was also offered in sweet (like a goreng pisang!) or in flattened savoury patties. We shared the pollo al horno (baked chicken marinated with oregano) and camarones criollos (sautéd prawns with garlic in tomato sauce).
901 Lincoln Avenue
San Rafael, CA 94901
Tel: +1 415 451 4765
www.solfoodrestaurant.com

Charmaine considers gluttony the most beautiful sin, and enjoys exemplifying it as she goes about her daily activities. Luckily for her, she currently lives in Hong Kong, the purported greatest city in Asia for everything to do with food (it's a close fight with Singapore, where she was born and bred). These days she can be found (over)eating, thinking of what and where to eat next, and attempting various recipes in her kitchen.