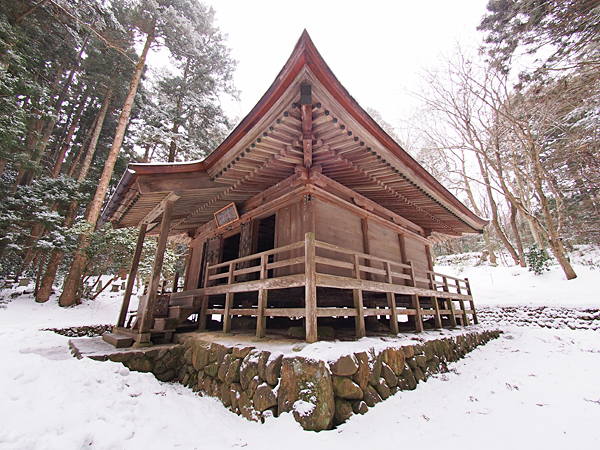 One of the most beautiful sites in Tohoku, Japan, has to be Hiraizumi. This UNESCO World Heritage Site in Iwate prefecture is home to Konjiki-do (Golden Hall) within Chusonji Temple, which attempts to recreate an ideal Buddhist world within our realm, and Motsuji Temple, famous for its Jodo (Pure Land) garden grounds. Motsuji is the home of several exquisite "culture of gold" remnants from the brand of Buddhism that developed independently in the Tohoku region far away from the cultural center of Kyoto in the late Heian era of the 11th century. UNESCO recognized this area as a rare example of how local culture could manifest on such a high level during the transitional period from the ancient era to the medieval period. For more information, please refer to the write-up on UNESCO's World Heritage site here: http://whc.unesco.org/en/list/1277
I visited Hiraizumi on a freezing winter day. Which was both good and bad. Bad because walking around the grounds around Chusonji was no picnic, but wonderful because, firstly, there were hardly any other tourists around, and secondly, because the snow on the ground and the diffused winter light were perfect for snapping tons of pictures.
Konjiki-do is truly stunning. Unfortunately, photography of the golden hall is prohibited so the photo above is courtesy of the temple (all the other photos in this post are mine though). I know it is hard to tell from the picture, but the level of detail here and the sheer magnificence of the gold really is quite amazing. It's hard not to just stare blankly at this beautiful artwork.
The rest of the grounds are dotted with beautiful gardens, other temples, and some statues. This is really a gorgeous place to visit and well worth the trip for anyone interested in Buddhism or history.
Aun has always loved food and travel, passions passed down to him from his parents. This foundation, plus a background in media, pushed him to start Chubby Hubby in 2005. He loves that this site allows him to write about the things he adores--food, style, travel, his wife and his three kids!