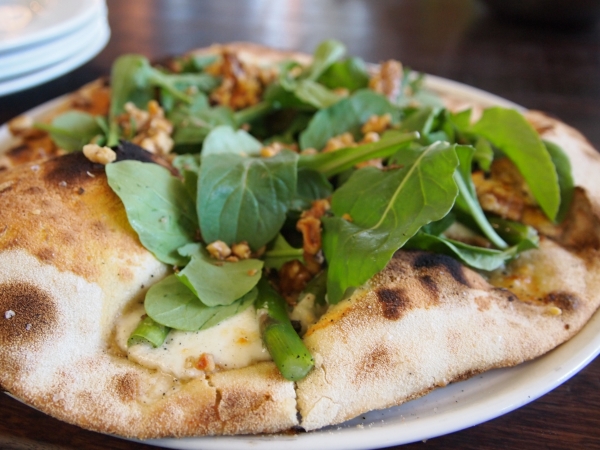 Over the New Year, we vacationed in Melbourne with our munchkins, our first family holiday since baby girl C entered the brood. Since the hubby and I love visiting vineyards when we travel, we were looking forward to exploring the best of Yarra Valley. I was anticipating neat rows of lush green vines, well-manicured vast lawns for the kids to run around in, endless wine-tasting, delicious seasonal food served at the restaurants, all set in the vineyards' peaceful and tranquil surroundings.
Through my research, I had read about the awesome food and drinks at Innocent Bystander, and made it a priority on our itinerary. Healesville is about a 90-min drive from the main part of Melbourne, and when we got there, we were beyond surprised to see a bustling restaurant packed to the brim, with an hour-long queue for a table – this was at 2pm on a weekday! It was the furthest from my idea of the quiet vineyard restaurant lunch I was expecting. It was an achingly hip cellar door and bistro, with no adjoining vineyard. It was certainly a place to see and to be seen. The servers were good-looking, young, well-groomed and well-dressed and we were eventually seated outside after a bit of waiting. The food menu was extensive, with a good selection of tapas and salads intended for sharing. But we kept our eyes on the prize and ordered a couple of their famous pizzas, a Caesar salad, Moscato and a pint of Pipsqueak cider.
The long drive and wait were well worth it. Their pizza is possibly the best I have ever tasted, thanks to the delightfully chewy, crispy-on-the-edges, super flavourful organic sourdough pizza crust. Our first pizza, one with classic tomato sauce, buffalo mozzarella and basil, was fresh-tasting and really rather addictive. The other came topped with asparagus, arugula, roasted garlic, walnuts, capers and mozzarella, which basically was all of my favourite things on one slice. The melange of flavours came together wonderfully, and I could not help but take more than my fair share. The Caesar salad was well-executed; super fresh Cos leaves, with whole fillets of briny anchovies, crispy streaky bacon, large slivers of parmesan, a perfectly poached egg on top and home-made croutons. It could not be beat.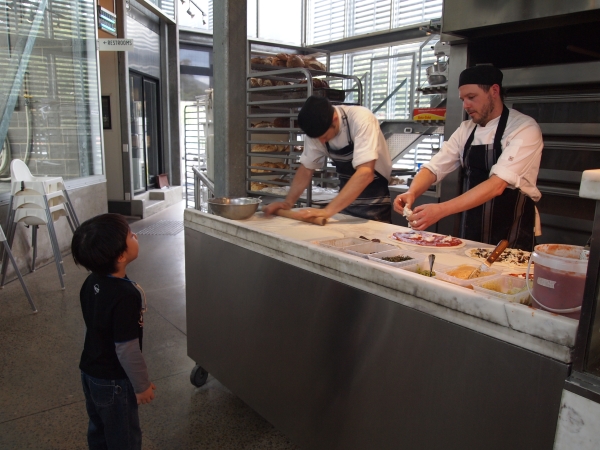 An interesting thing to note about Innocent Bystander, which I haven't seen anywhere else, is that they serve Moscato on tap. And after a 90-min drive in the Melbourne summer heat, a glass of pink, bubbly, muscat-y goodness was indeed very welcome. The light and refreshing Pipsqueak cider (on tap) was good with the pizzas too. While these drinks were fantastic, on our second lunch there (yes, we had to go back), we ordered White Rabbit's (the brewery itself is located in the building opposite Innocent Bystander, and they share the same carpark) white ale instead, and we were blown away. It was the smoothest, creamiest, tastiest ale I have ever come across. It had hints of caramel and yet was still light and fruity, and doesn't sit in your stomach like some other ales do. It boasted such a luxurious mouth-feel that I could have had another pint of that, instead of dessert. In fact, I'm kicking myself in the shin now, for not having shipped a whole carton of it over.
On our second visit, we also ordered a few slices of their organic, home-made sourdough bread while waiting for our pizzas. We were very glad we did, because the hubby and I agree that it ranks as one of the best sourdough we have tasted. I loved the hearty, crunchy crust, and the kids thoroughly enjoyed the soft, chewy, tangy center and greedy little C could not get enough. Served with extra-virgin olive oil and sea salt, these were definitely the perfect way to start our meal.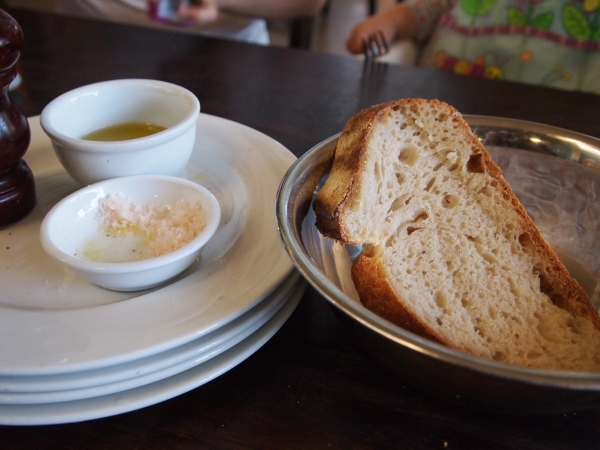 By now, you get the idea that these guys do everything impeccably well; fantastic pizza, beautiful wine, and artisanal bread. But wait, it gets better. The good people at Innocent Bystander roast their own coffee beans too, and do a fine job at it. We take our coffees straight black, without sugar, and it's a good way to really taste the essence of the beans and the barista's skill. Their house blend was bold and full-bodied, smooth and not too acidic. It was the best end to our meal and vacation and a big bag of freshly-roasted coffee beans happily made their way home with us.
Giant Steps/Innocent Bystander
336 Maroondah Hwy
Healesville VIC 3777
Australia
Tel: 1800 661 624 (Australia only)
Tel: +61 3 5962 6111
White Rabbit Brewery
316 Maroondah Hwy,
Healesville, Victoria
T: +61 3 5962 6516
Dawn, a lanky food-crazed lady, started out writing for lifestyle magazines, and later spent several years in banking. When not eating, she's cooking, reading about, hankering after, and writing about food. On her first date with her boyfriend (now husband), they dined at four restaurants across Singapore. He's gained 25lbs since, and their culinary escapades continue after welcoming two rotund angels. Dawn's committed to feeding them with the best, and creating lasting food memories and traditions for her family.