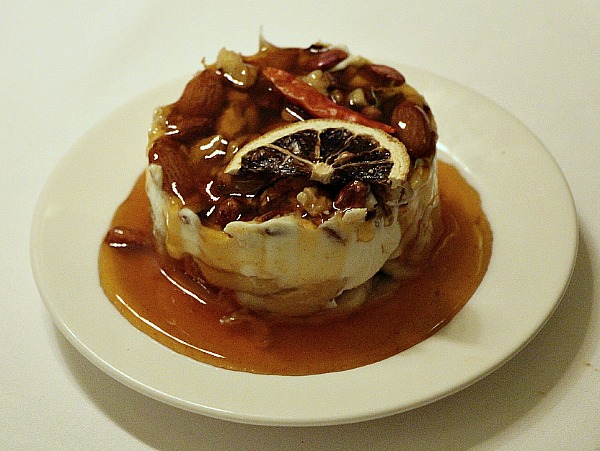 Turkish restaurants can be divided into three large categories: meyhanes where people drink raki and eat meze, fish restaurants which involve a banquet of cold and hot appetizers followed by a showcase of fish as a main, and meat restaurants, which serve grilled meats, and all sorts of kebabs and skewers charcoal cooked to perfection.  These categories, obviously, are aside from the numerous esnaf lokantasi tradesmen establishments, street foods, snacks, and produce available to grab and go.  Some of the delights encountered almost in every corner  in the old Constantinople include roasted chestnuts, huge pomegranates and figs, offal kebab stands, simit – a bagel-looking bread covered in sesame seeds, dense coffee, hot tea, chewy ice cream, baklava, and even sahlep – made with orchid root – to drink and warm up with.
The legacy of the Ottoman Empire and the country's geography have allowed Turkish food to draw influences from the Middle East, the Mediterranean, the neighbours of the north such as Armenia and Syria, as well as taking advantage of the incredible seafood available along its vast coastline.  Istanbul, located in both Europe and Asia, is crazy, and full of surprises.  Modern, amended to Western tastes, while retaining its institutional classics from Ottoman cuisine.  The traditional meyhane restaurants, where locals go to eat meze and graze through the menu while the bottles of raki (liquorish alcohol) flow, are incredibly popular.
There are meyhanes, and then there's Meze by Lemon Tree.  Meze's concept, menu, service are pitch perfect.  The restaurant, located in the Pera area of Beyoglu district, is situated across the road from the famous Jumeira Pera Palace.  The space is elegant, the décor is simple: tiles of block colours provide the necessary brightness to liven up the place without resorting to traditional Turkish designs.
Meze by Lemon Tree offers a daily changing selection of mezze to start your meal with, and a menu with hot and cold appetizers, four main dishes, four side dishes and three desserts.  It's good to have a composed menu, as the fourteen mezze alone are tempting enough to keep a table enjoying happy with just them alone.  I, however, suggest opting for three or four, and then ordering some mains, because, well, they're unbelievably good.
Everything is sophisticated, delicate, with the names of dishes sound like traditional Turkish food, but the twists on the menu, the addition of certain ingredients, the manner in which the main dishes are cooked and presented, showcase why Meze by Lemon Tree is in a league of its own.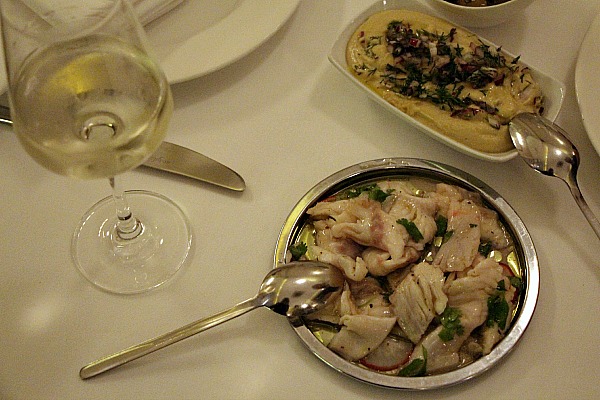 A fava bean puree with touches of curry had me dreaming about slathering my skin with the spread.  Smooth and dense, perfectly positioned next to the warm bread rolls brought to our table.  It, too, perfectly complemented another one of our chosen mezze – a seabass ceviche that was fresh, tangy, served with grapefruit slices which rounded the dish nicely.  The zucchini ribbons dressed with pomegranate seeds were well-marinated, and the smoked trout pate wrapped in vine leaves was delightful.  Some other specials included rolls of fried eggplant topped with braised tomatoes, a spicy walnut and chicken spread, and tahinli, an intriguing combination of tahini, red pepper and gruyere cheese.
Moving over to the appetizers, imam bayldi (stuffed eggplant) is served with a filling feta and pistachios, topped with tomato sauce and sliced green onion, and the shrimp casserole with ginger and hot peppers is both creamy and fresh. However, the two main dishes I savoured stole the show.  Sea bass, baked en papillote, with dried apricots and almonds was a dream to eat.  The fish tasted sweet thanks to the fruit, and the tiny pieces of nuts added a subtle textural dimension that had me wide-eyed and blown away with each mouthful.  The hardier main of sliced beef tenderloin topped with yogurt and spicy tomato, served on match stick potatoes was robust and delicious.  It is a take on Turkey's iskender kebab, which comes on torn pieces of bread instead of potatoes.  Meze by Lemon Tree's version is a combination of wonderfully integrated components.  The beef, cooked medium, was slightly charred on the outside, the potatoes thin and crispy, and the sauce tangy.
To finish off the meal, the sweet course that called out to me was the atom dessert (main image).  Sliced bananas topped with honey, almonds, walnuts and kaymak (Turkish clotted cream) was amazing, simply a textural home run.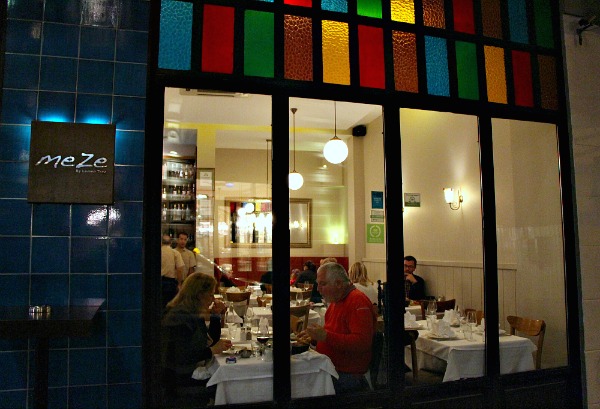 From beginning to end, being escorted to the cabinet with day's mezze display, selecting matching drinks, devouring mains, and delighting in dessert, Meze by Lemon Tree was a standout dining experience in Istanbul.  Food of this quality, in a rather enjoyable atmosphere, is always a surprise for the traveller and the local.  It will satisfy a crowd as much as a charming couple on date-night. If you're in Istanbul, make sure to call ahead and reserve a table.  Meze by Lemon Tree is open for dinner seven nights a week, and it is rising to the top as a preferred dining experience.
Meze by Lemon Tree
Meşrutiyet Caddesi 83B, Beyoğlu
Istanbul, Turkey
Tel. +90 212 252 8302
www.mezze.com.tr

Janice is a girl from Lima, Peru who loves a good cebiche and a glass of dry Riesling. She travels the world (often for food or to check out new restaurants) and lives in Australia. Janice tries to learn about different countries through cuisine, and takes advantage of Sydney's multiculturalism by exploring gastronomy in all of its forms. Grower's markets, wine tastings, restaurant openings, cooking classes, shopping for specialty spices; she's keen to do it all.