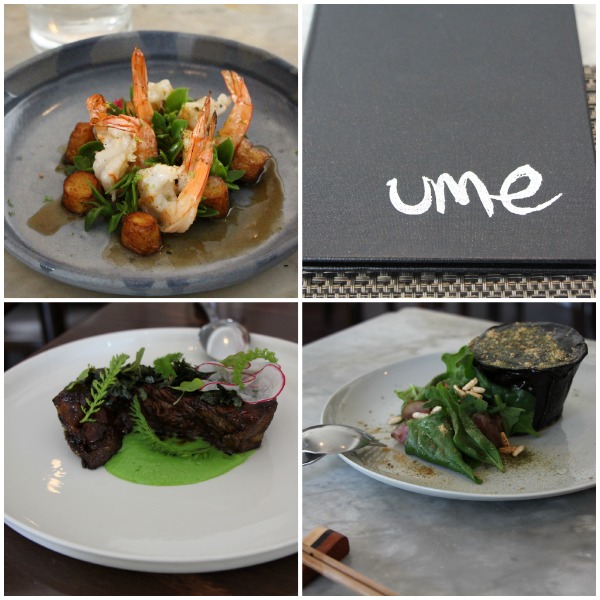 Ume is a charming restaurant.  Like the plum which it's named after, it is sweet, and it is delicate.  This modern Japanese eatery feels like it was taken straight out of the old streets of Kyoto and seamlessly placed in a leafy area of the otherwise buzzy Surry Hills, in Sydney.
The restaurant, which opened last June, is the project of Chef and owner Kerby Craig and his wife Hiroko Muranishi. They decided to create a space of their own following Kerby's success as a chef in Tetsuya's original restaurant, his experience overseas, and his time running Koi, the one-hatted Japanese restaurant in Woolwich, Sydney.   Hiroko and Kerby have elegantly put together a restaurant that feels Japanese and tastes distinctive.  In service, it is tactful and pleasant.  In taste, it is technically right, presented with finesse, and filled with umami surprises.
Ume's décor is simple.  The white walls have plum blossoms painted on them, there are numerous bottles of sake and shochu behind the bar and on the counter sit several books on Japanese cooking.  The space is divided into two small areas, the front of the restaurant has approximately eight tables, and the back section can accommodate a group of approximately twelve people and a few single diners or couples.
The menu is like a contemporary omakase.  Although it is a-la-carte, there is an eight-course menu available at dinner and a four course prix-fix lunch.  Among the dishes in the menu, the snapper carpaccio is a clever way to start the meal.  The snapper is clean tasting, mineral, fresh.  It is served with black sesame, white soy, and shiso leaf which come through nicely at the end of each bite, leaving a palatable taste behind it.  The inclusion of white soy is a nice bonus, and the scattered black sesame seeds are not overpowering.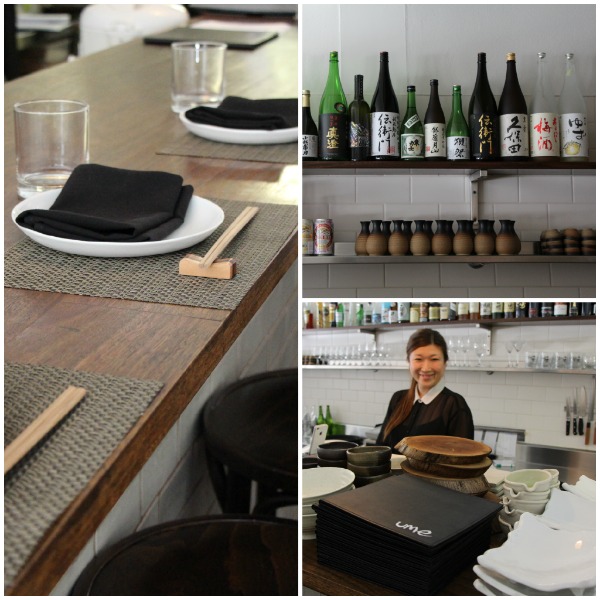 The Scampi carpaccio was a standout.  If it were readily available, elsewhere, anywhere, I'd order it on a weekly basis.  Raw scampi, marinated in Chardonnay vinegar and walnut oil, topped with chives and crumbled walnuts – simply superb.  The scampi almost melts in your mouth, and the crunch of the walnuts adds to the umami feel; two distinct textures playing together harmoniously.  The chives are enjoyable, and the Chardonnay vinegar makes it taste as elegant as it sounds.  The dish on the menu that's received the most accolades, however, is the scallop carpaccio.  It arrives presented as a flower.  The petals on the plate are the thinly sliced pieces of seared scallop, dressed in soy brown butter; a work of art.
Miso soups, textural salads, more carpaccio dishes, and daily specials all decorate the menu.  The mains are heavier in composition, yet as intricate and delicate as the starters. Wagyu beef, lamb, prawns, and mixed seasonal mushrooms.  For the vegetarians, chef Kerby has created a play on the traditional nasu dengaku that could leave the most emphatic meat-eater completely satisfied.  Nasu dengaku, a dish of eggplant topped with miso sauce, is cooked with a twist.  The chef covers the eggplant with white pepper, and then roasts it, allowing the pepper to infuse the eggplant from the outside in.  When served with a thick red miso sauce and a side salad of pickled eggplant, mixed greens, and puffed rice, this nasu dengaku goes beyond a pedestrian dish and becomes a showstopper.

Dessert at a Japanese restaurant may be, to some, an uneventful affair, but at Ume, sweet seasonal dishes entice and grab one's attention.  Sake-caramel braised pineapple with mango sorbet, frozen green tea mousse, dehydrated cocoa and freeze dried strawberries is a feast for the senses.  Or a clever take on strawberries & cream, presented as a jelly with vanilla tofu and ginger meringue, is a dish that takes wagashi (Japanese confectionery) to a whole new level.
It wouldn't be a proper Japanese experience without a great selection of drinks.  The choices at Ume are ample.  The range of sake is divided into three sections: Junmai, Junmai Ginjo, and premium Junmai Daiginjo, as well as blended sake and umeshu.  I was impressed by the list, and even noticed that Ume has added Robot Ninja to its list, a Junmai Ginjo Sake produced in New South Wales, while all the others come straight from Japan.   There are different types of shochu, made from wheat, rice, barley, sweet potato, or sugar cane.  The beer section is also quite generous, with seven imported Japanese beers available.  Moreover, the wine list has been hand-picked with as much precision as the ingredients placed on each dish.  I recognize a few bottles from boutique winemakers that are as passionate about their wines, as the kitchen at Ume is about its food.  To my curious eyes, this is a wonderfully matched, skilfully selected beverage list.
At the end of the meal, I'm left with nothing but good wishes for everyone in Ume.  The sentiment inside this restaurant is transmitted beautifully from kitchen to dish, by way of service and ambience.  Dining at Ume is like a perfectly crafted piece of origami.  Go and become enchanted.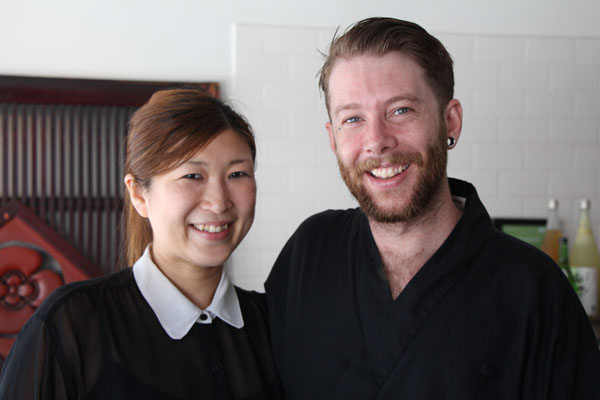 Ume Restaurant
478 Bourke Street, Surry Hills
New South Wales 2010
Australia
Tel. +61 2 9380 7333
www.umerestaurant.com.au

Janice is a girl from Lima, Peru who loves a good cebiche and a glass of dry Riesling. She travels the world (often for food or to check out new restaurants) and lives in Australia. Janice tries to learn about different countries through cuisine, and takes advantage of Sydney's multiculturalism by exploring gastronomy in all of its forms. Grower's markets, wine tastings, restaurant openings, cooking classes, shopping for specialty spices; she's keen to do it all.