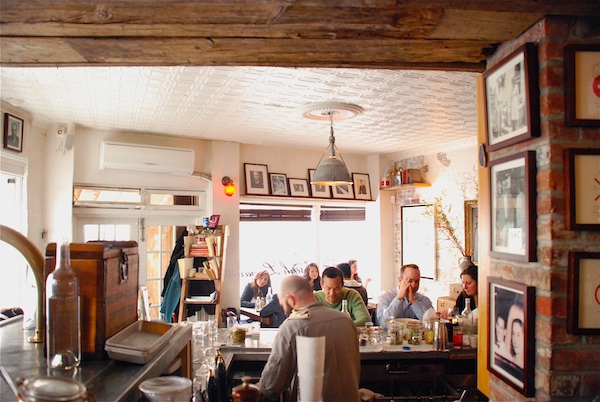 When my girlfriend K and I were college students living on the fringes of New York's scenic West Village, there were two kinds of restaurants that we enjoyed frequenting. The first kind is the so-called 'superstar' type — this is the kind that has received widespread media coverage and whose chef clearly has his finger on the gustatory pulse of the city. The second kind of restaurant is the neighborhood joint. These are eateries which have won us over with their hearty food and good service, and which are typically a short stroll from our apartments. Joseph Leonard, happily, is a restaurant that falls into both categories.
Named after owner and restaurateur Gabriel Stulman's (Stulman's latest restaurant Perla was recently awarded two stars by the New York Times) two grandfathers, Joseph Leonard has all the trappings of a West Village joint: a strict no-reservations policy; warm wood furniture; rough, unvarnished tables; framed monochrome portraits hanging on exposed brick walls. And yet, executive chef Jim McDuffee and his team also serve some of the most delicious — and straightforward — American food to be found in the city.
We've had a few good memories at Joseph Leonard over the years, the best of which involved us sitting at the chef's counter overlooking the kitchen and being served a variety of complimentary samples until we could barely roll out the door. As you can probably tell, we have a lot of affection for the place, and we've become repeat customers at JL and its sister restaurant across the street, Jeffrey's.
K and I recently went on a holiday to New York, a year after we graduated, and decided to have breakfast at Joseph Leonard with our friend M. As luck would have it, the restaurant had just made some changes to its menu, and we were their first group of guinea pigs. We were the only customers at the time — we're guessing that the artistic and creative types that make up the bulk of the restaurant's clientele, and who throng the place after sunset, aren't really morning people.
Now, I'm a pretty darn indecisive person, which makes ordering at restaurants a bit of an exercise in patience for my companions (and the waiter). After looking at the menu, I couldn't decide between the omelet and the mushroom soup, which happened to be one of the newbies. "Get the mushroom," my server told me, in a tone that seemed to say, "If you don't, you will regret it for the rest of your life. And I will kill you." So I ordered the mushroom soup.
Chef McDuffee's interpretation of the mushroom soup is a triumph of taste and textures. Generous chunks of portobello and cremini are drowned in a thick, creamy soup with the surprising addition of wheat berries, and topped with chopped parsley and crumbled Parmesan. This was by far one of the best and most unique mushroom soups I've had — the richness of the soup contrasted wonderfully with the succulent mushrooms, the barley-like crunch of the wheat berries, and the intensity of the cheese. It was precisely what the doctor ordered for a drafty spring morning, and it also neatly cured me of my mushroom soup fatigue.
K and M both got the egg sandwich, a perfectly done manchego omelet slotted in between a sliced croissant. M opted for an additional filling of bacon, while K, being a pescatarian, did not. I managed to steal a bite (or three) of K's sandwich, and almost ended up ordering one myself. While it wasn't show-stopping or anything, the croissant was just the right amount of flakiness, crispness and fluffiness, and the egg, embellished like the soup was with the saltiness of cheese, was an excellent complement.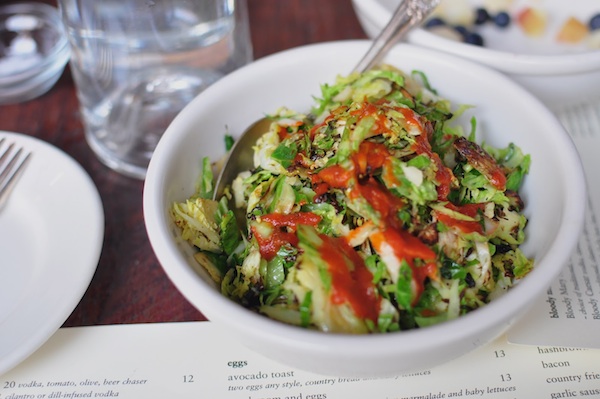 The egg sandwich came with a side of charred, chopped brussel sprouts tossed in piquant Sriracha, which I did end up ordering for myself. This was quirky comfort food at its very best, the kick of the chili forming a volcanic layer on top of the voluptuous taste of the brussel sprouts. It was an exciting alternative to the usual sides of fries and hash browns, and I'll probably try to replicate it at some point at home. Ordering the mushroom soup did indeed prove to be the right decision, as it nicely doused the fire in my mouth in between spoonfuls of the Sriracha sprouts.
M, a lifetime New Yorker, declared Joseph Leonard one of the best breakfasts he's had in the city. At less than US$20 per person (before tips) for three dishes, a side, plus drinks, it's also pretty affordable.
Go early if you want to beat the crowds, you may be in for quite a long wait in the afternoons and evenings. It's well worth a visit if you're out and about in the West Village, and even if you're not, it's worth taking the trip there.
Joseph Leonard
170 Waverly Place, New York
New York, USA
Tel: +1 646 429 8383
www.josephleonard.com
Monday 530pm—12am
Tuesdays—Fridays 8am—2am
Saturday 1030am—2am
Sunday 1030am—12am
Many thanks to, in order of appearance, Kassandra Lee and Ilana Freddye of whisked for the respective images.
Brandon Chew's first memory is of him eating chicken rice at the dining table of his parents' old flat. His second memory is of him politely asking for, and receiving, a second helping of fries at KFC, which taught him two things: manners gets you places, and fries are the most awesome food known to man. Brandon has just returned to Singapore from New York and is happily exploring the food scene here.