Often, I find myself needing some time off. Time off from the world, from long work days followed by longer dinners, from my computer(s), from my cell phone, from happy hour cocktails, and just from the world… I was seeking a break where I could nourish my body and empty my mind. So I did a lot of research and asked around, considering various options from yoga ashram in India to a Chinese medicine retreat in Northern Thailand. In the end I discovered the best of both worlds in Kamalaya in Koh Samui, Thailand.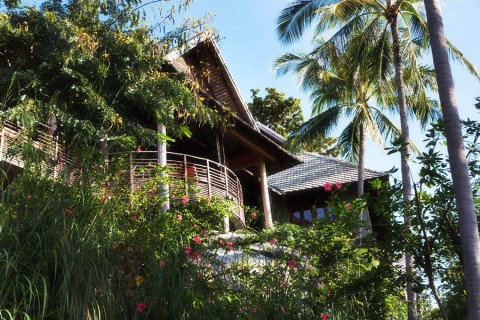 Kamalaya positions itself as a "wellness sanctuary and holistic spa." And with a Traditional Chinese Medicine doctor, a Naturopathic doctor and a Director of Medicine with a background in Western Medicine, they offer the most comprehensive approach to wellness I have seen in one location. And all residing within a tranquil seaside setting that leaves one breathless. The entire estate is somehow cut into the hillside in such a way that it seems almost destined to be there – the villas and the other Thai-style housing structures blend seamlessly with the natural environment in a way that is completely serene and organic.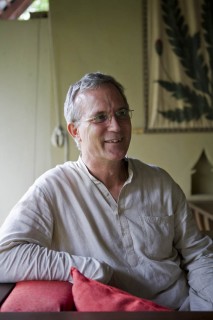 I had the opportunity to have breakfast with one of the founders, John Stewart. John is an American who has been in Asia since age 16, studying in the Himalayas with a spiritual guru and yogi. John and his wife, Karina Stewart (a trained TCM doctor), found the Kamalaya site during a time of mourning after the guru's passing, and in meditating upon the site, felt moved to build what is now Kamalaya.  In John's own words, "Kamalaya was created to offer a nurturing environment to guests, so that people feel immediately intrigued, full of excitement, and at the same time always welcome, comfortable, and at ease, like they are in a magical little village."
While there are many programs to choose from at Kamalaya (or simply do nothing,  just reveling in the location and the experience), I chose the Detox & Cellular Rejuvenation program…lured by the promise of correcting imbalances and emerging with a pure, cleansed system free of toxins and enhanced cellular function. My seven-day retreat included all meals, approximately three spa treatments a day and any of the many available fitness classes available. For everyone who comes to Kamalaya, the program starts with a thorough medical evaluation by a skilled nurse and then a consultation with a Naturopath. Also included in my package was a regimen of low glycemic and vegetarian diet, colon cleansing, herbal supplements, protein shakes and spa treatments specially chosen to further encourage the detox process in the body.
The recommended spa treatments are designed to enhance the detoxification process. All done from a wellness center on a hill overlooking the placid sea, I enjoyed the Vital Essence Massage, Lymphatic Drainage Massage, Asian foot massage, Thai body massage, Herbal Detoxifying Body Scrub and Wrap and many more outstanding treatments. My real favorite was the Indian Head Massage – based on the ancient healing system of Ayurveda, this treatment is used to massage and relieve tension from the shoulders, neck, back and scalp. The massage features rich coconut oil and the therapist uses firm yet gentle pressure to release tension. A tip for women – leave the coconut oil on your hair for an hour before shampooing and you will experience the most glossy mane of hair ever!
I do want to spend a second talking about the colon cleansing part of the program. Having never experienced a colonic, I was quite nervous about the process. Will it hurt? How does it feel during and also after? Is it healthy? After taking three colon cleanses during my stay, I can say that it is absolutely safe (administered by registered nurse) and painless. And not only that, it really is an integral part of the process – I felt healthy and full of vitality, with a level of natural energy that surprised me.
And in this most exotic and beautiful of settings, the staff exhibits a level of service I have yet to see elsewhere in generally extremely hospitable Thailand. After day one, they remembered my name, the juice I preferred at breakfast and even the book I was reading! And because I was by myself, I was invited by the staff to join the "community table" at mealtimes. This was a specially designated table where those travelling alone could take meals and chat with other guests. Actually it was here that I met the founder, John Stewart over breakfast.
Beyond the programs and the spa treatments, I also enjoyed yoga and Pilates classes, the steam cavern that is cut into the side of the hill and the fantastic spa cuisine at Kamalaya. I don't know how they manage to do it, but the food is absolutely delicious. As a foodie, I was genuinely concerned about whether I would enjoy a detox vacation and had incorrectly assumed the diet would be like cardboard and rabbit food. Yet they manage to keep it super healthy (with an emphasis on high quality proteins like fish and chicken, vegetables, nuts and seeds, and healthy, flavorful grains) without losing any flavour. I even ended up taking a cooking class that was offered because I was truly amazed at how good this pure, healthy food tasted. And what I learned in the class is that it is all about being creative with herbs and coconut oil and often just blanching the veggies to keep the flavour and textures intact. And for those of you who might want to splurge, there are menu options with chocolate soufflés, wine, grilled meats and more available. Kamalaya is not intended to be about deprivation.
While all of this might sound like what one would expect from an award-winning luxury spa of this caliber, there is something special about Kamalaya – a feeling that is ephemeral yet consistently present. Perhaps it is because everyone that works on site is trained to level one in Reiki, or perhaps it's because the spa itself is built around an old monks cave. It's quite hard to put one's finger on it, but this is clearly a magical place in which to take a step back from the demands of the world and take on a unique wellness journey and reconnect with oneself.
I will definitely be back, hopefully sooner, rather than later!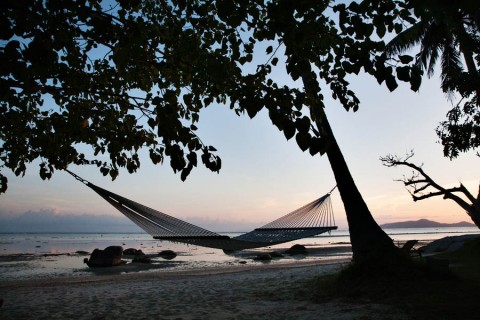 102/9 Moo 3, Laem Set Road, Na-Muang
Koh Samui, Suratthani 84140 Thailand
Tel: +66 (0) 77 429 800
www.kamalaya.com
Joanna Hutchins is a culinary travel blogger based in Shanghai, China.. In 2009, Joanna founded Accidental Epicurean, a culinary travel blog focused on Asia. Joanna is also a contributor to CNNGo, Look East magazine, SE Asia Globe and Two magazine.