When I took my beautiful wife S to Tokyo to celebrate her birthday in March, because we only had three days in town, we had to very carefully curate our dining choices. While we did visit an old favourite, most of the restaurants we visited were new to us, including two sushi joints that we'd been meaning to try for years. One was a much-ballyhooed three Michelin-starred place in Ginza that is regularly discussed on forums like Chowhound and which many punters like to claim is the best sushi restaurant in Tokyo. The other is a much more modest (and much livelier) place in Yotsuya that has no Michelin stars and is rarely mentioned in Western or English-language media. Amazingly–although some Japanese friends tell me I shouldn't have been surprised–we left the three Michelin-starred restaurant feeling very ripped off and extremely underwhelmed. But, the meal we had at Sushi Sho (also sometimes spelled Sushishou), the cultish little joint just east of Shinjuku, delivered what I can honestly say was the single greatest sushi meal of both my life and my wife's. S has since been describing the experience to friends as "life-changing sushi."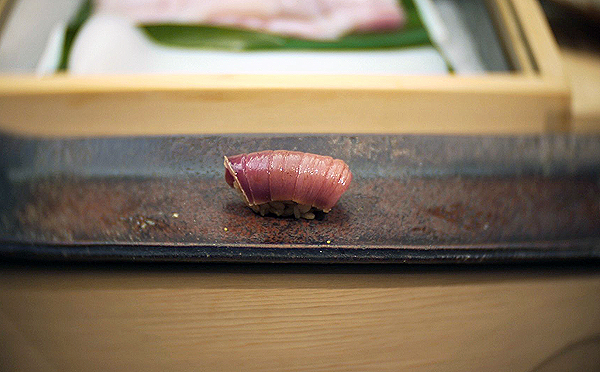 We first heard about Sushi Sho, amusingly, through the restaurant guide that S and I help publish. The thing is, while the company we co-own publishes The Miele Guide to Asia's Finest Restaurants, that does not mean that S or I have been to most of the restaurants on the list. In fact, if I look at each year's list of the 500 best restaurants in Asia (for that year), I've probably eaten at only a handful of the profiled establishments. Restaurants earn their spots in the guide through both a public vote and a juried vote. Neither I nor S (nor our sponsor) has any influence on who gets into the guide. Sushi Sho, located in Yotsuya, Tokyo, has made it into the guide for the past three years.
When S and I visit Japan, we often make it a point to try restaurants that are new to us that are listed in The Miele Guide. And, since sushi is my wife's all-time favourite food, we've been especially working our way through the various sushi restaurants we've profiled over the years. Prior to our visit in March, Sushi Sho was one of the few that we had yet to visit.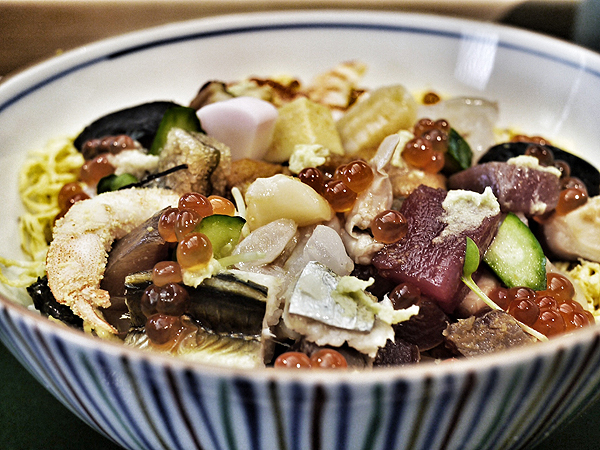 Because I am a bit of a research geek, I always like to "google" restaurants on my must-try list in order to see what others have to say about them. For most highly-rated restaurants, you can almost always find several professional reviews plus a whole slew of blog posts, providing real first-hand experiences. With Sushi Sho, however, I was surprised by how little information was available. In fact, I found only two articles worth noting. One was a short Q&A with Chef Alain Ducasse from February 2011 in which he mentions that the last meal that truly impressed him (back then) was at Sushi Sho. The other is from an article on CNNGo, in which they ask Tokyo freelance gourmet concierge (he calls himself the "Tokyo Fixer") Shinji Nohara to list six culinary highlights in his city. Sushi Sho is one of them, and most interestingly, Nohara says, "This place kicked out the Michelin researchers. The master told me they were rude and didn't know how to appreciate sushi." I think it was when I had read that last bit that I decided I simply had to check out Sushi Sho and meet its chef-owner.
Sushi Sho is located on a small side street, around the corner from the Yotsuya subway station. There are no tables here, just ten seats around a central counter. At lunch, Chef Nakazawa and his team prepare only a bara-chirashi set that is extremely popular. He makes only 20 a day and when they're sold out, that's it. Dinner is a more elaborate, more drawn-out affair. Nakazawa-san advises customers to allow for two and a half hours, during which he will serve an incredible range of sushi, plus other seafood. The average price for the dinner menu is 20,000 yen. And, let me tell you, it is worth every penny.
Dinner at Sushi Sho was both very special and really unique. First, we were served a high proportion of lightly grilled or cooked seafood dishes at the start of the meal. Second, the fish served to us seemed to be more flavourful–more umami–than what I'd had at other (top) sushi restaurants. We've since learned that this is because Nakazawa-san ages all of the fish that he serves in order to draw out the most flavour. Third, S and I were amazed by how warm the rice being paired with the fish was; warmer than what we've had in any other sushi establishment. While this could be a very individual thing, I found the contrast of the warm rice and cool fish really delightful. Fourth, Nakazawa-san didn't just have one batch of seasoned sushi rice to pair with his fish. He had prepared several different batches, all seasoned distinctly (for example, some with more vinegar, some with less, etc), and he'd pair each specific fish with a specific batch of rice. Fifth, Nakazawa-san is a well-known sake expert–he's also a trained sake brewer–so he's able to pair your dinner with several different sakes, all of which work perfectly with the sushi you are being served. And lastly, the atmosphere at Sushi Sho is relaxed and fun (which was the exact opposite of the annoyingly reserved and stuffy three starred place we visited on that same trip).
As I said, from a culinary perspective, that first meal was really life-changing. Nakazawa-san served us what was hands-down the best sushi we'd ever tasted. The highlight from a night of highlights was a ten-day aged toro, an intense, almost effervescent mouthful of fat, creamy umaminess.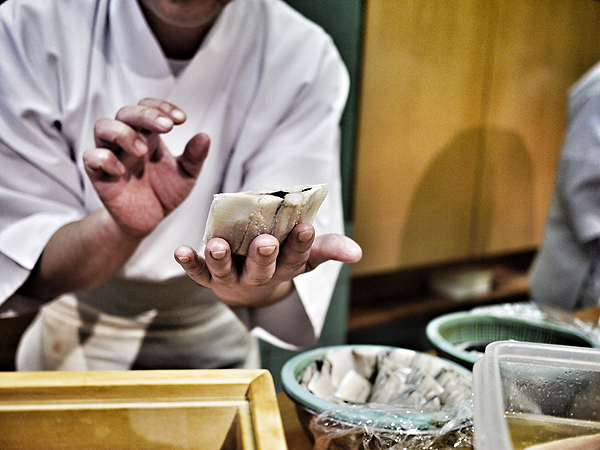 Keiji Nakazawa entered the F&B industry in 1978 when he was just fifteen years old. Over the next fifteen years, he would work in a variety of establishments, from snack bars to legendary sushi restaurants like Kyubey. He opened Sushi Sho when he was just 30 years old, and has quietly become one of Tokyo's most influential sushi chefs. He's known for his obsession with understanding and mastering the techniques of Edo-period sushi masters, who worked in a time before refrigeration. He's been on Iron Chef and even written a book titled "Sushiya no ningen-ryoku" (The Abilities Behind the Sushi Bar). And, while little known outside of Japan, any and every critic I've spoken to in Japan is an admirer of Nakazawa's.
During our most recent trip, S and I were fortunate enough to recruit a translator to help us speak with Nakazawa-san. The first thing we asked about was his approach to his fish. Nakazawa explained that when he first started training as a sushi chef, he was taught that the fresher the fish the better (in fact, this is what most of us are also told). But, Nakazawa-san explained to us, forty to fifty years ago, aging–and the technique and skill required to age fish expertly–was the focus. When fish arrives fresh, Nakazawa-san contends, it has no taste. But let it age for two days or more, and it develops real flavour.
In Sushi Sho, Nakazawa-san serves around 40 different kinds of fish. For each one, he's had to learn what the optimum aging time is, plus the conditions that create the best taste. Some fish, he'll age naturally. Some will be aged with salt, some in vinegar and some wrapped in different kinds of seaweed. With kohada (gizzard shad) for example, he salts the fish and then soaks it in vinegar for between four to six days. Knowing whether a specific piece tastes best after four or five or six days is something he's spent his career mastering.
Everything to Nakazawa-san seems to be about deriving optimum taste and pleasure in the experience of eating. And everything, to this soft-spoken chef, is interconnected. The pairing of the rice and the fish is as important, he tells us, as the pairing of the sake and the sushi. It is this attention to the overall gustatory experience that makes him, in my book, a true master.
When we asked Nakazawa-san if he would ever consider opening a second branch, and especially an overseas branch of Sushi Sho, his first response was "no". He told us that he gets great satisfaction every time one of his ex-staff goes on to open a successful sushi restaurant of his own. He very happily showed us the name cards of the restaurants whose chefs once worked for him. The most prominent of these is Masakatsu Oka, whose Sushisho Masa has been winning rave reviews recently.
Before we left, I had to ask Nakazawa-san about what Shinji Nohara said… had he really thrown Michelin inspectors out of the restaurant? No, he said, he never kicked anyone out of Sushi Sho. The true story is this. One day, several years back, a Japanese gentleman, after finishing his meal, introduced himself, saying that he worked for Michelin and wanted to include Sushi Sho in their upcoming guide. This inspector came back three more times. But with each subsequent visit, Nakazawa-san grew less and less fond of him. By the inspector's fourth visit, Nakazawa-san decided that the appointed inspector knew nothing about sushi and told him so. For Nakazawa, it was inconceivable that a reviewer who was in charge of deciding which restaurants should appear in such a prestigious guide should be so ignorant. Suffice it to say, his restaurant's been ignored by Michelin ever since.
Which, for now, is a great thing. When you go to Sushi Sho, you see mostly local patrons, i.e. no tourists. It's also not impossible (unlike places like Sushi Saito) to get reservations at.
So, next time you happen to be in Tokyo, if you want to experience truly incredible sushi, skip the more famous places and instead go to Sushi Sho and let Chef Keiji Nakazawa introduce you to real Edo style sushi. I can guarantee you'll be blown away. And, like me and my wife, you may never be able to think about sushi the same way again.
Sushi Sho (Sushishou)
Yorindo Building, 1F
1-11 Yotsuya Shinjuku-ku
Tokyo, Japan
Tel: +813 3351 6387
Aun has always loved food and travel, passions passed down to him from his parents. This foundation, plus a background in media, pushed him to start Chubby Hubby in 2005. He loves that this site allows him to write about the things he adores--food, style, travel, his wife and his three kids!