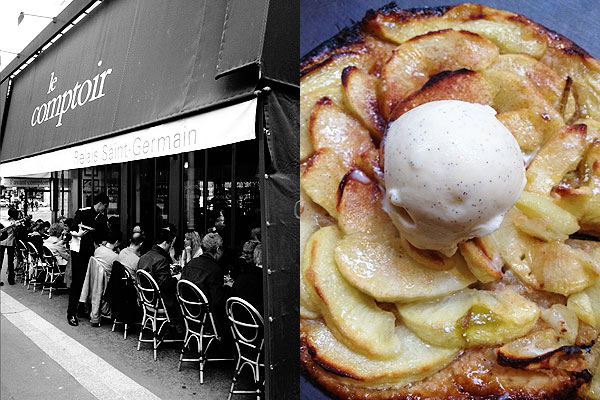 Each time I am in Paris, I am torn between trying out a new restaurant (and thereby discovering a potential gem) or returning to one of my old favorites in the city. On my most recent trip in May, I decided to succumb to my old habits in a city I have come to know well. It was a bright and warm spring day when I arrived from Brussels in the late morning at the Gare du Nord train station. I headed straight for Le Comptoir du Relais bistro at the Hotel Relais Saint-Germain  on the left bank in the 6th Arrondissement and  got there shortly before noon. A small queue had already formed outside the door (the best thing about Le Comptoir is that no reservations are required on a Sunday. For weekday dinners, the waiting list can stretch for several months in advance). Luckily, I managed to get a table inside the small and cozy 24-seater bistro. There are also seats on the sidewalk but nothing beats the cosy intimacy of the bistro's ambience inside.
For me, a visit to Le Comptoir is almost like a culinary pilgrimage. Yves Camdeborde, the chef of le Comptoir who is in his fifties, was considered the pioneer of a new wave that transformed traditional French bistros into chic, fashionable, and fun ones which became instant hits with hip Parisians. In fact, he had given up a successful career working for Michelin-starred chef Christian Constant at the legendary Hotel Crillion to start his own bistro, which then led to the start of this trend that swept rapidly across the city.
My meal started with a generous serving of crusty, brown country bread–it was quite difficult not to overdo the bread. For my first course, I selected a chicken consommé that was perfectly clear and very savoury. It was amazing how something that appears so thin and transparent can be so thick with its intensity of taste and flavours–that is indeed the mark of an excellent consommé. For the main course, I devoured the milk-fed lamb from the Pyrenees, served on a bed of mashed green peas. Spring is the best season to eat milk-fed lamb and the meat was indeed incredibly tender. The portion was a generous one but I gobbled it up with a vengeance. Finally, when in France, I never hesitate to order dessert. I ordered the traditional thin-crust appletart which comes with a scoop of vanilla ice-cream–it was sublime. I could easily have had a second serving but decided to be prudent. The total bill for my three-course meal, plus a few glasses of wine, was about 60 Euros. A very reasonable price for a culinary pilgrimage, I must say.
Le Comptoir de Relais (at the Hotel Relais Saint-Germain)
9 Carrefour de l'Odeon
6e, St-Germain-des-Prés, Paris 75006
France
Tel: +33 1 4427 0797
Mondays–Thursdays, Sundays 12 pm–12 am; Fridays-Saturdays 12 pm–2 am

Maroj Alliax sleeps better on an airplane than on terra firma. Maroj keeps himself sane during his many business trips by checking out nice restaurants and food places when abroad. In his student days, Maroj worked as a waiter in restaurants and went to cooking school briefly in Paris. He likes to cook for friends but has less time to do that now because of the travelling. He has not given up the idea of running a restaurant one day.