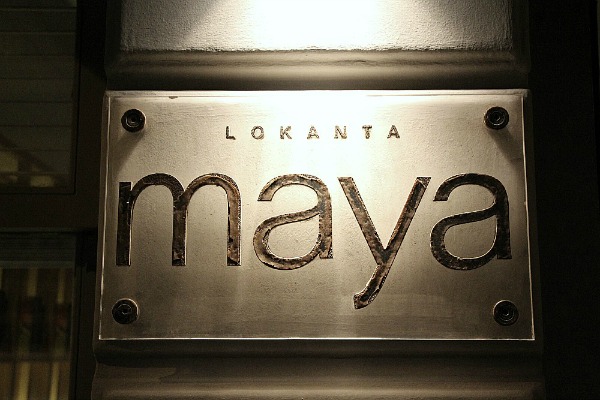 Chef Didem Senol has taken Istanbul by storm.  The Turkish native who studied in New York at the French Culinary Institute and worked at Le Cirque and Eleven Madison Park, has returned to her hometown to create a new bistro dining experience.  In 2010, she won Time Out Istanbul's  Best Chef Award.  Not only has she made a name for herself, but she's also creating a new path for female chefs in her city.  She cooks seasonal and local food with mainly organic produce,  her restaurants are inviting, contemporary, and refreshing.
Senol is owner of two establishments in Istanbul: Gram, a gorgeous restaurant and deli that serves lunch only and is fully stocked with take-away treats, lunch boxes, and sweets, and Lokanta Maya.  Lokanta Maya's menu changes daily.  It also changes with the seasons, and it is based on the freshest ingredients available at the markets.   Needless to say, the experience is supreme.
I dined at Lokanta Maya on a Monday night and the restaurant was packed by the time I left.  The menu on that occasion had a selection of sixteen small dishes ranging from traditional mezze to small appetizers, six main dishes, and four desserts.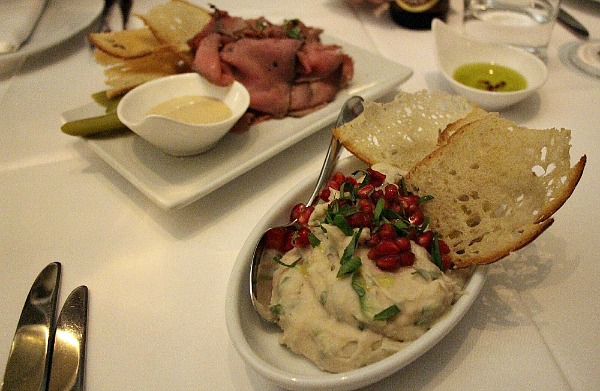 Chicken liver pate with quince marmalade, kadayif pastry stuffed with cheese, rosemary, and honey, clams in white wine, sautéed haloumi with pears, blackened shrimp with spinach, thinly sliced rare roast beef with mustard sauce, and the zucchini fritters with cardamom yogurt sauce that chef Senol is now so popular for.  The latter has received such attention that the restaurant has the recipe written on one of its walls.
I was very pleased with the creamy white bean hummus with pomegranate seeds, the roast beef, and the kadayif, as the combination of cheese and honey, to me, is a match made in heaven.  The crunchy texture of the kadayif pastry, not unlike phyllo, made it a standout appetizer.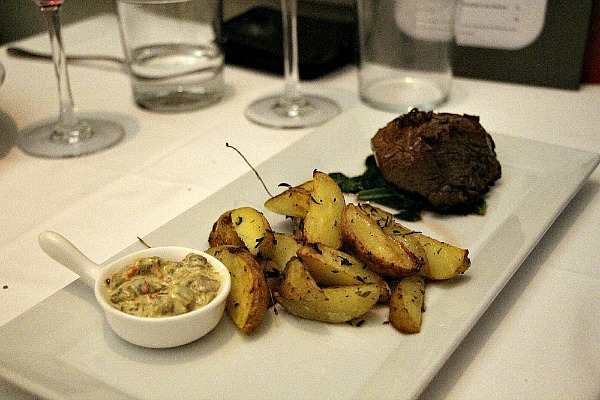 For the mains, leg of lamb with polenta and parmesan, beef tenderloin with chilli pepper aioli and roast potatoes were tender and succulent.  For this fish lover, however, it was the caramelised sea bass with Swiss chard and persimmon that stole the show.  Once again, like in Meze by Lemon Tree, the use of fruit combined with soft white fish proved to be spectacular.  The courses were well matched with a few local wines which helped me expose my palate to new varietals such as Narince and Okurgozu.
The evening was nicely rounded by a tasting of mastique pudding as well as lavender, walnut, and tahini ice creams.  The food was complemented by impeccable, attentive service, and a Nordic inspired decor of wood, mirrors, glass, and even walnuts ornamenting the walls.  Stunning from beginning to end, Lokanta Maya, and the work of Didem Senol, is an experience not to be missed.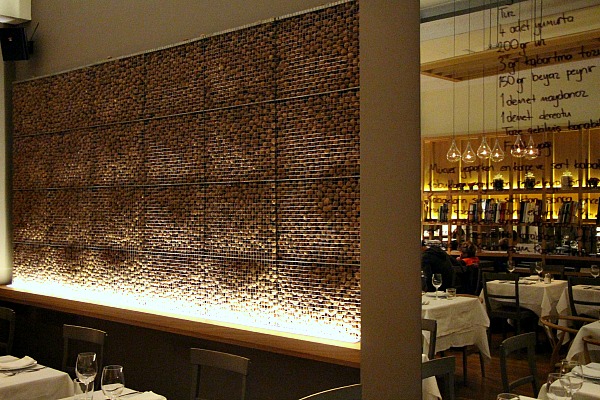 Lokanta Maya
Kemankeş Caddesi 35/A, Karaköy
Istanbul 34425, TurkeyI
Tel.  +90 212 252 6884
www.lokantamaya.com
Open Monday for lunch only; Tuesday-Saturday noon-5pm and 7pm-11pm

Janice is a girl from Lima, Peru who loves a good cebiche and a glass of dry Riesling. She travels the world (often for food or to check out new restaurants) and lives in Australia. Janice tries to learn about different countries through cuisine, and takes advantage of Sydney's multiculturalism by exploring gastronomy in all of its forms. Grower's markets, wine tastings, restaurant openings, cooking classes, shopping for specialty spices; she's keen to do it all.