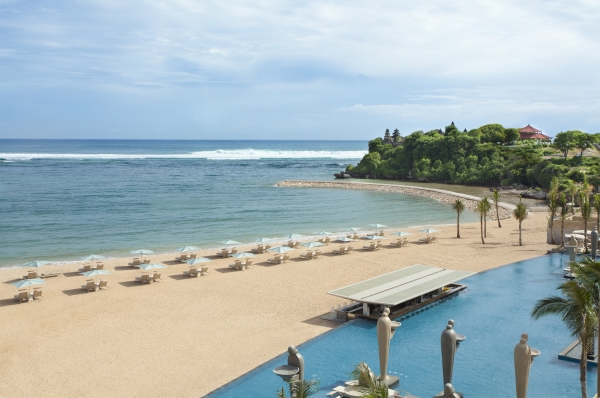 Since my first child came along almost six years ago, I have never been apart from my family. Holidays were always taken with the kids, and since we don't have hired help for the rugrats, they are pretty much attached to me at the hip almost every minute of everyday. Until a few weeks ago that is, when I embarked on a solo escapade to Bali, and spent three fabulous nights at the Mulia Resort, in Nusa Dua.
I was last in Bali many years ago for my honeymoon, and I remember it having a more laid-back infrastructure, and also how it took a while for us to get around from place to place. This time however, I was pleasantly surprised to see so many improvements done to the island. Their spanking new airport, and highways that were just opened, basically halve your transit and travelling time. Hence, the resort was a mere 20-min drive from the airport.
The beauty of the resort exceeded my expectations. Even at 10pm, the vista of their stunning on-site chapel and Mulia "lake", which greet you as you drive towards the lobby, is nothing short of breathtaking. The lights reflected off the water surface lent the place an air of mystic and tranquility. In the day, the forget-me-not-blue waters of the lake, with the glass chapel bathed in warm sunlight is one of the most idyllic locations imaginable for a couple's big day. Needless to say, it quickly became a very popular wedding destination with the well-heeled. 15 years in the planning, the resort houses tastefully-curated furniture, sculptures, upholstery and art, all handpicked by the owner herself, through her travels. I felt as though I was a house-guest at an opulent home rather than a holiday-maker in a 30-hectare resort.
Mulia Resort, where I stayed, is only one part of the property. If you are seeking something a little more spacious, check out Mulia Villas. All villas come with private pools and outdoor living rooms, and some are fitted out with indoor jacuzzi and outdoor showers as well. The Mulia is their boutique arm in the establishment. Styled similar to serviced-apartments, with living and dining areas, the rooms can accommodate more guests and some are even equipped with pantry facilities.
Wellness is a big part of the Mulia experience, and there is no shortage of organised classes to pick from throughout the day. On my first morning, I woke up early and attended a stretch session at 7am, conducted in their sprawling gym. For those who enjoy exercising during a holiday or find fitness classes therapeutic, you will be pleased to find that the gym at Mulia resort is not only huge, but you also get to work out to a view of a beautiful 50m pool (shown at beginning of post). The morning class included basic stretching, coupled with some simple yoga poses that energised the body. It was exactly what I needed to kick-start my stay. Other popular classes include yoga in the evenings, aqua aerobics in the main pool, circuit training, intense boot camp, an even tennis sessions. Bonus- all the trainers are super friendly and cute!
Because no trip to Bali is complete without a massage or two, I urge you to head to the spa. With a staggering array of body treatments and massages for both men and women (they also have romantic couple treatments), warm and cool hydrotherapy pools, steam room, sauna and Asia's first state-of-the-art ice room, it is the epitome of luxurious pampering. Besides the usual manicures and pedicures, you can also get a blow-out to prep for dinner. My body was treated to a scrub followed by a detoxifying seaweed mask, and then a wonderful Balinese massage, complete with an aura-cleansing ritual with Tibetan singing bowls. The tension in my shoulders were expertly and serenely kneaded away. There isn't a more blissful way to wile away an afternoon.
For those travelling with children, don't worry about not being able to find time to enjoy the spa. You can drop the precious ones off at Mulia Kidz, open from 9am-8pm daily, where the activities are suitable for children aged 3-8. On top of art and craft, Balinese dance lessons, flower arranging and mini "Olympics", there are also a few cosy movies screening areas, a library, a small indoor playground, game machines and computer games. Lunch, snacks and dinner are also provided. With so much to do, I'm sure my kids will be very happy to spend a couple of hours there daily.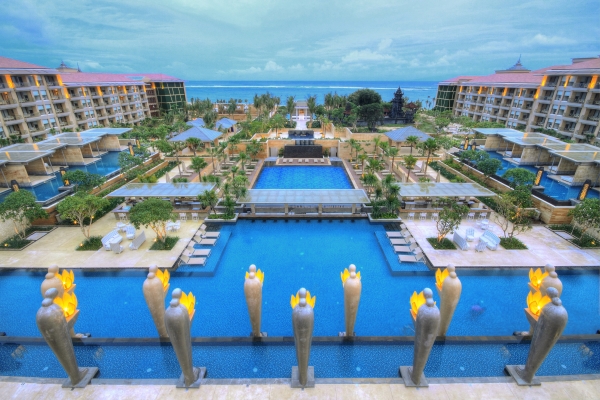 The unique thing about Bali is that no two areas are the same. Kuta is famous for shopping and night life, for Ubud, it is art and paddy fields, at Jimbaran it's seafood, and Nusa Dua's claim-to-fame is their gorgeous beach. And I couldn't agree more. I was so enamoured with the soothing view of the clear blue waters and breaking waves, that I spent a lot of time kicking back on my balcony, gazing out with an iced green tea in hand. The pristine direct-access beach is a short stroll away, where kids can swim in the safety of the lagoon, and surfers and body-boarders can venture further out to tackle the waves.
Whether you are looking for a little me-time, a couple relishing a special weekend away, a few girls yearning for pampering, or a family planning a beach vacation for the kids, Mulia Resort checks all the boxes. The vast lounging areas and numerous pools guarantee that you will find your own chill-out spot. The best part for me was the interior decoration at the resort. I found myself looking up a lot, marveling at the magnificent chandeliers and ceiling fixtures. The lines and shapes were so natural and organic, but the installations were nothing short of state-of-the-art. It is clear that no expenses were spared in creating the most awe-inspiring space possible. And within a year of opening, it has firmly rooted itself as a force to be reckoned with, within the region and beyond.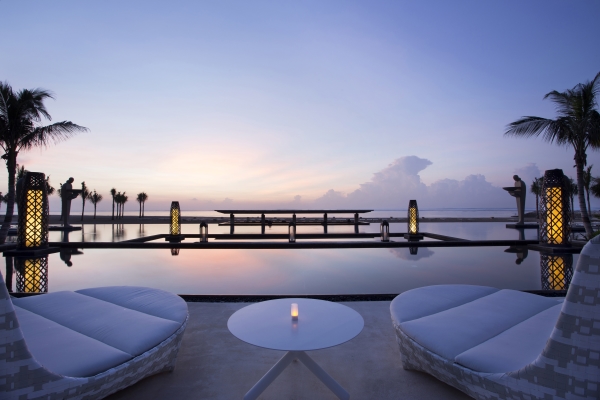 The Mulia, Mulia Resort & Villas- Nusa Dua, Bali
Jl. Raya Nusa Dua Selatan, Kawasan Sawangan, Nusa Dua 80363, Bali, Indonesia
The Mulia- Tel: (62-361)3027777
Mulia Resort- Tel: (62-361) 3017777
Mulia Villas- Tel: (62-361) 8467777
Website: www.themulia.com
Email: reservation@themulia.com
Dawn was an invited guest at Mulia Resort.
Dawn, a lanky food-crazed lady, started out writing for lifestyle magazines, and later spent several years in banking. When not eating, she's cooking, reading about, hankering after, and writing about food. On her first date with her boyfriend (now husband), they dined at four restaurants across Singapore. He's gained 25lbs since, and their culinary escapades continue after welcoming two rotund angels. Dawn's committed to feeding them with the best, and creating lasting food memories and traditions for her family.