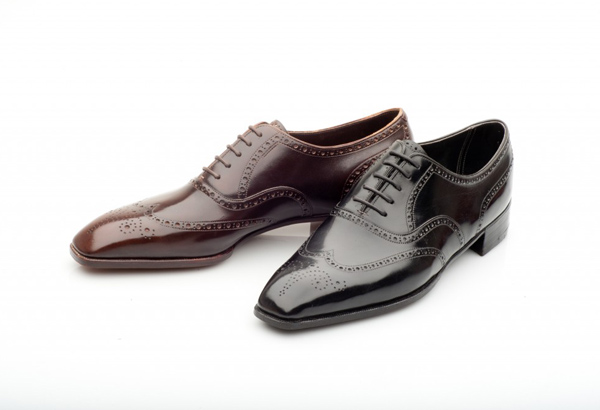 Women are spoilt for choice when it comes to buying great shoes.  I know I can rattle off over a dozen names of amazing designers that create gorgeous kicks, ranging from elegant ballet flats or electrifying stiletto heels. The very best designers make shoes that are a both a joy to wear and that make us gals look simply sensational. Unfortunately, for the boys, the choices are a little more limited. As the devoted girlfriend to a metrosexual hunk, I admit that I devote quite a bit of my free time sussing out cool designers that I can introduce to my sartorially-inclined beau. Being in London for a summer of leather accessories courses at the London College of Fashion meant that I recently had the delightful opportunity to meet George Glasgow, owner of cult bespoke shoemaker George Cleverley. George Cleverley's shoes package style and quality. They are exquisite works of art and they make any gent look a whole lot more dashing.  George generously allowed me to visit his workshop and meet the team so that I could get a glimpse of how these shoes are made.
The eponymous heritage and handcrafted values of George Cleverley, including the 'suspiciously square' toe and pitched heel, are carried on at number 13 of the beautiful Victorian styled Royal Arcade. The slightly curved-in heel hugs the foot for comfort but also creates a balance of the ideal form and curve of the leg.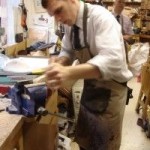 Wearing George Cleverley shoes is likened to wearing glasses for the first time, a revelation of sorts for what you've been missing. As someone who's just taken up wearing glasses, I can attest to that. Over the sounds of wooden lasts being shaven to represent a customer's specific foot idiosyncrasies and measurements, George Glasgow (Senior, his son is also in the business) warm-heartedly jokes he has the most difficult job in the world – creating shoes that affect his customer's being, where fit and comfort can makes his customer's day.
In the small workroom above the shop floor, Teemu Leppanen and his artisan team work their magic over lasts, patterns, skins, heels and repairs. Aged brown envelopes line part of the workshop wall, containing patterns including those of custom design boots for Alexander McQueen, and which the notable client wore for his receipt of his CBE (Commander of British Empire). The team unfurls rolls of exotic skins to showcase some of the materials they work with, include a high shine, intriguing ostrich shin piece and a supple hippo skin which would be right at home for both the current Autumn/Winter season and as a subtly textured shoe for a stylish man's wardrobe.
A visit to the shop is highly recommended when in the Old Smoke, but check out the worldwide trunk shows on their website and you could just have some of that George Cleverley magic come to you instead. Should you choose to join the gentleman's club of George Cleverley clients, just be warned that you may never go back.
George Glasgow's three golden rules for ensuring the longevity of your shoes:
1. Regularly clean and polish your shoes, to feed the leather
2. Keep shoe trees in your shoes, 'when they're resting' (lasted shoe trees are a part of the bespoke George Cleverley shoe experience)
3. Repair your shoes with a good cobbler/cordwainer (if you've scored yourself George Cleverley shoes, a log-book will track the road of shoemakers your shoes have proverbially walked and you can be sure they'll be repaired accordingly)
George Cleverley
13 The Royal Arcade
28 Old Bond Street, London W1S 4SL
United Kingdom
Tel: +44 (0)20 7493 0443/1058
www.gjcleverley.co.uk

Melissa is studying leather accessories design and making at the London College of Fashion with plans of launching her own business. She invites readers to join her in the discovery of leather craft and the fashion accessories business, and joy of living with a little more joie de vivre. Born a Chinese Aussie and greedy from day one, the ceremony and gathering of family and friends plays a big part in her delight. She's looking forward to reporting on the best trends coming from the UK.