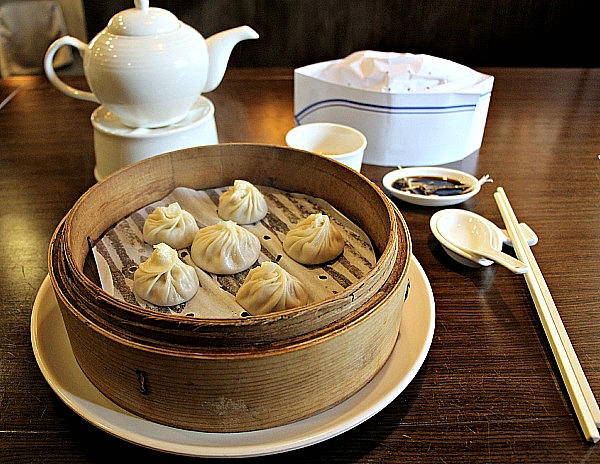 A recent trip to Taiwan had me thinking about what constitutes Taiwanese food.  Taipei, despite being smaller than many of its Asian capital city counterparts, is a food-lovers' destination.  History has made Taipei a hub for fusion.  Taiwanese cuisine can't really be defined as one particular thing.  It has Chinese influences seen through Sichuan, Shanghainese, and Hokkien food.  It also has the legacy of the Portuguese and Japanese that once controlled the island, as well as adaptations of common Western (fried) foods.
Like in Singapore, night markets and hawker stalls reign supreme, and like Beijing, comfort food is pork-laden and mildly spiced.  You find stinky tofu and egg custard tarts like in Hong Kong, tempura and pancake batter filled with red bean paste like the taiyaki of Tokyo, glutinous rice dumplings and medicinal soup like the bak chang and bak kut teh of Penang, and even face-sized pieces of crispy chicken cutlet bigger and better than the one from the colonel back in the US.    This combination, an unexpected melting pot in, makes Taiwanese cuisine an exciting bag of Chinese five-spice.
Steamed and fried bread buns, as well as bowls of rice and noodles, are the norm in Taiwan.  The everyday dishes that define Taipei range from griddled oyster omelette with sweet chilli sauce to rice topped with minced pork (lu rou fan) and savoury pastry filled with peppered beef (hu jiao bing), to the notorious, Fujian inspired, beef noodle soup.  With these in mind, perhaps the two most famous food exports of Taiwanese origin circling around the world are bubble tea and the dumpling restaurant chain Din Tai Fung. The latter, which specializes in xiao long bao (Shanghai soup dumplings) is almost synonymous with Taiwan.
I live in Sydney, where there are not one, but two Din Tai Fung locations.  I have been to both, and I enjoy their xiao long bao.  However, when in Rome, why not search for the ultimate? Call it coincidence, star-alignment, blessing, or just pure luck, but when I was in Taiwan, I scored a private cooking class at Dian Shui Lou.  Arguably one of Taipei's best dumpling and seafood restaurants, many locals deem it the prime location for Shanghainese fine dining.  Dian Shui Lou was the only restaurant to receive a five star rating in 2010, and it is home to the makers of perfectly rolled, filled, folded, and steamed xiao long bao.
Their signature nineteen-fold xiao long bao is tricky to make and tastes far better than anything I have had in the past.  Now, I'm no expert in Chinese cuisine, I don't have a recipe that's been handed down through generations, and I don't have a relative that prepares hundreds of these in family get-togethers and knows the secrets or techniques that could put any restaurant to shame.  I'm only a fan, I appreciate texture and flavour, and the dumplings that I had at Dian Shui Lou were top notch.
And the best part? I made them!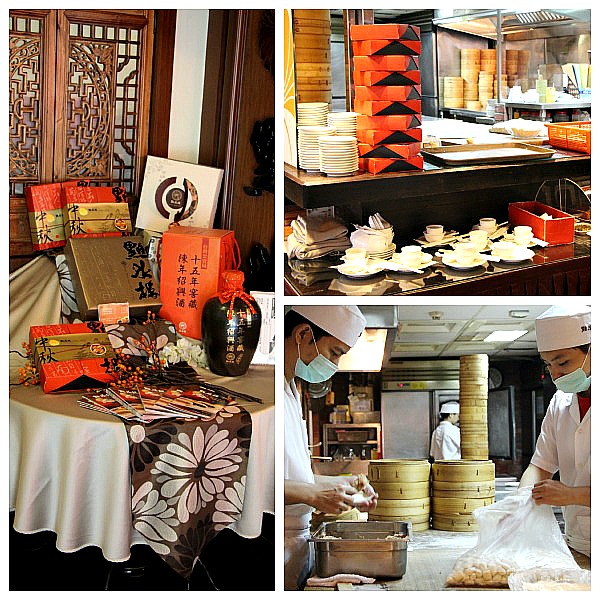 This is how my cooking class went:
I arrived promptly at Dian Shui Lou a few minutes before 11am.  The class runs for approximately an hour; lesson and degustation combined.  I was greeted by the restaurant's hostess and asked to go up to the second level where there are private seating areas, and where the dumplings are prepared.  The ground floor has the main kitchen.
Chef Lopsang introduced himself, apologized for his basic English, although we communicated just fine, and then took me over to a table that was set up for the lesson to begin.  I stood in front of pastry ingredients, prepared filling, recipe card and notes, a sanitary hat and apron for my consideration, and a rolling pin.
The process is at speed of light fast.  The chefs at Dian Shui Lou roll the 19-fold dumplings with grace and a ton of ability. It takes two years for an apprentice chef to become an expert in xiao long bao making, each dumpling as much a copy of the previous one, in texture, in size, in weight, in amount of filling.  The wrappers are made with flour and water, a touch of fermented dough, and alkali water.  This produces a light and delicate dumpling skin.  Once rolled into long ropes, it is cut into equal size pieces that look like cut gnocchi.  Each piece weighs five grams and is stretched out into a disc 6.5cm of diameter.  Chefs know these amounts by heart, but apprentices use scales and measurements to ensure accuracy.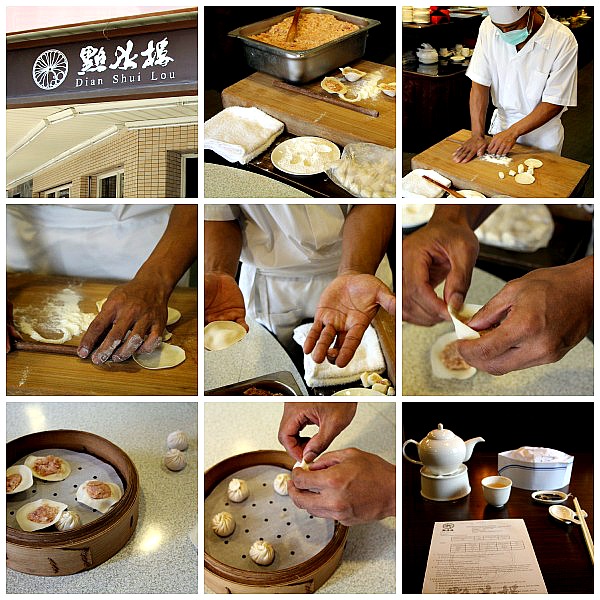 The chef shows me how to roll the dough inwards, pressing my hand and then putting very little pressure when rolling back, in order to keep the dough thin on the edge and thick in the center.  When filling the dough, there's a trick to the way you position your hands.  One hand holds the paddle which scoops out the filling and places it on the dumpling wrapper; the hand with the dough disc on it does things differently.  You fold your middle finger and attempt to form a square shape for the meat filling to fit in that space, in the middle of the disc of dough.  When the shape is right, that's when the speed folding begins.  Nineteen chrysanthemum folds are made, finished with a final tuck to keep all the ingredients in.
Giddy with joy after learning from the best and utterly intrigued by their technique, I asked how many xiao long bao are prepared at the restaurant every day.  Four hundred per chef, for a grand total of two thousand dumplings prepared at that very branch every single day.  My respects indeed.
It all happens quickly, yet the chef is patient, explains the steps thoroughly, and gives you the chance to practice making dumplings before plating the final product.  Once six or seven dumplings have been assembled successfully, they're taken to the kitchen, steamed for six to seven minutes, and served to you at the table.
The combination of minced meat, meat aspic (key ingredient to create the soup effect of the dumpling), minced green onions, ginger, sesame oil and soy sauce come together beautifully from the very first bite. The broth is clear-tasting, the dumpling goes down lightly, and the dough feels almost ethereal.    Black vinegar and slivers of ginger are served on the side, but I only touch the condiments lightly, as the xiao long bao that I prepared at Dian Shui Lou were perfect on their own, and they did not fall apart when I lifted them with my chopsticks.
The one-on-one experience I had at Dian Shui Lou was one I'll remember for the rest of my life.  I was surprised to hear that it isn't common for many people to do the class despite it being cost-friendly, their daily availability, pristine kitchen and friendly demeanour.  If you're in Taipei, and have an hour to spare, this mouth-watering activity is definitely worthy of your time.
Dian Shui Lou 點水樓
No.64 Huaining Street, Taipei, Taiwan
Tel +886 2 2312 3100
Open Daily 11am-2.30pm, 5.30pm-10.00pm
www.dianshuilou.com.tw/en/index_2.htm

Janice is a girl from Lima, Peru who loves a good cebiche and a glass of dry Riesling. She travels the world (often for food or to check out new restaurants) and lives in Australia. Janice tries to learn about different countries through cuisine, and takes advantage of Sydney's multiculturalism by exploring gastronomy in all of its forms. Grower's markets, wine tastings, restaurant openings, cooking classes, shopping for specialty spices; she's keen to do it all.