S and I have just returned from a wonderful trip to Margaret River in Western Australia. While we had gone down in order to attend the wedding of two good friends, we've never really needed a reason to visit this gorgeous wine region. Margaret River is one of our favourite near-by vacation spots. And we're not alone. Today, it has become a hot spot for wine buffs, traveling gourmands, and swanky couples looking for an affordable and exceptional place to spend anything from a weekend away to a week or more. The area is beautiful. It is filled with award-winning vineyards, great restaurants and a growing number of very well-appointed hotels and holiday homes. Foodies will delight in the amazing produce available here, from freerange venison to freshly caught marron.
Getting there is easy. It's a short 3.5 hour drive from Perth. As said, staying in Margaret River has also become easier and easier. Whether it's a luxury resort or simple cottage you're craving, there are plenty of choices. One of our favourite places is a rather unique and now (unfortunately) well-known, award-winning, place called La Foret Enchantee. La Foret is essentially 2 beautiful houses situated on a private estate just minutes from Margaret River town. La Foret offers two kinds of living experiences. The Cabin is rustic and earthy while the Palazzo is elegant and, well, palatial. Each residence has a well-appointed and well-stocked kitchen, living room, dining room and bedroom. We really like the Palazzo's circular bedroom, with floor to ceiling windows that look out into the woods and a circular bed that encourage all kinds of deliciously naughty thoughts. La Foret is owned and run by Fee Menzies Stirton, a vivacious blonde whose business and life partner, Michael White, runs marketing for one of Margaret River's most exciting vineyards, Vasse Felix.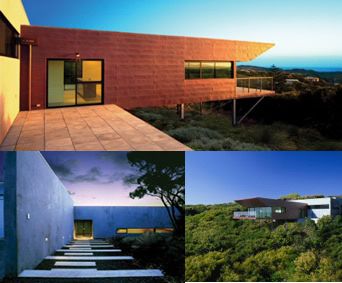 photos courtesy of Ron Roozen House
On this most recent trip, S and I booked what has become our newest favourite place to stay in Margaret River. The Ron Roozen House was built by architect Dale Jones-Evans for local artist and surfer Ron Roozen. The house is stunning. It has a clean, modernist design with an amazing terrace, 3 king-sized bedrooms, a large dining and living space and a very well-equipt kitchen. It's located on a high bluff in Prevelly, a small-beach town 5 minutes west of Margaret River town. The house faces the beach and the views of the ocean are simply breathtaking. It was an amazing place to spend a few days and an equally stunning place to host two dinner parties, which we did the first night we arrived and the day after our friends' wedding.
Wine, of course, is perhaps the reason most people visit this region. With more than 80 wineries to choose from, the thirsty traveler could keep himself occupied for days on end. Of course, S and I have our own personal favourites.
One current favourite is Cape Grace. A relative newcomer, this tiny vineyard makes fantastic reds and a sweet, delicious Chenin Blanc. In 1996 Robert and Karen Karri-Davies planted their 15 acre vineyard on the headwaters of the Willyabrup Valley. Just five years later, with consultant winemaker Mark Messenger, Cape Grace became a Gold Medal and Trophy Winner at the 24th Annual Sheraton Wine Awards for its 2000 Cabernet Sauvignon. Both the Cabernet Sauvignon and the Shiraz (only 300 cases of each are made a year) are highly rated. James Halliday—arguably one of the most trusted Aussie wine experts— heralded Cape Grace as one of Australia's top ten new vineyards. And the best thing? The price of the reds is under AU$40 a bottle and the whites less than AU$20. We always make a stop here when we're in the area. Firstly to buy wine of course (I sent a whole case home) and secondly because visiting Karen is always a joy.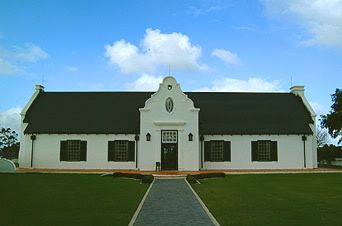 Voyager Estate is easily one of the most striking sights in the region. Its white-washed Cape Dutch main house, situated behind a stretch of rose gardens, is visible from the main roads and is a stunning sight. The vineyard has one of the better restaurants in the region. And the wines are usually very good. Unfortunately, this year when we visited, there weren't any Tom Price wines available. Voyager's Tom Price range is its premium line; it's only released during exceptional vintages. When we've visited in the past, we've been able to stock up on these very coveted wines. This year, we satisfied ourselves with some very affordable, light, fruity and delicious Chenin Blancs.
Vasse Felix is the oldest commercial vineyard and winery in the Margaret River wine region. On trips into the region we always make a stop here, partly to buy their fantastic wines but also to eat lunch in the winery's superb restaurant. The restaurant has previously received the highest rating for any regional establishment in Western Australia in Australian Gourmet Traveller's Restaurant Guide to Australia. And its accolades are very well deserved. The food here is always brilliant. Seven of us had a lovely lunch the day of the wedding. We toasted with Vasse Felix's yummy sparkling wine (Silver Knight) and feasted on a simply gorgeous spread. I had a super-yummy clam chowder with sweet corn hush puppies as a starter. For my main course, I had a delicious hunk of roasted baby goat served with the best polenta I have ever tasted. S had an order of corned beef cheeks that were to die for. Unfortunately, we were all too stuffed for dessert.
Another fabulous vineyard to visit is Cape Mentelle. This LVMH-owned vineyard turns out some delicious premium wines that are exported all over the world. Two wines that aren't exported though are the vineyard's very drinkable Dry White and Dry Red, both sold in magnums. At AU$14 and AU$16 respectively, these wines are a fantastic value. We bought a bottle of each from the cellar door. While we had planned to bring them home, we cracked both open and polished them off on our first night in town.
Once you've stocked up on all the wine you can drink, if you're staying in a place in which you can cook (and I recommend you do, because most of the vineyard restaurants are only open for lunch and the restaurants in Margaret River town are only so-so), you should head over to a few of the region's gourmet food suppliers. My favourite place to pick up some goodies is My Butcher Lifestyle Food. You can get great meats plus super-fresh seafood. A dozen oysters here were only AU$13. Live marron were AU$45 a kilo (when I checked at a store in Perth, they were AU$59; in Singapore, I was just quoted S$80 a kilo). We were able to create two amazing feasts during our trip. Our second meal in particular was both delicious and fun. Four of us cooked the meal. The newleywed couple came over for early evening drinks. Nine of us polished off 4 dozen oysters with a couple bottles of Champagne while watching the sunset. The wedding couple then had to run off for a family dinner, so the seven of us left enjoyed our meal. I made a marron pasta based on Tetsuya's pasta with scampi and scampi oil. Our friends L and M made a gorgeous roast pumpkin and beetroot salad. S roasted some chickens that had been marinated in a Moroccan spice mix we picked up in Perth. We served this with some cous-cous. For dessert, S served meringues with roasted strawberries. With the meal, we sampled a variety of the region's best wines. It was, all around, a wonderful meal that was the highlight of a wonderful trip.

Insider Margaret River
Wineries we like
Cape Grace
Fifty One Road,
Cowaramup
Telephone: (08) 9755 5669
Cape Mentelle
10-5pm
Wallcliffe Road
Margaret River
Telephone: (08) 9757 0888
Email: info@capementelle.com.au
Cullen Wines
10-4pm
Caves Road
Cowaramup
Telephone: (08) 9755 5277
Email: enquiries@cullenwines.com.au
Gralyn Estate
1030-430pm
Caves Road
Willyabrup
Telephone: (08) 9755 6245
Leeuwin Estate
1030-430pm
Stevens Rd
Margaret River
Telephone: (08) 9759 0000
Email: info@leeuwinestate.com.au
Vasse Felix
10-430pm
Cnr Caves Road and Harmans Road South
Cowaramup
Telephone: (08) 9756 5000
Email: info@vassefelix.com.au
Voyager Estate
11-5pm
Stevens Road
Margaret River
Telephone: (08) 9757 6354
Places we sleep in
Ron Roozen House
The ultimate house for couples looking for a place to escape to with a few friends. This place is amazing. Great views. Great design. Great kitchen. Great great great! Get the hint?
For rates and to book, click here.
La Foret Enchantee
The most romantic escape for a well-heeled couple. Book the Palazzo and pretend you are in Venice.
Telephone:(08) 9757 9889
Facsimile: (08) 9757 9899
298 Caves Rd
Margaret River

Empire Retreat
Empire is the winner of the 2002 West Australian Tourism Award for Best Hosted Accomodation. While we hate to use the word, Empire can best be described as "Balinese". If you're into tropical Asian resorts, then you will appreciate this place.
Yallingup
Telephone: (08) 9755 2065
Facsimile: (08) 9755 2297
Email: bookings@empireretreat.com
Losari Retreat
Stunning limestone chalets on a private hilltop estate. These self-contained chalets are excellent for couples looking for an affordable but luxurious escape.
RMB 264B Osmington Road
Margaret River
Telephone: (08) 9757 3630
Fascimile: (08) 9757 3630
Mobile: 0414 394 945
Email:essence@losariretreat.com.au
Hilltop Studios
These are 2 beautiful modern self-contained accomodations that will please any traveler who prefers his lodgings a little more slick than rustic. Choose between the Panaroma Studio with indoor spa or the smaller Limstone Studio with outdoor spa.
RMB 286 Carters Road
Margaret River 6285
Tel: (08) 9758 8988
Email: stay@hilltopstudios.com.au
Restaurants we dine in
Cullen
This is a great place to drop in for a quick lunch. Some cooked foods, but a good variety of cold cuts and cheeses. This is real casual dining. But it's also delicious casual dining.
Restaurant bookings: (08) 9755 5656
Email: cullendining@cullenwines.com.au
Vasse Felix
In the upstairs balcony restaurant, lunches are served every day in a smart, casual environment that overlooks a sweeping panorama of vines and natural forests. The food here is fantastic and well worth a visit.
Telephone: (08) 9756 5000
Email: restaurant@vassefelix.com.au
Clairault Restaurant
The restaurant here was awarded Four Stars by Mietta's Best Australian Restaurants Guide 2002. This is a gorgeous modern restaurant in one of the most beautiful vineyards in the region. Enjoy a glass of wine by the fireplace and chow down on some lovely Mod Oz cuisine.
Telephone: (08) 9755 6655
Email: clairault@clairaultwines.com.au
Winos
Winos is cleverly designed as a spacious, well-lit wine bar, clearly separated from a busy restaurant area with similar high ceilings. It is managed by local winemaker Mike Gadd, so the superb wine list should come as no surprise. Also impressive is the food of chef Dennis Mifsud.
85 Bussell Hwy, Margaret River
Telephone: (08) 9758 7155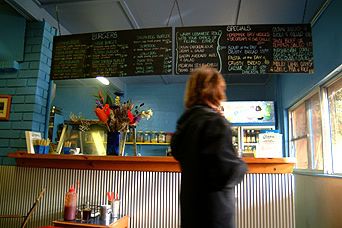 The Green Room Surf Cafe
This little café in town, open from 430pm onwards makes a great burger. A large patty topped with 3 inches of salad—alfafa, beetroot, lettuce, etc—cheese and bacon served on a bacon cheese bun. It's the cheapest good meal in the region.
113B Bussell Hwy, Margaret River
Sea Gardens Cafe
This lovely cafe is just down the road from the Ron Roozen House. It's open for breakfast, lunch and dinner and all are excellent. The only problem here is getting a table because this place is very, very popular with visitors and locals alike.
Lot 103 Mitchell Dr
Prevelly
Telephone: (08) 9757 3074
Food shops we frequent
My Butcher Lifestyle Food
This is an excellent place to pick up both local seafood and meats. Great quality and good prices.
Shop 2/120 Bussell Highway
Margaret River
Phone (0)8 97572313
Coles Supermarket
If you need to pick up staples, then Coles is the place to get them. It's located smack in the middle of Margaret River town.
Bussell Highway
Margaret River
Margaret River Venison
This is Western Australia's first commercial deer farm. Great quality venison and Jessie, the resident dog, is super cute and loves to play catch with customers.
The Farm shop is located on Caves Rd between Ellensbrook & Cowaramup Bay Rds 12.5km from Margaret River.
Telephone: (08) 9755 5028
Email: mrv@deermark.com
Olio Bello Olive Oil
This farm produces award-winning extra virgin olive oils. Try the oils and do a short tour.
Corner of Armstrong Road & Cowaramup Bay Road
Cowaramup
Telephone: (08) 9755 9771
Email: oliobello@netserv.net.au
Margaret River Regional Wine Centre
Centrally located in Cowaramup, the Margaret River Regional Wine Centre is the ideal place to begin your exploration of this renowned and varied wine growing area. You can taste wines here and create itineraries to help enhance your visit. Maps, tourist guides and information about the area are all available.
9 Bussell Highway
Cowaramup
Telephone: (08) 9755 5501
Email: ron@mrwines.com
Margaret Riviera
This little shop stocks gourmet produce produced in the region and cooked delicacies by some of the area's best chefs. It was better stocked the last time we visited, but it is still a great place to stop at if you plan on making your own meal.
Shop 2, Cnr Bussell Hwy & Bottrill St
Cowaramup
Telephone: (08) 9755 9333
Aun has always loved food and travel, passions passed down to him from his parents. This foundation, plus a background in media, pushed him to start Chubby Hubby in 2005. He loves that this site allows him to write about the things he adores--food, style, travel, his wife and his three kids!