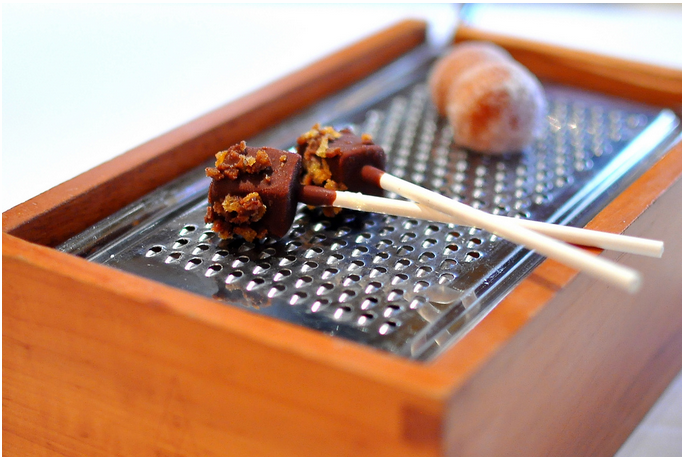 Located in the hip meatpacking district of New York City, Del Posto is one of those restaurants that, when you enter its premises. simply takes your breath away. To the left, there is a classically designed dark wood bar and in the middle, a grand staircase that leads up to the second floor of the restaurant and brings you a little closer to the huge sparkling crystal chandelier.
This is both a great date as well as a classy business dinner restaurant. Del Posto has one Michelin star and does what it is supposed to do very well: great Italian food. One of the owners is Mario Batali, the Italian chef extraordinaire who also has a hand in Pizzeria Mozza and Osteria Mozza in Marina Bay Sands Singapore. Del Posto is one of his higher end restaurant offerings in the competitive restaurant scene of New York City, and you can definitely see it in the tuxedo-ed waiters who are observant yet respectful of your space and gave wonderful recommendations on both food and wine.
We were greeted by warm bread with butter and home-made whipped lardo. For dinner, Del Posto does a 5 or 8 course prix fixe menu. To start, our party chose the charred octopus, chilled lobster and the truffled beef carne cruda. I enjoyed the carne cruda the most – it was a well-executed beef carpaccio with just the right amount of black truffle shavings and parmigiano cheese crumbs. The charred octopus also deserves a mention – done kinda like an exact opposite of the Spanish pulpo a la gallega, this version is thick cut, with a wonderfully charred exterior and a not overly chewy interior. I love the lightly burnt and caramelised smell of charred food and this particular one mixed with the luscious and refreshing aroma of the accompanying olive oil definitely hit the spot.
The table also chose two pastas to share as part of the menu – orechhiette with lamb neck ragu and carrots and garganelli verdi with ragu bolognaise. The pastas are truly the stars of Del Posto: both pastas were al dente and such a joy to eat. My favorite was definitely the garganelli verdi – although the dark green color of the tube pasta can be initially off-putting to some, I can assure you that once you try it, it's hard to stop eating and eating. The pasta surface was smooth but was able to beautifully hold the sauce, making every bite a great combination of pasta and sauce. The ragu sauce is distinct from other bolognaise sauces – not overly tomato-ey, and with juicy minced beef that was cooked to perfection, it was very pleasing on the palate. The orechhiette is another favorite, with a significant thicker pasta shape and a yummy lamb sauce naturally sweetened by baby carrots.    
The chef later sent by mini desserts (think of them somewhat as palate cleansers but meant to be enjoyed just before dessert). Most of these were simple and perfectly executed: donut holes with jam, lemon tarts, chocolate truffles. These desserts made for great conversation snacks while we shared an amazing bottle of moscato (Moscato D'Asti – Cascinetta Vietti 2010 Piemonte). An interesting twist of brown butter pushed my panna cotta from delicious to phenomenal, and the tartness of the accompanying apple slices made this a multi-faceted delight!  
Image courtesy of gas.ton.o.my.
Del Posto Ristorante
85 10th Ave
NY, NY 10011
Tel: +1 212 497 8090
www.delposto.com

Jeannice is a world traveller and eater. She has lived in Chicago and Madrid (as well as Miami and Yellowstone National Park, albeit for much shorter periods) and has recently moved to New York City. Like many Singaporeans, she seeks out the best places to eat when travelling as recommended by locals, friends who have previously visited the city or a simple online search.