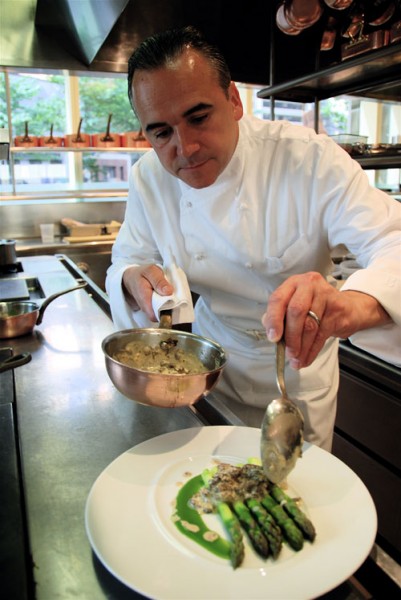 I first became aware of Jean-Georges Vongerichten when I was living in New York. I was in advertising, it was the early 1990s and expense accounts were fat (people in America not just yet ;); and I was just beginning to learn what it meant to eat really well. My first meal with JG, as he is known by foodies worldwide, was at JoJo in 1992. Funny because this is also my mother's nickname for me, but personal coincidences aside, this was the meal that transformed me. Three courses of wonderment later, my eyes were opened to the startling possibilities of cuisine which pretty much put me on the trajectory of culinary exploration I have been on ever since.
And so it was a wonderful honour that I recently had the opportunity to sit down to interview Jean Georges in Shanghai over a cappuccino. I must admit I was a little overwhelmed sitting with this culinary legend but his warmth and openness quickly put me at ease. As we started to talk, I asked him about his connection to Asian and Shanghai in particular – after all, many of his New York restaurants are Asian-inspired and he's opened two restaurants in Shanghai over the years.
Jean Georges beamed a warm smile redolent of fond memories, and he told me about his first experience in Bangkok in 1980. He had been working in France but, "I wanted to see where all the spices came from," says Jean Georges, "and back in those days, there was no Internet, you had to travel somewhere to experience them."  He remembers when he first arrived to take his post at Mandarin Oriental – "when they opened the door of the plane, even the smell of the air was different," he says.
His first meal, like mine actually when I moved to Thailand, was the classic Thai hot, sweet, spicy and sour soup – Tom Yum Goong. "It was amazing to me, because in France we would boil a stock for 2 days and here they just made it on the street right in front of me." His time in Asia changed his palate as he went from working with traditional European ingredients to playing with chilies, ginger and tamarind. When I ask about his favourite Chinese dish, without hesitation he says, "Xiao long bao is spectacular!"
But what we are here to talk about today is his cookbook, Home Cooking with Jean-Georges: My Favorite Simple Recipes.   The master of the perfect, polished plate has done a cookbook based on the rustic cooking he does in his country home on the weekends.  "Cooking at home is a group event – every one who comes to dinner has to chop or peel," Jean Georges says laughing, "And then it is all about putting things on the table that people share."
I have been playing around with the cookbook and want to share with you my favourite, crowd pleasing recipe – Crab Toasts with Siracha Mayonnaise: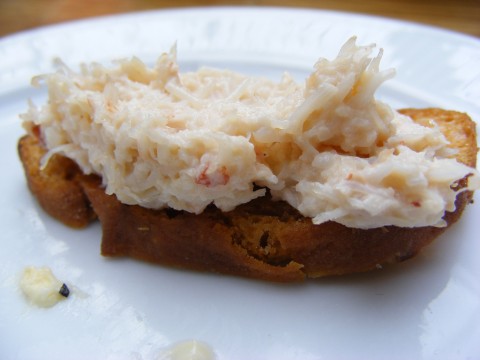 Crab Toasts with Siracha Mayonnaise
4 slices good sourdough bread
3 tablespoons Sriracha Mayonnaise*
8 ounces lump crabmeat
Crushed red chili flakes (optional)
1 lemon cut into wedges
Toast bread until golden brown and cut into 2-inch pieces. Gently fold the Sriracha mayonnaise into the crabmeat until well mixed. Spoon the crabmeat onto the toasts (or serve separately with the crabmeat in a bowl over ice and with toasts on a tray so guests can assemble themselves). Serve with lemon wedges.
(*1 large egg yolk, 1 tablespoon Dijon mustard, ½ teaspoon kosher salt, ¾ grapeseed or other neutral oil, 2 teaspoons fresh lemon juice, 2 teaspoons Sriracha. Whisk together the yolk, mustard and salt until blended. Continue whisking while adding the oil in a slow steam stream to emulsify the mixture. Whisk in the lemon juice and Sriracha.)
Since I have been using Cooking at Home with Jean Georges, I must say that the compliments have been streaming in and generating buzz amongst my friends ("OMG, you missed the dinner at Joanna's last weekend….the crab toasts were legendary!"). And I like having the feeling of a little bit of Jean Georges at home – it somehow reminds me of home in New York, but also seems to be apropos for exactly where I am in life right now in Shanghai. Thanks JG!
Joanna Hutchins is a culinary travel blogger based in Shanghai, China.. In 2009, Joanna founded Accidental Epicurean, a culinary travel blog focused on Asia. Joanna is also a contributor to CNNGo, Look East magazine, SE Asia Globe and Two magazine.