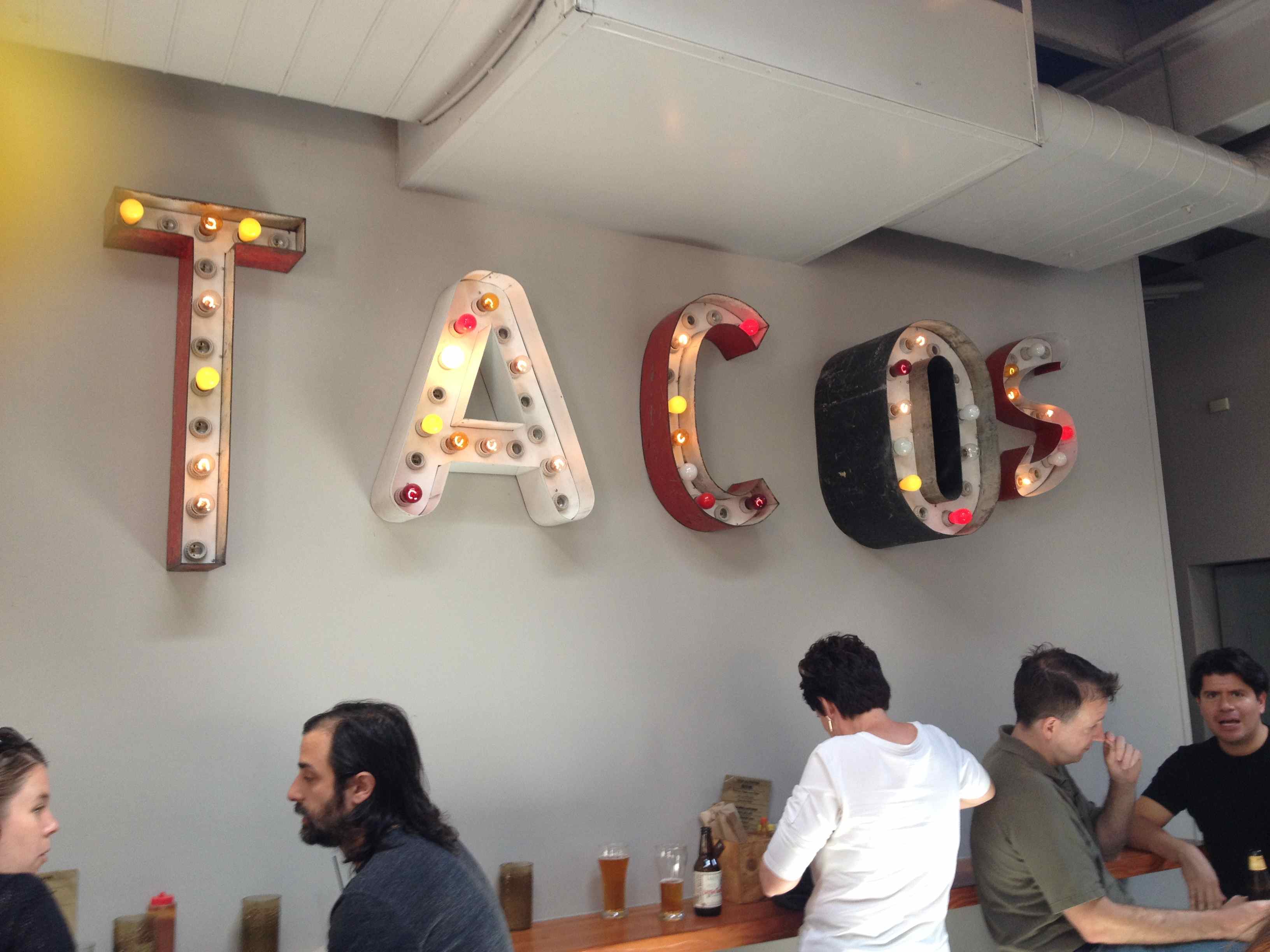 Although I had not truly tasted authentic Mexican food till I moved to the US, I was hooked from the first moment I tried it. The flavours are fresh, with heavy usage of lime, tomatoes, onions and chillies like jalapeño. The spice factor is sharper from that of most Asian cuisines and often carry more of a kick. The most common misconception about Mexican food is that it's only about picking out a meat and then choosing the "style" (tacos, burritos, enchiladas, fajitas, quesadillas) and ta-dah, it's Mexican food! While some of that may be somewhat true, you will be missing out on so much if this keeps you from from exploring the wonderful and varied world of Mexican. My favourite other dishes include tortilla soup and chilaquiles (corn tortilla casserole topped with cheese, pico de gallo and sometimes avocado).
I visited Big Star when I was in Chicago recently. Despite having lived there previously for two years, I did not get around to Big Star so this was at the top of my hit list when I returned. And man, did I regret not ever discovering it earlier! Big Star has a main restaurant and an off-shoot to the side of the restaurant. The main difference is that the off-shoot does not serve alcohol and all the tables are outdoor, a problem in the windy Chicago winters but perfect for the summers. Because we were so hungry, we decided to not wait for the main restaurant (which had a 30 minute wait time at 3.30pm on a Saturday afternoon) and headed to the side restaurant instead. We went for the Taco al Pastor (gorgeous soft tacos filled with marinated pork shoulder, topped with sweet grilled pineapple and onion bits), Taco de Panza (braised pork belly that was both crispy and tender at the same time, with fresh cheese crumbs and tomato salsa) and Taco de Pescado (beer battered tilapia with crunchy cabbage and a lightly spicy chipotle mayo). They were all impressive, especially the two pork ones; the pork was tender, flavourful and clean-tasting. As for the Taco al pastor, the grilled pineapple enhanced the savoury pork slices, a little like how some satay sauces come topped with chopped pineapple.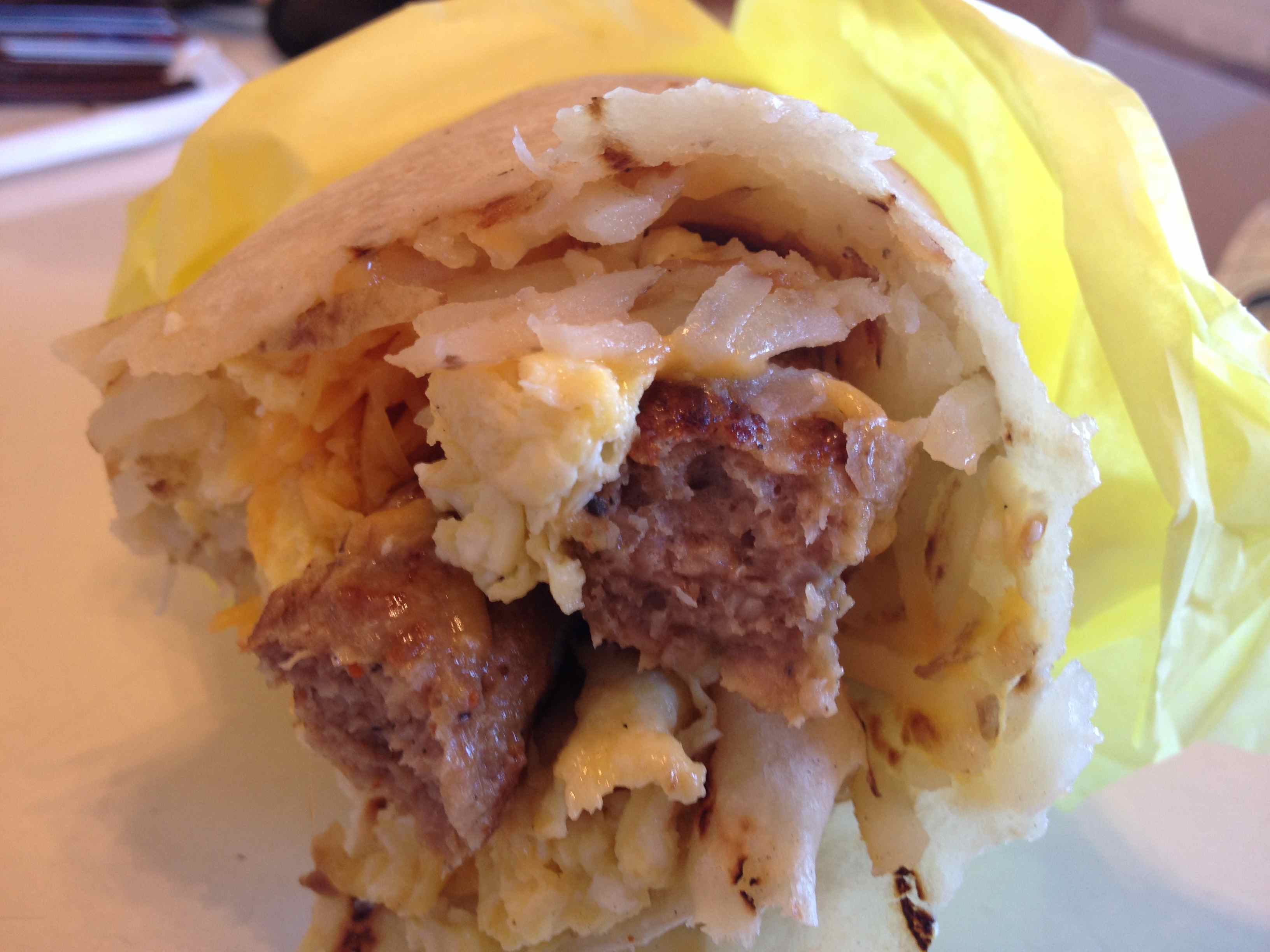 Now, for Mexican food in another city that is famous for it, I chanced upon Lucky Boy's burritos very coincidentally when I mentioned to a friend that I was going to be in Los Angeles. He is from there and almost immediately he told me about Lucky Boy's breakfast burritos. So, before heading to Universal Studios, we wanted to drop by for a quick breakfast. Now I am not a big breakfast person and cannot really eat too much even at a great breakfast buffet so I was planning to eat just half of the burrito. Looks-wise, It may not look particularly special: A plain looking burrito filled with scrambled eggs, roasted thinly sliced potatoes, melted cheese and your choice of sausage, chorizo or bacon. However, one bite into it and I was in heaven. It is by no means a fancy place to eat in, but the combination of being in an authentic Mexican restaurant with Spanish being spoken all around and biting into a soft warm burrito filled with comfort food was unbeatable. The breakfast burrito came with salsa verde (a green salsa made with roasted tomatillos, peppers, cilantro, onion) which was the perfect accompaniment. Efficiency is also key at this restaurant; the turnover is high and if you are ordering a breakfast burrito, it is ready within five minutes. And you know the story already: from intending to eat just half of the burrito, I continued eating even though I was stuffed, till I finished all of it! It tasted great washed down with horchata, a mild Horlicks-like malt drink.
Big Star
1531 North Damen Avenue
Chicago, IL 60622
Tel: +1 773 235 4039
www.bigstarchicago.com
Lucky Boy
640 South Arroyo Parkway
Pasadena, CA 91106
Tel: +1 626 793 0120
www.luckyboyburgers.com

Jeannice is a world traveller and eater. She has lived in Chicago and Madrid (as well as Miami and Yellowstone National Park, albeit for much shorter periods) and has recently moved to New York City. Like many Singaporeans, she seeks out the best places to eat when travelling as recommended by locals, friends who have previously visited the city or a simple online search.