Mistura, did not fall short of the craziness it promised. During the lead up to the famous food festival, almost everyone I met, Peruvians and foreigners alike, had to mention Mistura in our conversations.Having been in Lima for the past two months, one gets gradually used to the chaos and madness of living in the city. Of which, there is the fervent passion that the Peruvians have for food here, and I wholeheartedly identify with it. I would even go out on a limb and say that Peruvians would rival Singaporeans in queueing for good food, and even more, as I've experienced firsthand in Mistura. Given the abundance of fresh food and produce, and buzzing food scene in Peru, and especially in Lima, I wanted to share all these wonderful (and exotic!) experiences on Chubby Hubby. And of course, Charmaine, the editor of CH, in particular, was very understanding even when I was late with submitting this first article…(Ed's note: so happy to have you as a contributor!)
But I digress. When I headed to Mistura 2013, located by the Magdalena coast this year, mayhem ensued. Once we got past the snaking queues at the entrance, my friends, C and A, made a beeline towards literally, the world of chocolate.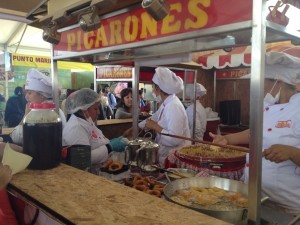 In Mistura, every kind of food is celebrated. There were booths solely dedicated to quinoa, bread, and of course, chocolate. And that would be 100%, Peruvian chocolate from the Amazon. The best restaurants and hawkers from all around Peru gather at Mistura to display the best of Peruvian produce and cuisine. This year, the fair organised booths according to the cuisine of origin, be it from the Amazon, the Andes, or the coastal regions. There were also Nikkei (Japanese—Peruvian cuisine), and Chifa (Chinese—Peruvian cuisine). I maintain a fascination with Chifa, which is a mix of Chinese and Peruvian cuisine, but that is another topic for another time. There were also sections dedicated to introducing pisco, or Peruvian distilled alcohol, marine life, desserts, and barbecued meats.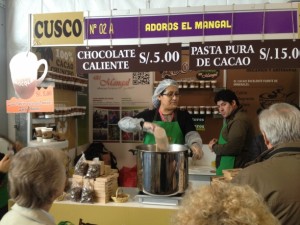 I was particularly fascinated with the astonishing variety of quinoa and potatoes at Mistura. The numerous shades of colors (and thereby, types) of quinoa confounded me: pink, black, red, white, brown… you get the gist. As we made our way across Mistura, we had already ticked off on our checklist cuy (roasted guinea pig), numerous helpings of chocolate, stuffed potatoes, and Amazonian paiche, which is a freshwater fish from the rivers in the Amazon. By the time A, C and I made our way to the section for chanco, or similar to roasted pork done by the Chinese, we had already had our fill. Nonetheless, the chanco section assailed my senses,  with hordes of helpers dedicated to smoking the meat onsite, and queues that snaked past sections of chancho booths. I personally queued up for one hour (and did not even get halfway through the queue) before I gave up. That says a lot about the depths of passion and zeal Peruvians have for their food here.
And so, on that dusty afternoon, I concluded the visit to Mistura, and one of first culinary experiences in what I affectionately dub, the crazy city. (Or in Peruvian Spanish, ciudad locito). With my companions A and C, we had a wild time feasting on the foods. As a desert city located by the sea, my clothes were covered with dust by the time I left Magdalena. But, as things go, I am definitely looking forward to more gastronomic experiences in the near future.

Michelle loves her food - street food, exotic foods, you name it. Aside from cooking and experimenting with new ingredients, she is also interested in how food and the habits of having meals are closely intertwined with culture, tradition, memory, and identity. Otherwise, while she's not doing any of the above, she would be making art and hitting the books.