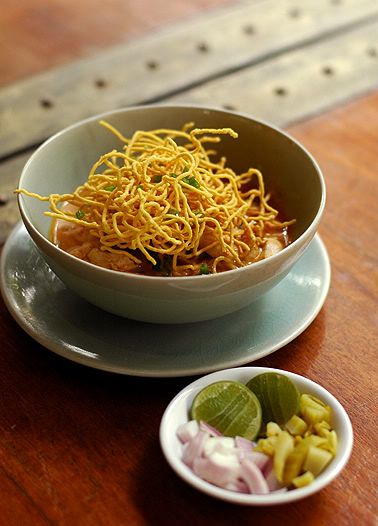 The Khao Soi Gai that I made at the Four Seasons Resort's Cooking School
From my very first bite, I was hooked on Khao Soi. Usually served with chicken ("Gai"), this Northern Thai curry noodle dish, most famously served all over Chiang Mai, has become one of my all-time favorite foods. My wife S and I first tasted it a few years ago, while S was on an assignment in Chiang Mai. She was there to write a story for an American magazine on the best Northern Thai restaurants in the area; I was playing hopalong hubbie, tagging along and happily helping her consume the massive amounts of food she needed to try over a 4 day period. However, as soon as I tried my first Khao Soi Gai, my plans changed. I had a new agenda. I began, much to S's chagrin, a mad quest to find the very best version in the city. Over those 4 days, I must have eaten at least a dozen versions, declaring–at the end of the trip–that the best Khao Soi Gai in Chiang Mai could be found at a quaint, modest, old and very famous restaurant called Huen Phen.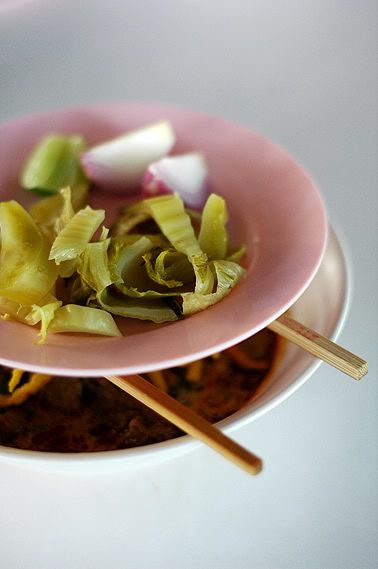 Khao Soi Gai from Samoe Jia
For the uninitiated, Khao Soi is a dish of egg noodles cooked in two different ways–deep fried and boiled–served with curry. The boiled noodles are placed in the bottom of a serving bowl and topped with some sawtooth coriander. Over this is ladled a coconut milk based, yellow curry with tender pieces of chicken. On top of this is placed the crispy, deep-fried noodles. This is then served with a variety of condiments, which you add to your own taste: fish sauce, sugar, chili oil, pickled mustard leaves, diced shallots, and some fresh lime wedges. It's interesting to note that this is the only curry from the Chiang Mai region that uses coconut milk.
S and I are just back from another quick 4 day trip to Chiang Mai. This time, S was there to write a story, for the same magazine, on the coolest design and homeware shops in Chiang Mai. Once again, this chubby, hopalong hubby went with her and not only tasted several versions of Khao Soi, but also learnt how to make it at the stunning Four Seasons Resort's Cooking School. The first one we tasted was at a streetside cafe called Samoe Jai Khao Sawy. Samoe Jia is very well-known for its Khao Soi. And while I have to agree that their Khao Soi is very good, it was a tad too spicy for my taste. I did like, though, that the dish was served with little winglets/drumsticks that were so tender I could literally suck the meat off the bones. Curiously, this version also had amost no coconut milk in it.

The Khao Soi Gai from Samoe Jia has almost no coconut milk
My second Khao Soi was at Modiva, a trendy restaurant off the equally trendy Nimanhaemin Road. The Khao Soi Gai here was good, but not outstanding. The curry was rich, with a good, healthy amount of coconut milk. This version was also served with little chicken drumsticks. My next Khao Soi was at the very new and very exciting D2 hotel. This hotel is the first in a hip new line extension of the Dusit group. The hotel itself was awesome, with modern and whimsical interiors and a very cute orange accent that ran across all of the hotel's branding. Their restaurant, Moxie, had a nice menu of local and international dishes. I ordered a Khao Soi with pork meatballs. It was both excellent and beautifully presented. The curry was mild and flavorful. The pork meatballs made for a nice change from the usual chicken. I really enjoyed this one.

The Khao Soi with pork meatballs from D2 hotel
My last Khao Soi (not counting the one I cooked for myself in the cooking school) was the most unusual, a Khao Soi with Osso Buco. We had this at the gorgeous, classy and very romantic restaurant at the Rachamanka hotel. Of all the Khao Sois we ate, S liked this one the best, both because of the unusual meat choice but also because the noodles used with this version had soaked up the very mild and delicious curry. It was, because the curry was the lightest and most flavorful, and because of the surprising choice of meat, also my favorite.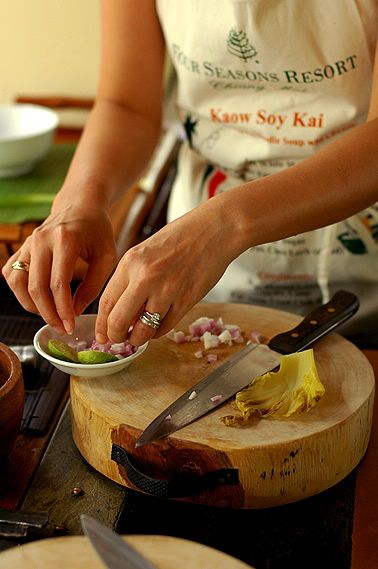 S hard at work prepping condiments for her Khao Soi Gai
Another Khao Soi that I ate–as mentioned–was one that I learnt to prepare myself. S and I had enrolled in a half day "Best of Thai Curries" course at the Four Seasons Resort's truly stunning cooking school. It was a fun course taught in one of the most beautiful settings imaginable. I've included below the recipe that the Four Seasons used to teach us how to make this delicious dish.
Khao Soi Gai
1portion
100g chicken pieces
2 small portions egg noodles
1 teaspoon red curry paste
1 teaspoon yellow curry powder
1 cup coconut milk
1 cup chicken stock
1 tablespoon fish sauce
1 teaspoon white sugar
2 pieces sawtooth coriander, sliced
1/2 tablespoon spring onion, sliced
condiments
3 teaspoons pickled mustard leaves, chopped
1/2 piece lime
1 tablespoon shallots, diced
chili oil
Heat some vegetable oil in a wok. Deep fry 1 portion of the egg noodles. Set this aside.
Blanch/boil the other portion of noodles in boiling water, drain and place in a soup bowl with some of the sawtooth coriander. Heat another wok and when hot, add half of the coconut milk, the red curry paste, the yellow curry powder, and stir until everything is blended together and it starts to boil. Add the rest of the coconut milk, the fish sauce and the sugar. When it starts boiling again, lower the heat and add the chicken and chicken stock. When the chicken is cooked, pour the chicken and the curry sauce/soup over the noodles that are in the soup bowl. Then put the fried noodles on top and garnish with some spring onion.
You can add more fish sauce and sugar to taste. Also, add in some of the mustard leaves and shallots and squeeze some lime juice over the noodles. If you like things hot, you can add some chili oil.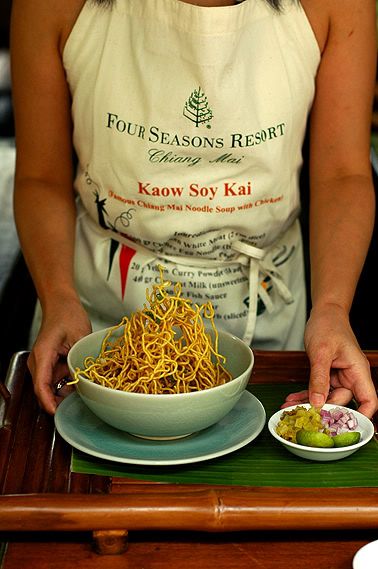 S presents her finished Khao Soi Gai
Aun has always loved food and travel, passions passed down to him from his parents. This foundation, plus a background in media, pushed him to start Chubby Hubby in 2005. He loves that this site allows him to write about the things he adores--food, style, travel, his wife and his three kids!