If you ask almost anyone to name a source region for America's wines, there is a 90 per cent chance someone will quickly respond with Napa Valley. Napa Valley is a narrow valley to the north of San Francisco, flanked by two mountain ranges, Mayacamas and Vacas. This is home to the wines that propelled California to international stardom in the 1976 Judgement of Paris. In October, I got the exciting opportunity to visit Napa and was hosted by a reputable wine company, the Trinchero Family Estates.
Napa Valley stretches 30 miles from north to south and the lateral, at its widest, is just five miles. With the Mayacamas mountain range on the west, the valley is sheltered from the Pacific Ocean's direct influence. However, with San Pablo bay in the south and a small hill gap in the north, fog creeps into Napa Valley after daybreak and quickly burns off before midday. A small wine region with a size comparable to the Burgundy Cote d'Or, its wines resemble not just those of Burgundy, but Bordeaux as well.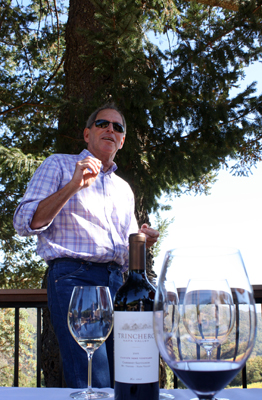 Trinchero Family Estates is one of the biggest family-owned wine companies in California. Started as a small family business in the late 1940s, today the Trinchero Family has over twenty brands under its management. Apart from managing sales and brands marketing, the family makes its own wines under the name Trinchero Napa Valley.
With more than 200 hectares of vines in Rutherford, Mt Veeder, St Helena and Atlas Peak, Hal Huffsmith is the man tasked to fine-tune the vineyards. Under his care, the vineyards are managed in accordance to biodynamic practices, an agricultural approach established by Rudolf Steiner in the late 19th century. While soil preparation calls for the use of natural compost and animal manure, the oddity of following the astrological calendar has resulted in biodynamic methods being often dismissed as mysticism and superstition.
When asked about the finished product, Hal admittedly said there wasn't  significant improvement in wine quality, which was already top-notch to begin with. But he maintained the approach is essential in keeping the vine disease-free and also has the benefit of a reduced carbon footprint which results from the usage of machinery, which all means a better ecosystem.
Despite having a busy schedule during harvest season, Hal played tour guide at 1,500 feet on Mt Veeder. Cloud's Nest vineyard is known for its dense morning fog, a key climatic condition that helps retain fruit acidity and that's vital for making balanced and long lasting wines. Just weeks before the visit, Malbec berries had been harvested and the leaves that have turned red marks the completion of their leafy work. Photography enthusiasts will find this the ideal time to capture the season change (see main image).
Going into late October, dark berries can still be seen hanging off vines across Napa. Thick skinned, late ripening and with a strong flavour intensity, the dark berried Cabernet Sauvignon is the highly prized signature varietal of Napa Valley.
By crushing the grapes, applying a few drops of freshly extracted juice onto a portable refractometer and then looking through the lens, the viticulturist can measure the 'must weight' or the amount of dissolved sugar. In the United States, must weight is measured by degree Brix. By dividing the refractometer reading by 1.8, it gives an estimation of the potential alcohol level after complete fermentation. At 26.2 degree Brix, the berries had reached their optimal state and ready for harvest in a week or two.
Apart from sugar level, berries need to achieve sufficient 'physiological ripeness'. The easiest way to determine this is by looks and taste. Ripened vines have a woody and rigid stalk instead of a more flexible one. The berry's colour, depending on the varietal, can range from green to dark purple. On the palate, a slight astringent texture can be observed for Cabernet Sauvignon, and can be better described as dusty.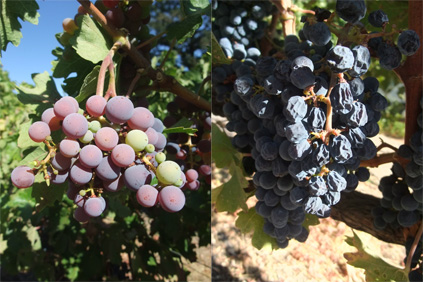 With the end product beckoning in our glass, it is often easy to quickly pass judgement on a wine's quality. But out in the field, viticulturists spend an entire year dealing with scientific work, making intuitive judgement based on field experience to mitigate the risk of natural hazards. And often at the same time, conforming to tedious agricultural practises to ensure sustainability.
Therefore, before you savour next great glass of wine, stop, think, and give thanks to those hands behind it. Then go ahead and get another bottle to show your support.
---
Thank you to everyone in Trinchero Family Estate, Sutter Home Victoria Inn and Trinchero Napa Valley for their hospitality and attention to all our needs. Special mention goes to the following people who made the trip exceptionally wonderful:
Mr Hal Huffsmith
Senior Vice President for Vineyard Operations
Mr Barry Wiss, CWE, CSS.
Vice President of Trade Relations.
Board of Directors and Examiners, Society of Wine Educators
Ms Vicki Sum
Senior Art Director
Mr Steve Sarle
Sales Director for International market
Ms Susan Smith, CSW
Director of Customer Relations
Ms Graciela M. DeHaro
Public Relations
Wai Xin is constantly educating himself in all things wine-related. Believing strongly that wine is for enjoyment and not a trading commodity, he encourages sensible, affordable drinking and the exploration of individual preferences. A Certified Specialist of Wine, his personal wine blog is on www.winexin.sg.