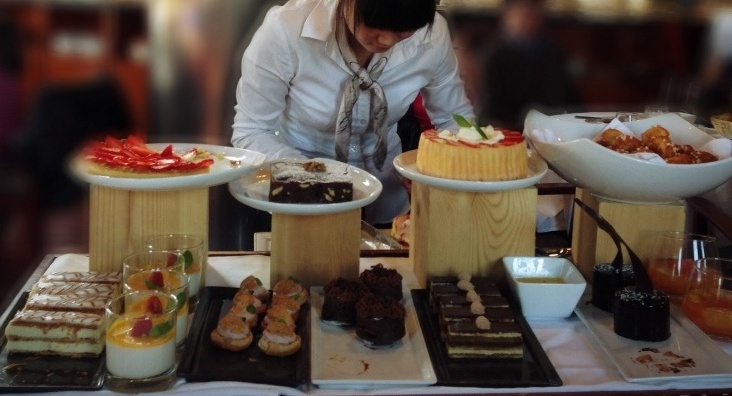 Shanghai is my very favourite city in China, and I'd even go as far to say that I prefer it to Hong Kong in many ways. As some of you would have read from Joanna's posts, Shanghai is indeed a city that is full of much yet-unexplored discoveries and is perpetually brimming with energy, and I like to find any excuse to visit.  When it's for work, it's usually in and out, with hopefully a nice meal or two squeezed in. When it's play, I often zero in on a few choice destinations. During a recent play visit over a long weekend, I visited my usual fave spots, and explored a couple of new ones.
I always stay in the Ascott Shanghai for its central locale. A stone's throw from Xintiandi, it's a great location to be based in for a short stay (but skip the soso breakfast and save your tummy space for more worthy eats). From the hotel, I can take a two minute walk across the street to Xian Yu Xian on 77 Song Shan Rd, which is where the fabulous Taiwanese icy dessert that I cannot help but have on a daily (sometimes more) basis. I get very specific about the exact concoction that I always have – a double helping of yuyuan (chewy yam balls), yutou (boiled yam), sweet potato, peanuts, green beans, with the requisite mountain of shaved ice with brown sugar syrup.
The hotel would have been a few minutes walk to my ever favourite Xinjishi at Xintiandi which, alas, is no longer at this location. Never mind, visit one of the other branches dotted around the city to satisfy your crab roe rice cake craving.
Just diagonally across the street from Ascott and on the next block is the rustic Blue Car Coffee on Huai Hai Middle Road, next to a large Hermes store. Almost every seat was taken when I dropped in on a weekday afternoon, and there was a good range of coffees and selection of cake and pastries displayed.
On this recent trip, we were looking at a place for brunch, and were originally excited about going to Madison, but when I called up to make a booking, they informed me that we'd have to vacate the table in one hour fifteen minutes on a weekend, so we decided to go in search of more leisurely brunch pastures instead.
We've heard some nice things about Le Restaurant-Ecole Shanghai, the French restaurant in the Institut Paul Bocuse, which is run and staffed by students of the school, and we got a reservation at short notice. It ended up being a lovely three hour meal, with the earnest students explaining the courses as they arrive – we were served five appetizers, five main courses, and the delectable dessert trolley. It was an overly abundant amount of food, and it was evident that this is intended to be an opportunity for the students to practise typical dishes such as escargots in garlic-herb butter and duck confit. I particularly enjoyed the dessert trolley – when I asked the lovely girl explaining each item to us how many are we able choose, and she responded that I can have as many as I would like, J had to stop me from singing out "then one of each please!". Overall, if it's just the food, it may not be a 10/10, but I would give it 8/10 for effort and pleasure. If you come with the kiddos, they get to try their hand at making fancy coloured beverages and spinning sugar to make coloured cotton candy in the open kitchen, and are also given a nice branded apron to bring home, we saw the kids at the tables around us come away with beaming smiles.
I also whiled away a solitary hour savouring the smokey lapsang souchong  tea and a slice of banana chocolate cake Songfang Tea House – I'd dropped by to purchase tea in their distinctive blue tins during past visits, but had not known that upstairs was a nice tea area until baby J's lovely teacher Ms A visited and raved about it.
Another place that's great to drop by for a bite or a spot of coffee and cake is Antique Garden  (44 Sinan Road), off Huai Hai Middle Road. The interiors are cool and dim, and charmingly haphazardly decorated with antiques, including furniture from several periods (that you can purchase, if it's tagged). There is also a leafy outdoor courtyard for when the weather is warmer. I've enjoyed their green tea and cheese cakes on several occasions.
Of course, I wouldn't write about Shanghai without mentioning a crab roe item. A block or two away from Antique Garden is the hole in the wall Ah Niang Mian (loosely translated: Aunty's noodles, 36 Sinan Road). The crab roe noodles is the sole reason for coming here. To be fair, the rest of the patrons do order a variety of other noodle items but when there is crab roe, well, nothing else matters. Have it dry (vs soup), and go at 11am when the store opens, otherwise be prepared to join a long long queue. Menus are in Chinese only, and the crab noodles are considered the signature item and are a bargain RMB39 for a large bowl of silky noodles with abundant crab roe and crab meat piled on top. I greedily slurp up every strand in near record time, and J has to stop me from ordering another bowl.
So there you have it – my perfect two or three days in Shanghai.  Let me know what you think (and what other hidden crab roe spots there may be).

Charmaine considers gluttony the most beautiful sin, and enjoys exemplifying it as she goes about her daily activities. Luckily for her, she currently lives in Hong Kong, the purported greatest city in Asia for everything to do with food (it's a close fight with Singapore, where she was born and bred). These days she can be found (over)eating, thinking of what and where to eat next, and attempting various recipes in her kitchen.