Nomad is Sydney's current favorite casual, modern Australian restaurant. As simple as that.  Since its opening in 2013, reservations aren't easy to get, the buzz is all over town, and the praise is continually hot.
Chef Nathan Sasi (formerly of Dinner by Heston Blumenthal, trained by Neil Perry at Rockpool) is the creative man in charge of the kitchen and all its side treats.  By these extras, I mean the smoked peppers, fresh corn polenta, pickles, cheese, and cured meats that are produced in-house; the ones which brighten up the shared plates served.
A selection of charcuterie and pate are a smart way to start the meal with, accompanied perhaps by some pickles, the jars of which can be seen decorating several of the restaurant's walls.   The menu at Nomad is seasonal, and despite similarities with other contemporary restaurants, subtle differences make exemplary dishes in the food at Nomad.  There is a clear Middle Eastern theme from beginning to end.  An Arabic steak tartare, my favourite dish on the menu, is a gorgeous interpretation of the classic.  It comes, unmixed, in a steel bowl, and includes pickles and babaganoush.  Served with a harissa vinegar, not unlike tabasco, which takes the kitchen five months to process and perfect before it can be eaten, the tartare was just perfection.  Crispy potato chips to scoop up servings of the tender tartare come alive with this harissa vinegar.  I wonder if Nomad will start selling bottling the sauce for sale.  They can count me as a regular customer if so.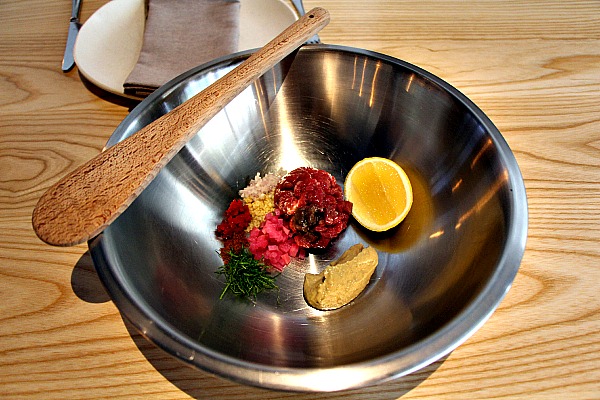 There are small and large dishes to share, with vegetarian options such as the roasted carrots with dukkah and labne, fried chickpeas, goat cheese churros, tomatoes with shanklish, chiparras peppers, and broccolini with mojama.  There are awesome bites of Mediterranean flavour as well.   Scallops with lardo and anchovy, smoked pork empanadas, and barbecued wagyu tongue with mojo verde sauce.
Larger dishes, many from the wood-oven, are fragrant and substantial. A cumin-infused, tender roast chicken is served with a salad of cauliflower, pomegranate seeds, and goats curd.  Calamari, octopus,  garfish come straight off the barbecue; house-made grilled haloumi with zucchini and raisins is a crowd favourite, the chorizo is prepared with sofrito and served with pimientos del padron, and there's a standout pair of juicy king prawns in brown butter sprinkled with parmesan and pine nuts.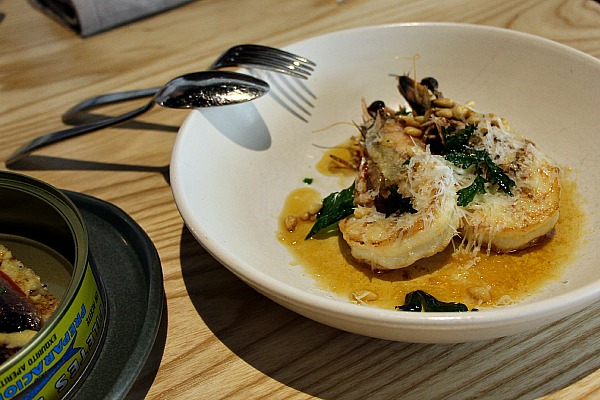 Nomad satisfies all the senses.  The massive space has a beautiful fit out, and even though it sits over two hundred people, it doesn't feel crowded (although it probably gets a bit loud on a busy Saturday night).  Inspired by Nordic design, Nomad's open plan has a focus on concrete and wood.  Logs cover an entire wall behind the private dining table, near the cold storage room, which is a clear window display of all the house cured and smoked goods, is another wall covered from floor to ceiling in wine bottles.  High chairs and bar-style seating are available across from the cooking station, while the remaining space has all sorts of tables to accommodate solo diners, big groups, couples on dates, or business lunches. The concrete floors shine, and the two large wine barrels at near the entrance give Nomad a special feel.  They make a stance: at Nomad, wine isn't taken lightly.  Only Australian wines are on offer.  The list is extensive and it focuses on Australia's diverse wine regions.  Moreover, the last Tuesday of each month features a different regional winemaker; a great initiative to showcase new menu items and learn more about good Australian wine.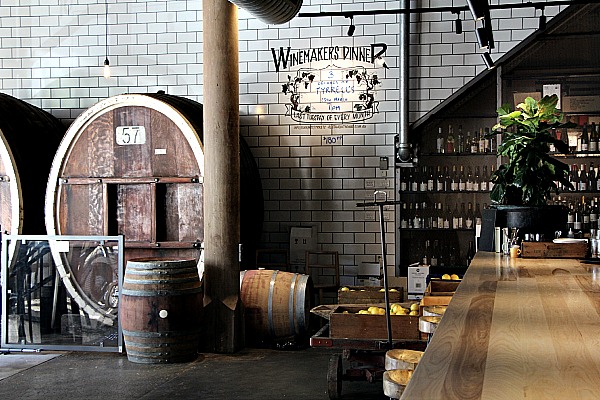 Taste, scent, sight, and sentiment are all well covered at Nomad.  The service is attentive, and even the feedback requested from the restaurant, received as a follow-up e-mail, is a clever touch.  A reminder of the experience, and a moment to pause and think about going back for some pickles and a lobster roll at lunch or wood-roasted pork with romesco aioli for dinner.
Nomad Restaurant
16 Foster Street, Surry Hills
NSW 2010, Australia
Tel. +61 2 9280 3395
www.restaurantnomad.com.au

Janice is a girl from Lima, Peru who loves a good cebiche and a glass of dry Riesling. She travels the world (often for food or to check out new restaurants) and lives in Australia. Janice tries to learn about different countries through cuisine, and takes advantage of Sydney's multiculturalism by exploring gastronomy in all of its forms. Grower's markets, wine tastings, restaurant openings, cooking classes, shopping for specialty spices; she's keen to do it all.