There's so much to write. Firstly, I wanted to write about this amazing breakfast I had over the weekend at new uber-expat hangout Corduroy & Finch. Let's just say, scrambled eggs with fresh summer truffles, salmon and Maine lobster, washed down with Veuve Clicquot Rose Champagne. And that was only part of the meal.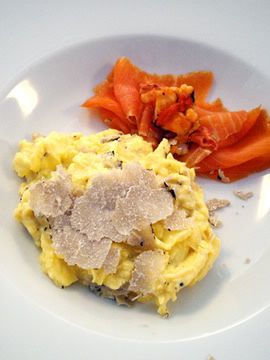 But the full report on that breakfast is going to have to wait a week or so. Because I'm in Venice! I just got in today (via a pain-in-the-ass transit in Frankfurt), and have already started planning some culinary exploits with colleagues and friends. So far though, I've only had one meal—at an uncomplicated little café in the Arsenale area. Trattoria Ai Corazzieri's menu and name cards says it specializes in fish. So, I knew I had to order some. I had a grilled seabass, which was good but not great. To be a little more specific, while it was very fresh, it was grilled just a little too long for my taste.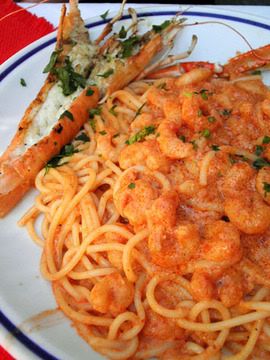 Two of my colleagues had the above pictured dish, a spaghetti "alla busera", i.e. with prawns and tomato sauce. Of course, I had to take a bite. It was very nice, if a tad salty. Anyway, I have quite a few good meals lined up, including dinners at Harry's Bar and Da Ignazio, so check back soon. I'll try to update this blog whenever I get a chance.
Aun has always loved food and travel, passions passed down to him from his parents. This foundation, plus a background in media, pushed him to start Chubby Hubby in 2005. He loves that this site allows him to write about the things he adores--food, style, travel, his wife and his three kids!