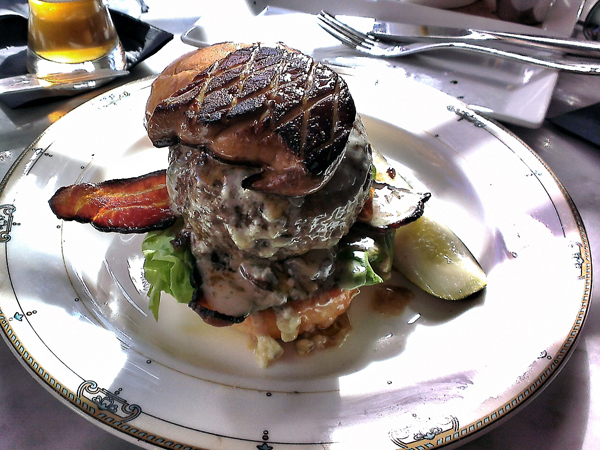 This is a very belated post. I had, in fact, intended to publish this in December last year. But as too often happens, life got in the way. Nonetheless, I still wanted to tell all of you about a fabulous little (albeit unhealthy) lunch I had in November last year at Chef Jose Garces' Village Whiskey in Philadelphia, Pennsylvania, USA.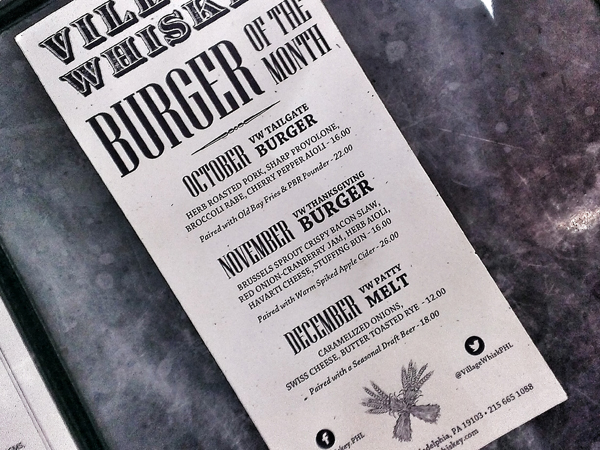 Before I go on, however, I should say apologize for the poor quality of the photos, which were all taken on my HTC One X+ phone — a stylish little number with, sadly, a simply awful camera.
Now, back to my story. Last November, I made a quick trip back to the USA. The first stop on my three city tour was Philly, in which I spent about a day and a half. While there, I had the great pleasure of catching up with a good buddy from college. We'll call him C. Prior to the trip, when we were planning to meet up, C had given me a few options for lunch. Did I want to go grab a cheesesteak? Did I want something fancy? Or, since he knows I have a thing for good burgers, did I want to check out his own favorite Philly-based burger joint? As you might have realized, I jumped when he said, "burger", and our plans were set.
Because the day we met up was particularly pleasant, we walked from the hotel I was staying in (on the University of Pennsylvania's campus) to the Village Whiskey, a corner bar/bistro, not too far away, located at the Sansom and South 20th Streets. Regular readers will know that one of my favorite burger joints in the world is the Corner Bistro in NYC. I cannot even begin to count the number of times I ate there while in and just after university. C was a fan too. Which is why when we walked into the Village Whiskey, I was blown away. Coincidentally or not, the Village Whiskey looks like a cleaned-up, upscale version of the Corner Bistro. It has an eerily similar layout and all the elements of a dive bar and bistro, but it is nowhere close to being a dive. Instead, it's elegant and attractive. The kind of place you can bring a date without worrying she's going to step on something sticky or that the guy at the table next to you is gonna start speaking to himself a little too loudly.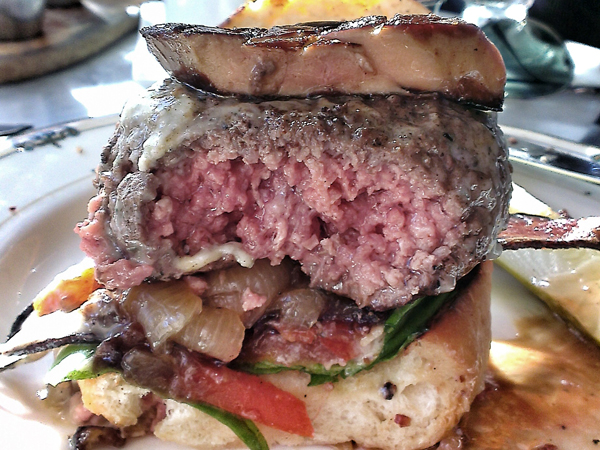 The menu reads like a dream. There are oysters and a crab cocktail listed under the raw bar; a variety of "bar snacks" that included deviled eggs (which I simply had to order) and house made cheese puffs ("gougeres" for all you francophiles); two ultra classic options for salads (Cobb and Wedge); three kinds of burgers; duck fat fries (and duck fat fries with cheddar, and duck fat fries with short ribs and cheddar); a couple of sandwich options and a lobster mac and cheese. In addition, and definitely a nod to current food trends, there was a pickle menu with five different options. To quench one's thirst, you could have milkshakes (which I did), beer (which C did) or a wide variety of cocktails and wine.
In addition, there was a Christmas/Thanksgiving themed special burger on offer the day I went. I decided, though, and especially since this was my first trip, to go for the classic Whiskey King — 8 oz of beef with maple bourbon glazed cipollini, Rogue bleu cheese, Applewood bacon and foie gras. C and I split an order of the eggs, some pickles and cheddar cheese fries.
The burger (and everything else) was awesome. Great enough for me to want to tell the world about it. And damned good enough for me to wish that some enterprising Singaporean restaurateur would bring a branch of the Village Whiskey to Singapore (or hell, do what our local TV broadcaster usually does with great foreign concepts — just steal the idea and use a different name). The Village Whiskey is the kind of place which, if I lived near it, I'd be going to on a weekly basis. For drinks, for snacks, for burgers or just to hang.
Huge thanks to C for bringing me. But nowadays I find myself cursing him for having taken me to a place so good that is so damned far away. And which I'll likely not get a chance to visit anytime in the next few years.
The Village Whiskey
118 S 20th Street
Philadelphia, PA 19103
USA
T: +1 215 665 1088
philadelphia.villagewhiskey.com
Aun has always loved food and travel, passions passed down to him from his parents. This foundation, plus a background in media, pushed him to start Chubby Hubby in 2005. He loves that this site allows him to write about the things he adores--food, style, travel, his wife and his three kids!