During our most recent trip to Kyoto, my wife S and I had the pleasure of staying in a gorgeous resort in the Arashiyama region. But whether or not you stay overnight in this area, Arashiyama is well worth visiting. Its history as a popular destination stretches back to the Heian Period (794-1185). Today, its combination of stunning natural landscapes, Tenryuji Temple, postcard-worthy bamboo groves, and a treasure trove of small restaurants and shops make this far Western part of Kyoto (among domestic travellers) the second most visited tourist area in Kyoto. 
That said, touring the best that Arashiyama offers can be accomplished in a day. While S and I spent two nights here on our last trip, we only devoted our first day to the neighborhood, and spent most of the second in Central Kyoto. Here's a suggested itinerary, based very much on our experience.
Kick the day off mid-morning with a visit to Tenryuji Temple. This sprawling Zen Buddhist temple is considered to be one of the five great Zen temples of Kyoto. Founded in 1339 at the beginning of the Muromachi Period (1338-1573), Tenryuji has become a UNESCO World Heritage Site. While there is much to see here, it is most famous for its gardens, which are simply breathtaking. Take some time on the way out to stop off at the small gift counter and pick up a charm for yourself or a loved one. These blessed prayers, enfolded into tiny fabric bags, are meant to be carried at all times. We picked up some prayers for financial success which we passed to our business partners.
After Tenryuji, head back to the main street (from which you entered the temple grounds) and which leads directly to Togetsukyo Bridge. There are lots of small souvenir shops lining both sides of the street. Some peddle junk, but a good number actually sell some pretty cool merchandise, including gourmet products. If you're in the mood for a snack, at the street corner almost directly opposite the main entrance to the temple grounds, there is a small shop specializing in yuba, soy milk skin. They have a small window from which they sell yuba flavoured soft serve ice cream (which the lovely ladies in the above picture are purchasing). Grab a cone for yourself.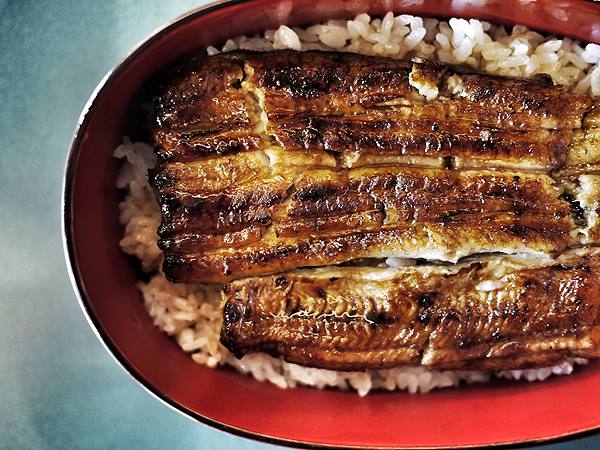 When you've finished browsing through the shops and you're ready for lunch, head to Unagiya Hirokawa, also along the main street and just a short walk up from the temple's main entrance. Hirokawa first opened in 1967. It is Arashiyama's best and most well-known unagi (eel) specialty restaurant. In 2009, they moved into their current space, a beautifully-designed, contemporary "Sukiya" (wooden architecture) style building.
The menu, as you might imagine, is eel, eel and more eel. The eel and rice "donburi" comes in five different sizes, from a kids size to an extra large. You can also order unagi without rice or even order a whole eel for yourself. There are several side dishes available, but many of these are eel-centric, for example, grilled eel liver or grilled eel wrapped in egg. Diners can order set menus or à la carte.
The unagi at Hirokawa was fantastic. Far superior to what we had at the older and more famous Kaneyo several years ago. Of all the various restaurants in Arashiyama (and there are a lot), I'm very glad that we chose Hirokawa. When we later told one of the HOSHINOYA staff that we had lunch there, he too agreed that it was probably the best place we could have chosen in the area for a casual, affordable meal.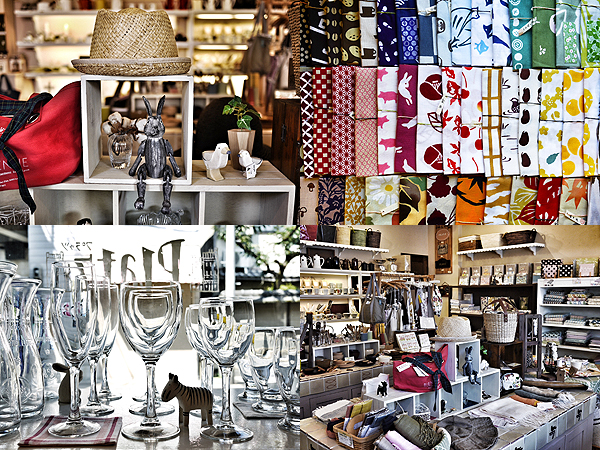 After lunch, take a short walk to a really special cafe for dessert. But along the way, stop off at Platz, a very cool homewares store that offers a really fun mix of Japanese and Western, modern and traditional products (refer to the map on their site). The store is actually divided into two side-by-side units. In the first (the one on the right if facing the boutique from the street), you'll find a cool, funky range of crockery, flatware, glassware, clothes, bags, hats, and the occasional wooden animal. S and I had a great time checking out all the very cool things in here.
In the second unit, the store becomes devoted to more traditional Japanese furnishings, with a heavy concentration on pillows. There's also a very cool range of furoshiki (the colourful fabrics Japanese use to wrap presents), handkerchiefs and scarves.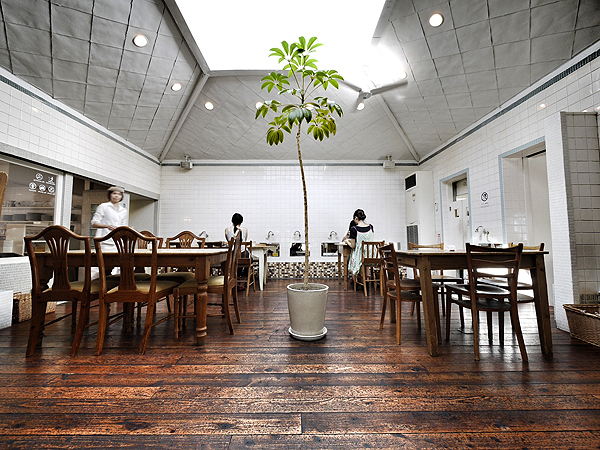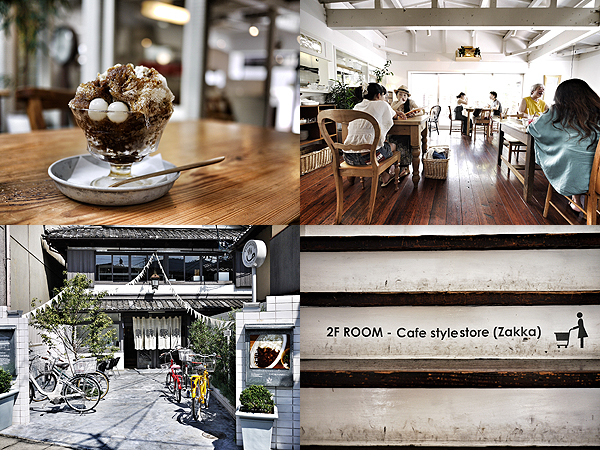 Your next stop is Sagano-Yu, one of the coolest cafes and zakkas we've come across. This retro-chic contemporary cafe and lifestyle shop sits in what used to be a public bath house. All the taps and fixtures are still there, so you can easily tell what each area was used for previously. The front room is a small service counter and gourmet product store. Upstairs is the main retail area. They have a great assortment of homeware, fashion accessories and other groovy knickknacks. Past the front room on the ground floor are two much larger rooms, used for the cafe. The first of these is for non-smokers and the second is the smoking section. Saganu-yu has a small but excellent (I am told) simple lunch menu. But most people come here to sit with friends and enjoy a coffee, tea and some sweet snacks. The parfaits and kakigori here are simply awesome.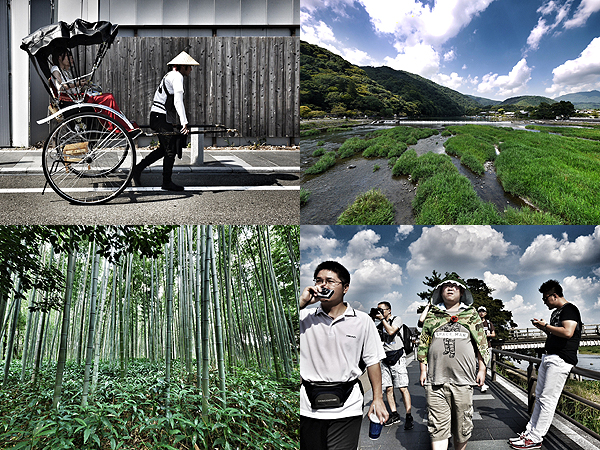 After you've had a nice refreshing snack, walk back towards the main road and towards the path that leads into the famed bamboo groves. Be warned though. What we thought was a short little walk turned into a 40 minute hike, as the walk took us to the banks of the Oigawa River. Nonetheless, you cannot come to Arashiyama and not trek through these simply stunning bamboo groves.
Once your walk is complete, you may need to cool down a bit. One fun way, if you're feeling a tad touristy, is to go on a rickshaw ride. There are legions of well-built, tan young men standing around town, especially at start of the Togetsukyo Bridge. Grab the one who looks the most fit and ask him to take you around the area for a bit. It's a nice way to experience Arashiyama the way the nobles would have back in 10th or 11th Century. If you're an animal lover, another quick but fun excursion to consider would be a visit to the Iwatayama Monkey Park; the entrance is a few minutes walk once you've crossed the Togetsukyo Bridge. Here you'll see hundreds of monkeys roaming freely.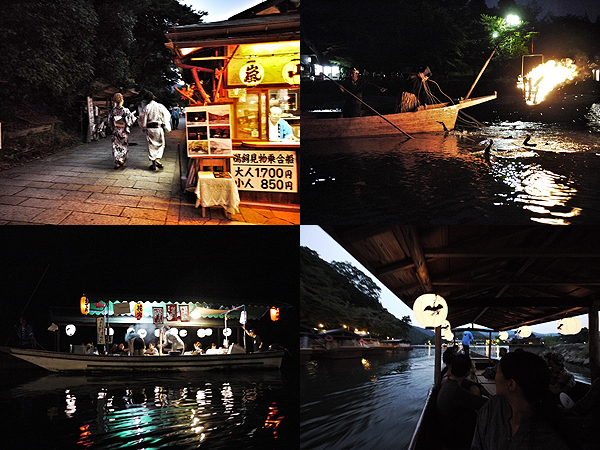 You could end your day here and head back into Central or Eastern Kyoto. Alternatively, stick around for a little longer and book a boat ride in order to learn about and witness ukai, a traditional fishing method that uses cormorant birds to snatch the fish out of the water. It's quite thrilling to see the birds snapping up the fish and then watch as their handlers pull them out of the water, getting the birds to surrender the fish to them. In addition, the cruise up and down the Oigawa River is really quite beautiful.
Finally, if you wanted to hang out in Arashiyama for dinner, you could splurge and indulge at HOSHINOYA, just fifteen minutes from Togetsukyo Bridge by boat. Or check out Tempura Matsu, a cult modern kaiseki restaurant that S and I have heard amazing things about but haven't had the time to check out. Matsu is a few minutes from Togetsukyo Bridge by car. I've had everyone from famous chefs in Tokyo to the HOSHINOYA staff tell me it is one of the very best restaurants in Kyoto.

Aun and Su-Lyn flew to Japan on tickets partially sponsored by Japan Airlines. 
Aun has always loved food and travel, passions passed down to him from his parents. This foundation, plus a background in media, pushed him to start Chubby Hubby in 2005. He loves that this site allows him to write about the things he adores--food, style, travel, his wife and his three kids!