A few weeks ago, S and I made our very first trip to Osaka, Japan. While I'd been to Japan previously and had explored quite a fair bit of the country, I had never been to Osaka. In fact, up until a few years ago, I had never really given visiting Japan's third largest city much thought. So what happened? Well, over the past few years, at various dinners and other occasions, when the conversation would turn to memorable meals, a good nunber of foodies I know and respect (chefs, restaurant owners, food writers and passionate gourmands) would talk excitedly about Osaka. One restaurant in particular was spoken of with sheer reverence. Many compared it to El Bulli and a few even went so far as to say that they'd rather eat more regularly at Kahala than at Ferran Adria's famous restaurant. After years of hearing about this and other gastronomic experiences, S and I couldn't wait to taste Osaka for ourselves.
Kappo Counter Gastronomy
One of the best culinary experiences in Japan is dining in a kappo restaurant. These tiny places usually seat only a handful of patrons at a small counter. Dishes are prepared a la minute and served to hungry diners across the counter. The experience is similar to that of a sushi bar, but in these places, you'll get beautifully cooked and artfully plated dishes. Having the chef work on your food and serve it to you personally also creates a unique sense of intimacy which heightens the dining experience. Historians tell us that kappo restaurants first became popular in Japan in Osaka in the nineteenth century, so it only made sense for S and me to try 2 of Osaka's best.
Momen is a wonderful little kappo restaurant in the Shinsaibashi district. Located on a small side alley, this delightfully hidden gem seats just eight patrons at a time. The atmosphere is lovely, slightly dark and suitably zen-like. Take note though, Mr Momen hardly speaks any English, so you will need your hotel to call ahead and make your reservation for you. Dinner here is a seven course affair. The food is excellent. It's not super-fancy or challenging. But it is delicious and lovingly prepared.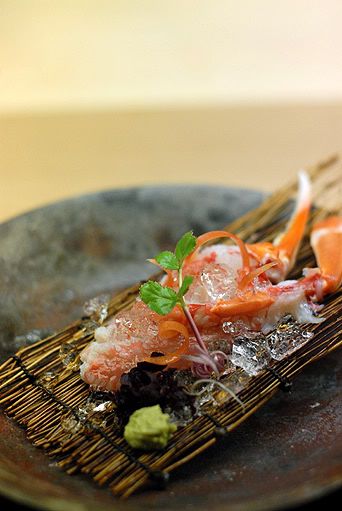 We started our meal with a gorgeous plate of crab sashimi; one of the advantages of visiting Japan in the winter is the availability of all this yummy seasonal seafood.
Our second course was one of the simplest dishes of the night but also my favorite. It was a homemade goma-tofu, breaded with roasted rice and then deep-fried.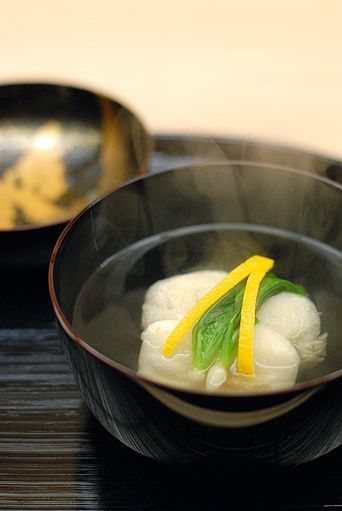 The third course was gorgeous. It was a crab dumpling in a subtle crab broth, served in a beautiful laqueur bowl. The inside lid of the bowl was fantastic, with an inlaid landscape picture accented with mother of pearl. The fourth course was a plate of various types of fish roe. S especially enjoyed this. Next was a bowl of slow-cooked daikon with fresh yuzu. The last savory course was a lovely slice of roasted wild salmon marinated with miso. Dessert was a small plate of fresh fruit. Another great thing about Japan is the fruit is ridiculously sweet and fresh. A plate of fruit to end a meal in most other countries would be a let-down. Here it works.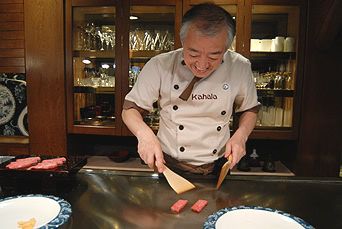 While Momen is relaxed, Kahala is reserved. It's a small but austere kappo restaurant located on the second floor of a small building in the Kita-shinchi neighborhood. The street Kahala is on, Sonezaki-shinchi, is a crowded strip of restaurants and bars. Kahala accepts diners at two seating times, either 540pm or 840pm. Friends have told me that if you are dining during the former that they usher you out of the door at 830pm on the dot and if you are scheduled for the latter you are not allowed inside early, even if you arrive at 835pm. Kahala is a cult restaurant — made most famous a few years ago when celebrity chef Tetsuya Wakuda raved about it and credited it as a place that inspired him — with suitably cultish prices. Dinner there is a whopping 30,000 yen per person.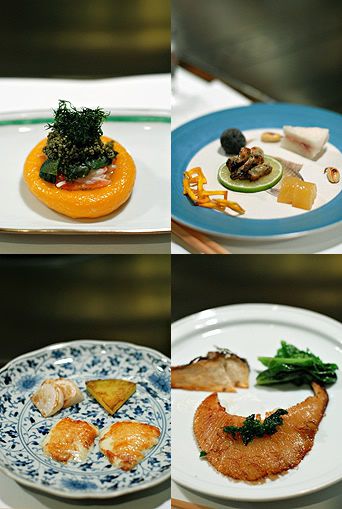 Like Momen, there are only 8 seats in Kahala. The restaurant was founded by chef-owner Yoshifumi Mori 35 years ago when he was just 26 years old. The space was originally a steak-house, which accounts for the hot-plates that still flank the counter today (and which are now only used to prepare one single but excellent dish). Mori-san, like many other culinary greats, is self-taught. He admits that his lack of training has pushed him to create a truly innovative cuisine. More than just innovative, Mori-san's food is pretty darned special because of his commitment to sourcing the very best produce from all over Japan. S and I started our 10 course dinner with a small portion of crabmeat with grass seeds and fried dill, plated on a flattened yuzu, and served with a little chicken comsomme. This was followed by a composed plate of fried pumpkin, Hokkaido oysters, dried herring roe, truffle-dusted lilyroot and a sandwich of turnip and yellowtail. Third was an am amazing portion of grilled "Kacho kabaro" cheese (from the Yoshida farm) with some sauteed turnip and squash. After this we tasted one of Mori-san's signature dishes, a sharks fin steak with fried coriander leaves, sauteed daikon leaf, and thinly sliced potato seasoned with thyme leaves that had been crystalized with salt.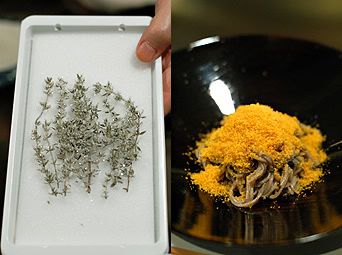 We also had some buckwheat soba noodles with powdered "karasumi" (sundried mullet roe). This was a yummy, savory course.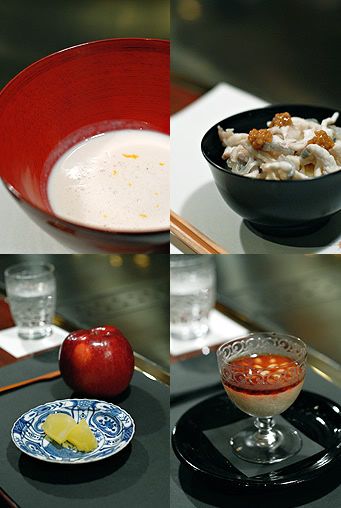 A dish I was a tad squeamish about was Mori-san's shirako soup. I've never been a huge fan of shirako, which to the uninitiated is also known as "cod's milk" or "cod's sperm", but this soup was outstanding. After this was the highlight of the meal and the dish that has made Kahala a must-visit for many of my friends. Mori-san's "millefeuille of beef" is a gorgeous dish composed of 5 thin slices of Iga beef from the Mie prefecture. Each portion is sauteed quickly on both sides; the top and bottom layers are cooked but the middle layers are served raw. This is served with "Nozawa" turnip, yellow Inca potato and "ebi-imo" (Japanese yam). The only downside to this dish is that each person is only given 4 portions; I could easily have eaten another 4 or 5 more. After this, we were offered a delicious bowl of fugu (blowfish) rice. To round off the meal, we were given two desserts. The first would have thrilled Alice Waters, who so famously served her patrons an unadorned peach as dessert. The famous founder of Chez Panisse said, "The perfect dessert after a rich and satisfying meal is a perfect piece of fruit." Well, that's exactly what Mori-san served us, 2 slices of the most uniquely dense, syrupy and sweet apple, harvested he proudly told us from a small farm in the Yamagata prefecture. When Mori-san served us the fruit, he showed us a whole one and then held it up to a light over his counter. Amazingly, the apple turned translucent and the light shone through it. The final course was a creme caramel with sweet, white Azuki beans and a coffee syrup. S loved this and is trying to recreate it for our own dinner parties.
All in all, Kahala was a pretty unique experience. Was it worth the price? Given the size of the restaurant and the quality of the produce, yah, I'd say the splurge was worth it. It's definitely a once-in-a-lifetime experience. But the restaurant both S and I look forward to returning to is Momen. We both enjoyed the restaurant's modest atmosphere and slightly simpler cuisine. Of course, it didn't hurt that Momen was one-third the price.
Aun has always loved food and travel, passions passed down to him from his parents. This foundation, plus a background in media, pushed him to start Chubby Hubby in 2005. He loves that this site allows him to write about the things he adores--food, style, travel, his wife and his three kids!