For months, a chef friend of S's and mine, who moved to Taipei last year, has been raving to us about the amazing produce–seafood, meat, veggies, fruits, etc–available in Taiwan. Not only is it better than what we get in Singapore, he would tell us, but it is also much cheaper. We simply had to come up and taste all the wonderful foods, he would say. Given that this friend is (arguably) the best French chef that The Little Red Dot (that being Singapore's latest nickname) has ever produced, I should have simply accepted what he told us as fact and visited him a long time ago. But stubborn idiot that I am–and because I had never really had the urge to see Taipei–we kept procrastinating our trip.
This past weekend, we finally got around to visiting Taipei and spending the weekend with chef Justin Quek, known to most Singaporeans (and many foodies worldwide) from his ten years as head chef of Les Amis. Justin now owns and operates his own place, La Petite Cuisine, a tiny but intimate Modern French restaurant that has within a year become recognized as Taipei's top and perhaps most expensive European restaurant.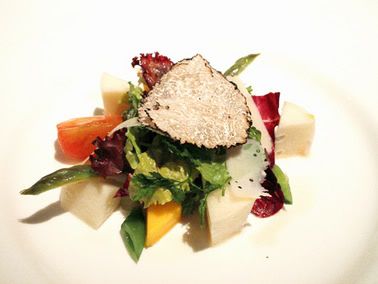 We flew in Friday evening, arriving a little after 5pm, and after quickly freshening up at our hotel, made our way to La Petite Cuisine for what turned out to be an extraordinary feast. Our menu, if my poor memory and lack of notes (I was too busy eating) is correct, consisted of a prawn tartare in a deep-fried pastry shell ("pie tie"); uni jelly with cauliflower cream; a summer salad topped with summer truffles (pictured); tuna belly carpaccio topped with summer truffles; squid carpaccio topped with Russian caviar; roasted pork belly with caramelized white peach; roasted quail with foiegras and figs; tagliatelle with more summer truffles; a lychee foam; and a confit of lychees on a pineapple carpaccio. The summer salad–which is one of only 2 dishes I shot a quick snap of with my tiny Contax–was a real stand out! One of the main ingredients was young bamboo shoot, something which I never expected to enjoy in a salad and which Justin explained to us was a popular summer ingredient in Taipei.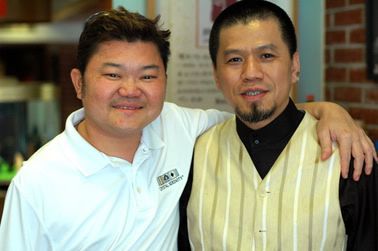 The next morning, Justin took us to the local markets. And I have to say, the produce did amaze me. The seafood was super fresh. The pork and other meats were beautiful, especially the lovely fatty pork that was being sold for close to nothing. The fruits and vegetables were so much better than what we get here in Singapore. And, as Justin had rightly pointed out, much cheaper. It was really quite an eye-opening experience and the longer we hung out at the markets, the more jealous I became. Later, we went to a well known restaurant, Chef Show Time, for lunch. According to Justin, Chef Huang is one of Taipei's most well-known culinary stars (he's the one on the right above; Justin is on the left). Chef Huang's cuisine is fusion, sort of a Taiwanese-European. And while the dishes looked simple on the menu–descriptions were as plain as "fried pork Taiwanese style" and "fried crab"–the resulting dishes were hardly simple. They were, in fact, both complex and utterly delicious.
Here's the "fried pork Taiwanese style", which is perhaps one of the best dishes I have ever eaten in my life. The pork, splendidly fatty, was melt-in-your-mouth great.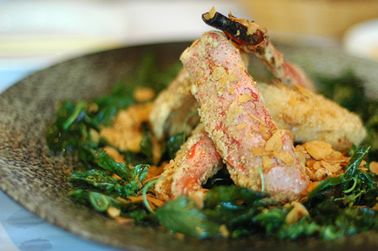 The "fried crab" was Hokkaido Crab, lightly crumbed, fried with salt and pepper, and basil and garlic. The crab's meat was amazingly sweet and tender. In addition to these two wonderful dishes, we had baked escargot with cheese, braised beef tongue, fried somei, mushrooms grilled with olive oil and bamboo shoots, and some imported jamon iberico bellota.
That night, we checked out the famous Shilin night market, which I can now say, I've been to and would happily never visit again (I'm not the biggest fan of huge crowds). I had heard a lot about the street food from this famous market. We tried the oyster noodles and the deep fried chicken filet. Both were only okay.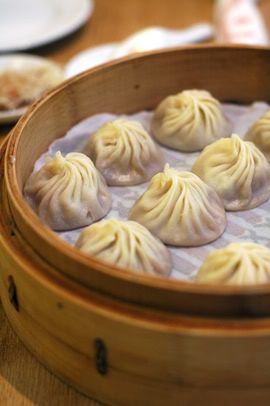 For lunch Sunday, we went to the one place that I had insisted be part of our culinary itinerary, Taipei's most famous xiao long bao restaurant, Din Tai Fung. Xiao long bao (Shanghainese soup dumplings) are one of my top ten favourite food items. Friends who had eaten at both the Taipei branch and the Singapore one had always told me that the Singapore branch's dumplings were nothing compared to the ones in Taipei. So, naturally, I had to see for myself. We ordered both the normal and the crabmeat versions. I'm happy to say that they were right. The skin of the xiao long bao I tasted were extremely thin, much thinner than the ones made here. Because the pork in Taiwan is of a much higher quality as well, and fattier too, the dumplings were also tastier. The biggest difference, though, was with the crabmeat dumplings. These tasted better simply because the crabmeat was better, fresher and with a cleaner taste than those cooked here. I could have easily eaten basket after basket if it weren't for the fact that we were planning a second lunch at a well-known restaurant around the corner.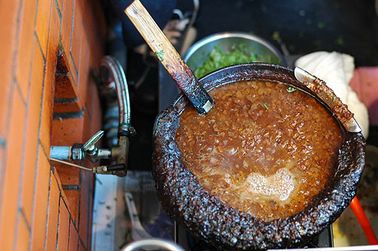 Slack Season Tan Tsi Noodles is a cute little restaurant that's been built around a simple street stall from Tainan. It specializes in noodles and rice tossed with minced pork that's been braised in an incredible master stock that's supposedly been kept cooking for 100 years. The photo above is of the cast iron pot in which the stock is continuously stewed.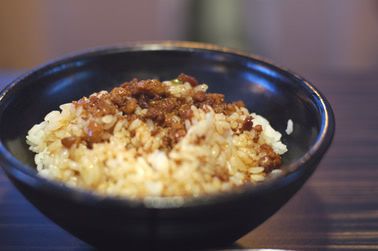 We had the noodles and the rice. Both were delicious. Happily, we also picked up a couple cans of the minced pork sauce, which I can't wait to open and use. For dinner that night, we went to a lovely seafood restaurant, amusingly named Really Good Seafood.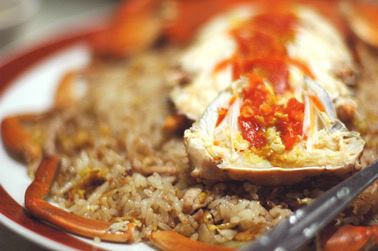 Our last meal in Taipei was lunch the next day (Monday). Justin took us, plus two new friends, to an amazing Taiwanese restaurant called Ming Fu. It's the kind of place you would never normally never walk into, the kind of non-descript neighborhood restaurant you'd just walk by, never realizing it was one of the best restaurants in town. When we entered, S, much more observant than I, noticed that there was a photo on the wall depicting the restaurant's owner and movie director Ang Lee. Ming Fu, we soon realized, was obviously one of those cult secrets that Taiwanese-in-the-know (and no one else) dined at. We had, as I am sure you have already guessed, a fantastic meal. We had bamboo clams, grilled "tofu shark", some wonderfully fresh green leafy vegetable fried with black beans and anchovies, deep fried black fish gizzards, and crab fried rice. All of it was fantastic. I especially enjoyed the gizzards, something I had never eaten before, and the fried rice, which was so good, we ordered some to take with us on our flight that afternoon.
All in all, it was an amazing few days of pigging out. I'll definitely go back to Taipei now that I've had a taste.
La Petite Cuisine; tel: +886 2 2597 3838
Chef Show Time; tel: 2702 5277
Slack Season Tan Tsi Noodles; tel: 2772 1244
Ming Fu; tel: 2562 9287
Aun has always loved food and travel, passions passed down to him from his parents. This foundation, plus a background in media, pushed him to start Chubby Hubby in 2005. He loves that this site allows him to write about the things he adores--food, style, travel, his wife and his three kids!