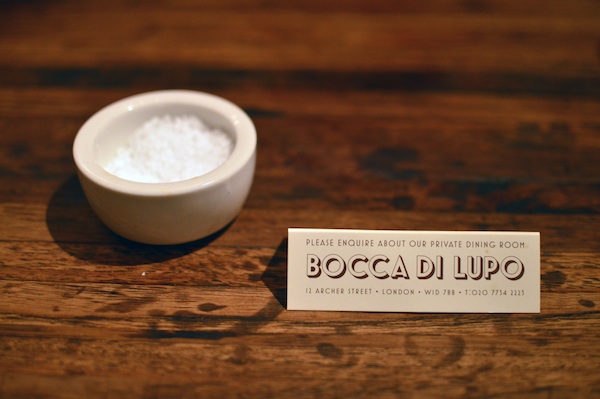 I've just come back from a two-week holiday in London and Paris, during which I ate until I started hallucinating, and drank more wine than I had in the last twelve months combined.  It was, as you can imagine, a completely indulgent vacation of hedonistic proportions, and a blow to my wallet from which it may never recover (hence justifying my purchase of a pretty new wallet from a luxury men's store near Portobello market). Over this and my next couple of posts, I'll share some of the more memorable, and hopefully less well-known, restaurants I visited, starting with Bocca di Lupo, a casual pan-Italian joint in London's theater district.

I discovered Bocca di Lupo five years ago when it first opened and when I was studying abroad in London. It hasn't changed at all – not the ceaseless behemoth meat-slicer at the bar corner closest to the storefront window, nor the clientele of theatergoers, tourists, and Tony Soprano lookalikes packed into the cavernous interior with the spectacularly bad acoustics one expects in osterias and trattorias. Upon returning this year, I've declared it one of my favorite places in the city, thanks to its cavalier charm and gut-busting food; so much so that I had no qualms about going twice during my eight days in the capital.
It's a curiously successful restaurant. While many of the best Italian restaurants (in my opinion) are those that celebrate a single region, Bocca di Lupo takes pride in preparing dishes from all over my favorite boot-shaped country, and preparing them damn well at that. The menu is "a phrasebook in miniature," boasts the website, "containing a taste of the twenty main dialects of Italian cuisine," whose names – Sicily, Sardinia, Tuscany – have pride of place next to the names of the dishes themselves. Spend a meal in the so-called 'mouth of the wolf,' and you'll be speaking the language too, from agretti to zabaglione.
'Hearty' is the best word to describe the cuisine of chef Jacob Kenedy, a Briton with a degree from Cambridge and no formal kitchen training save a few stints at restaurants in London and San Francisco. It's a complete mystery to me how he manages to speak the victual vernaculars of his adoptive continental home so well. A simple plate of merinda heirloom tomato, blessed with olive oil and sea salt, bursts with the honeyed sweetness of Sicily, as do the pomegranates in a crunchy radish and celeriac salad, this time mixed with truffle oil and salty hunks of pecorino cheese. Carpaccio and fried dishes alike come not with the predictable lemon, but with a wedge of arancina – blood orange – with which you shower your dish to amazing effect. And those are just the appetizers.
I've learnt to share at Bocca di Lupo, not because portions are daunting (there are 'small' and 'large' options for just about every item), but because there are so many things to try on the frequently changing menu. And because I'm an indecisive nut. Of the selection of sausages, made and grilled in-house, should I get the dependably robust spicy pork, or the gamey, chewy, wild boar? Why not split both with my companion(s), and then get a small plate of the Roman-style tripe? Why not come with a party of six, share all those things, and my own main of ox cheek, braised, quivering, and arriving all but melting to pieces at the table?
And then there are the pasta dishes, some perfunctory, others bloody close to perfection. The spaghetti with mussels is predictable, but faultless, while the orecchiette in a sauce of spicy cured nduja sausage is a beautiful mess made magnificent by the addition of sweet red onion. But my personal favorite is the Sardinian spaghetti, tossed with warm butter, breadcrumbs, and bottarga – simple, salty, and primordially satisfying. When I neglected to order it on my second and last visit of the trip, I ended up stealing massive forkfuls from two of my companions. In retaliation, they mopped up the tomato and black pepper sauce that decorated my ox cheek, an activity I'm positive is an Italian pastime.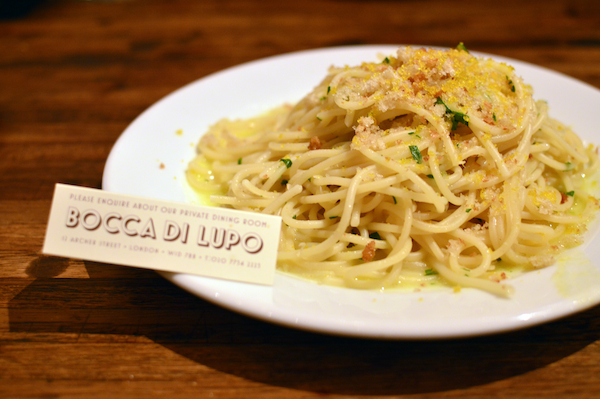 In between my meal and multiple carafes of Italian wine, the latter from a regional selection as diverse and unexpected as the food menu, I usually can't even fathom dessert; though the one time I did have the appetite, I made the suicidal decision to have the three inch-thick slice of panettone, stuffed with chocolate and hazelnut gelato, which, unholy as it was, sent all remaining blood in my head to my stomach and made me completely forget the rest of the desserts ordered by my companions. A possibly better idea would be to ask for the bill, take a breather in the fresh Piccadilly air, and then cross the street to buy gelato from the restaurant's little sister, Gelupo, which also stocks a small selection of continental produce.
Bocca di Lupo may not be the most authentic restaurant; and, it may be a travesty to recommend an Italian place in a city of Michelin-starred British establishments and atmospheric, centuries-old pubs. But it serves massively comforting food at decent prices, and never fails to put a smile on my face, no matter how dreary the London weather. Besides, a meal there has always compelled me to take a long, fat-burning stroll through London's historic streets, which, surely, must count for something.
Bocca di Lupo
12 Archer Street
London, Greater London, UK
Tel: +44 020 7734 2223
www.boccadilupo.com
Brandon Chew's first memory is of him eating chicken rice at the dining table of his parents' old flat. His second memory is of him politely asking for, and receiving, a second helping of fries at KFC, which taught him two things: manners gets you places, and fries are the most awesome food known to man. Brandon has just returned to Singapore from New York and is happily exploring the food scene here.