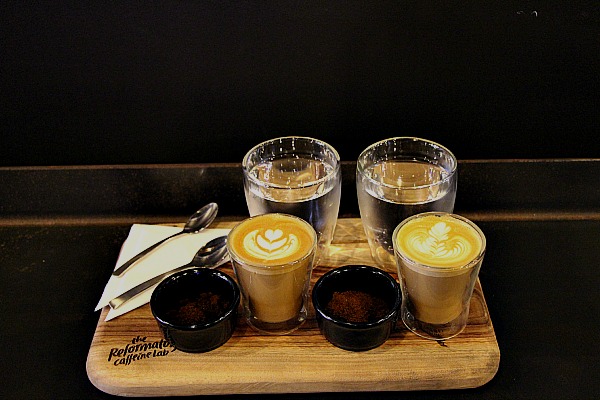 There's no shortage of good coffee in Sydney.  Quality sourcing of beans and passionate baristas are scattered all around the city.  As an avid coffee drinker, I tend to keep an eye out for places that keep pushing the envelope or that want to prove their worth despite the very hefty, worthwhile competition. 
Enter The Reformatory Caffeine Lab, a three-month old café two blocks away from Sydney's busy Central Station, in Surry Hills.  The location, in the midst of many office buildings, is commercial and could sound counter-intuitive: weekdays are busy, weekends are non-transient, yet it seems this tiny caffeine lab, with only standing areas and room for a drink and a snack, is defying all odds.
The place is wicked; black walls painted with comics, reminiscent of dark images of Batman's The Joker.  There are open light bulbs that enhance the industrial feel, there are a few high tables to drink your coffee while standing, and a long service counter with all kinds of tools, toys, and machines to serve the drinks in one's preferred way (percolated, cold drip, espresso, you name it).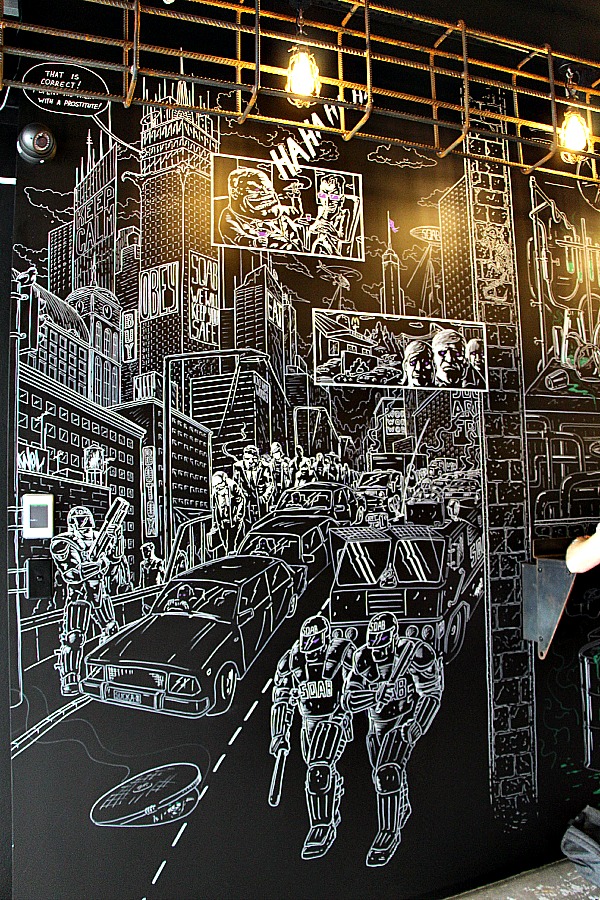 The Reformatory Caffeine Lab has two signature house blends: the joker and squab, one recommended for espresso, the less pungent latter, to be served with milk.   When served, the coffees arrive in wooden boards with a portion of ground coffee beans next to them, that way you can inspect, smell, and take in the entire experience, from bean to cup.  It's a clever strategy, and an engaging way to enjoy your brew.
In addition to the house blends, one single origin coffee is featured as a weekly special, so it is easy to keep going back to The Reformatory to discover a new flavour profile week to week.  Snacks are limited, but very tasty.  Sweet pastries, brownies, and scrolls, as well as a mix of savoury Latin American empanadas, are available at the counter to be paired with the drinks.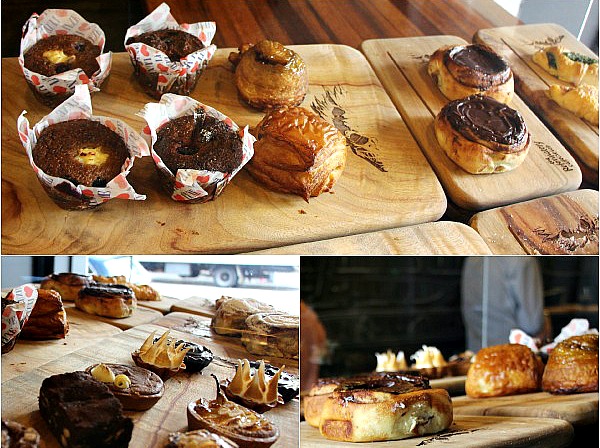 The passion that the owners have is evident; the clientele perceives it through the senses:  vibe, warmth in the service, environment and décor, vibrancy in the scent that takes over the shop, and of course, very fine taste.  Reformatory, here's to many more cups of great coffee.
The Reformatory Caffeine Lab
Shop 7B, 17–51 Foveaux Street, Surry Hills
Mon–Fri 6.30am–4pm Sat 8am–2pm
facebook.com/thereformatory

Janice is a girl from Lima, Peru who loves a good cebiche and a glass of dry Riesling. She travels the world (often for food or to check out new restaurants) and lives in Australia. Janice tries to learn about different countries through cuisine, and takes advantage of Sydney's multiculturalism by exploring gastronomy in all of its forms. Grower's markets, wine tastings, restaurant openings, cooking classes, shopping for specialty spices; she's keen to do it all.